This article will identify the type of electricity meter you'll require for your solar energy system. This will depend on your State's respective Feed In Tariff Scheme and once the proper meter is installed you'll be able to properly feed into the grid. For your solar energy system you will either have a Net or Gross Meter installed and it will measure the amount of electrical energy supplied to your residence/business as well as the energy produced by your solar energy system.
Your Meter and Feed In Tariff
As outlined in our previous Solar Choice Blogs, Australian residents feeding solar energy back into the grid will make different amounts of savings from their solar energy systems depending on the amount of money they are being rewarded by their State – also known as the Feed In Tariff Rate.
We have already shown you which policies are in place for each state in Australia to give you a good idea of how much return on investment you will earn. Some States are more lucrative for solar energy producers than others with a Gross Feed In Tariff Rate (NSW and ACT), however some electricity customers can still take advantage of a Net Feed in Tariff Rate (SA, VIC, and QLD) for investment purposes if they have minimal electricity consumption.
After purchasing your solar energy system
Once you have decided that the payback and return is going to be worth the cost of the system and you have already paid an installer to do your installation, what next?
1.  Make sure your electricity wholesaler installs the appropriate meter.
Your metering requirement will differ for the two tariff types: Net and Gross. If you're on a Gross scheme, make sure its a Gross meter and if you're on a Net scheme you can use either Gross or Net metering arrangement.
2. Interval vs. Accumulation Meters
For any solar energy installation it is much better to ensure that an interval meter will be attached to your system rather than an accumulation meter because accumulation meters are read over larger periods of time whereas an interval meter can specify a period of time, e.g. every 45 minutes, to calculate energy usage/production of their solar system. This is essential for Net based customers that want to make the most from their panels during the day when they're out of the house. If however they were on an accumulation meter it is very unlikely they would make any significant cost savings with their solar energy system unless its output capacity clearly surpassed their daily electricity usage.

3.  Net Meters
A net metering system combines the generation of the solar system and the household's consumption and calculates the net outcome. Therefore it is essential that a meter under such a scheme is an interval based one and read periodically so that the solar producer can capture 30 minute blocks of export to the national electricity grid – rather than it being read at the end of the day, where consumption is normally going to be more than the export.
See the Diagram Below: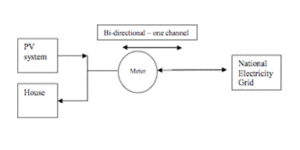 4.  Gross Meters
These meters measure the export and import of your electricity separately. Therefore the Gross Meter actually measures the entire output of your system seperately to your electricity consumption. It is also handy to note that if it is possible to get your hands on a Gross Meter then one should do so because a Gross Metering system can support not only a Gross tariff policy but also a Net tariff policy!
See the diagram of a Gross Meter below: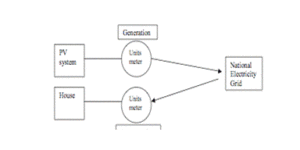 Please note the cost of installation (re-wiring) a Gross Meter for a solar energy installation is proportionally higher when the distance from the meter box to the solar energy system is greater.
Solar Energy in your State
Hopefully this information arms you with a good background of what to look for once you have purchased your solar energy system. Your particular meter will be supplied by a level 2 tradesman or electricity wholesaler (otherwise known as a distributor), and all their contact details can be found through other blogs that we have written. If you would like to read further information about such changes in electricity metering then I suggest reading a publication on metering and solar energy which provided some glorious background for writing this article.
This is such a new area of electricity generation from renewable energy sources and so not every electricity wholesaler will have the immediate capacity to roll out the appropriate meter for your solar energy set up. Some are better than others in  Australia whereas some wholeslaers are neglecting the urgency to move forward in making it easier for people to export clean energy onto the grid. Putting pressure on the right party is vital to a quick transformation to a lower carbon driven electricity grid so make sure you get onto your electricity wholesaler to ensure they're quickly distributing the correct electricity meter you deserve!
Brendan Noakes
Solar Broker
Solar Choice Pty Ltd
© 2010 Solar Choice Pty Ltd

Matt Lasauce is the Installer Network Manager for Solar Choice Pty Ltd.

Latest posts by Matt Lasauce (see all)