Commercial solar system prices for July 2015 remain steady at around $1.44 per watt ($/W) on average. 10kW solar system prices continue the gradual rise that began about three months ago in April, while 30kW system prices have increased to a lesser degree. 50kW and 100kW system prices have both come down slightly, thanks mainly to decreases in Melbourne.
Commercial solar energy system prices (10kW-100kW): Averages
All prices in the tables below are include incentives available through the federal Renewable Energy Target as well as GST. STCs accounted for a price reduction of approximately 68c/W for systems in Sydney, Brisbane, Adelaide and Canberra and for about 66c/W in Melbourne and Hobart/Tasmania.
Table 1: Commercial solar PV system prices for July 2015 (average)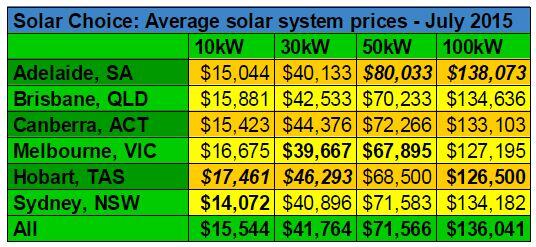 Table 2: $/W commercial solar PV system prices for July 2015 (average)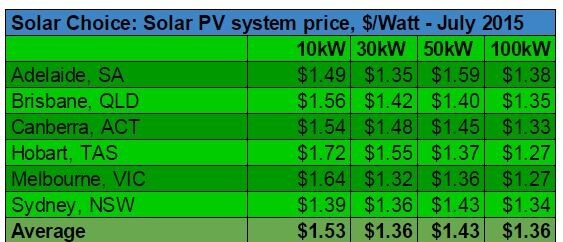 Historic pricing for popular commercial solar system sizes
Commercial system prices – All system sizes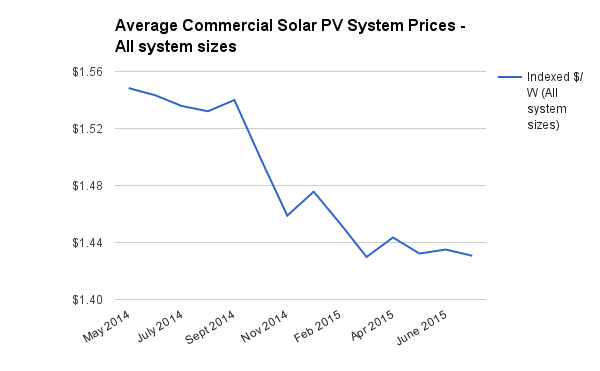 About this data
Tables and charts included in this article were compiled using data from Solar Choice's installer network database, which contains regularly-updated pricing and product details from over 100 solar installation companies across Australia. Although all pricing calculations do account for federal incentives and GST, they do not incorporate meter installation fees or additional costs, such as ground-mounting or grid connection studies. The discount available to Solar Choice customers is also excluded from calculations, as are prices for 'premium' installer offerings. Median high and median low prices are the arithmetic averages taken from the range of high and low prices on offer across cities for each system size.
© 2015 Solar Choice Pty Ltd