Solar PV provided just under 10 per cent of energy demand in France over the weekend, a record contribution to the nuclear-dominated country's grid in a week of record output for solar power.
Data from France's grid operator RTE has shown that solar power set a net coverage record on Sunday April 12, accounting for 9.1 per cent of national demand at 3pm.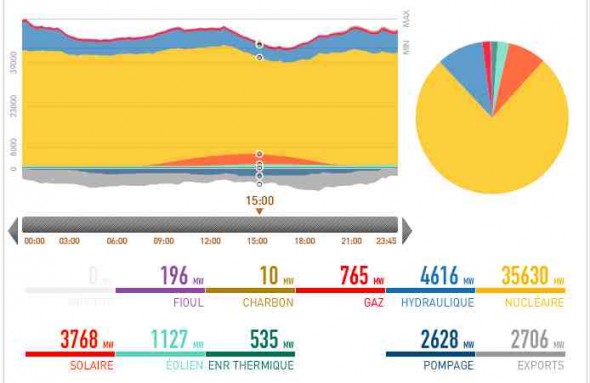 On Wednesday April 8, meanwhile, solarPV output hit a record 4,049MW at 2pm, accounting for 7.6 per cent of total national demand at that time. This was the highest level of solar output in absolute terms ever recorded in France.

Mark Lewis, from French firm Kepler Chevreux, says the improving economics of solar are making it a competitive source of energy already in countries with favourable solar–radiation conditions. 
"The disruptive impact of renewable energy has already had a big impact on the utility sector in the EU, and will in our view pose an increasing challenge to incumbent utilities in other parts of the world over the next five years," he said in a research note.
"This is the biggest revolution since the nuclear reactors were built in the 1970s," Josef Pospisil, an analyst at Fitch Ratings in London, told Bloomberg. "There will be utilities in the future, but they may look very different."
In the nuclear sector, meanwhile, France's EdF is struggling to meet the costs of its plant maintenance program over the next five years, let alone pay for new reactors.

Areva, which builds nuclear power stations, is struggling under huge losses. This is one of the reasons why France is looking to cut its nuclear share from 75 per cent to 50 per cent, and boost its level of solar and wind.
© 2015 Solar Choice Pty Ltd

Latest posts by Giles Parkinson
(see all)