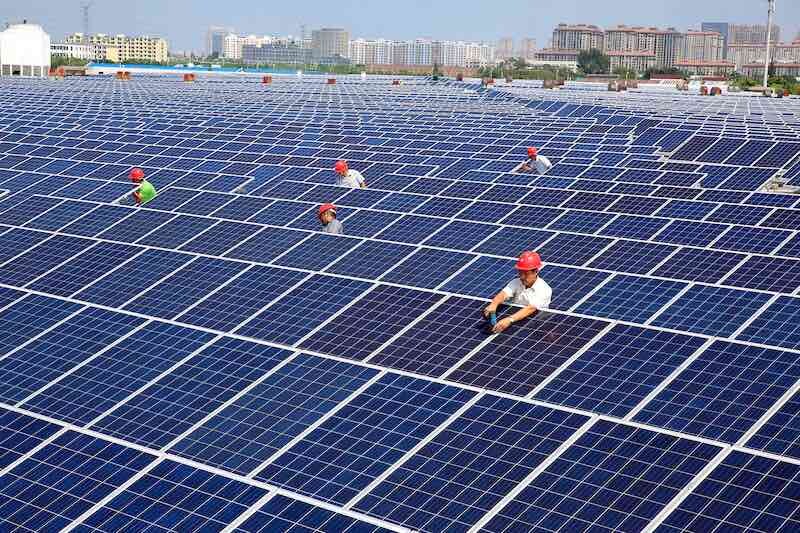 Just because a solar panel is made in China does not mean it is poor quality. Many of the major tier 1 manufacturers have built robust manufacturing facilities in China due to cost, but have been able to demonstrate a track record of producing reliable products for over a decade.
Most Chinese solar panel manufacturers direct their products at the mass market. That is they design cost-effective products that hit the middle ground in terms of quality and latest technologies so they can hit a good price point. There are premium solar panel producers like LG, REC, Sunpower where much of their production is located outside of China who focus on top-end quality that comes with a premium price. The exception to this is Q-Cells who have premium solar panels made in China.
There are however hundreds of solar panel manufacturers in China and we definitely would not recommend the majority of them. The Clean Energy Council (CEC) have narrowed this down to a list of 94 manufacturers (at the time of writing) who are approved to sell their products in Australia. The CEC only performs limited company and panel testing so is not a great indicator of quality.
So – how do you find out which are the best Chinese solar panels?
In our solar panel buyers guide we have identified 3 tests to help determine whether you can trust a brand of solar panels. This includes:
Bloomberg's tier 1 ranking (for company bankability)
PV Evolution Labs independent solar panel reliability testing
Checking if the company has an Australian office
We have done the work for you and the below list of brands are ones that meet all 3 tests. There are a lot of differences between the many different models of panels each brand offers but, if the Chinese solar panel brand you've quoted is not listed here, then be careful.
Think there are other brands that should be added to this list? Leave a comment below and let us know.
History of solar panel production in China
Suntech, led by Dr Zhengrong Shi (also known as the "Sun King"), was one of the early pioneers in solar panel mass production. Dr Shi, learnt his trade at the University of New South Wales in Dr Martin Green's photovoltaics program. After listing on the stock exchange in the early 2000s with great success many of the above listed Chinese solar panel manufacturers followed suit and used the funding to set up bigger production facilities.
Since 2010 China has stood out as the dominant global player in the production of Solar Panels surpassing 50% of global production. Much of their growth has been attributed to Chinese government support in the form of land and electricity subsidies and low cost financing. This has helped the emerging sector scale quickly and contributed to a dramatic downward shift in pricing.
While this trend in growth of production capacity and the percentage of production in China has continued to grow over the last decade, not all companies were successful. Many companies went under, or were acquired under distress by their larger competition. As utility-scale investors are seeking companies who will be around to support their 25-30 warranties, the Bloomberg tier 1 bankability ratings have become an important bellwether to distinguish between a proliferation of brand names to those that stand a good chance of making through the next few decades.
What if I want the best quality solar panels?
If you are looking for the best quality solar panels, and are willing to pay a premium to get them, then in most cases you will be looking at brands who manufacture their panels in Germany, USA, South Korea or South East Asia. The manufacturers outside of China are fiercely positioned as focused on delivering the best quality to differentiate themselves from the price war of the 'cost-effective' solar panel range.
Many of these premium companies still source many components of their solar panels from downstream Chinese suppliers regardless of where the assembly takes place. These days it is almost unavoidable to find a solar product that has not had some parts produced in China.
To get a good idea of premium solar panel brands you can review the below pie chart from Solar Choice's database. This gives you an idea of what Australian solar installers are offering in their premium option. Note that this is just an indicator of market share, not quality.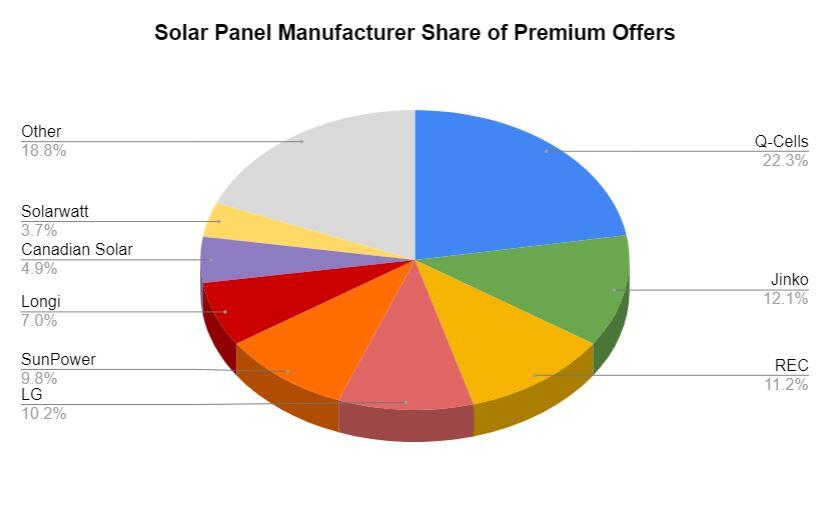 You will note that Chinese solar panel manufacturers (Q-Cells, Jinko and LONGi) feature in this pie chart. In most cases, the Australian installers quoting these products are putting the best model from the cheaper brands to get to a premium offer without a premium price. That said, Q-Cells do offer their Q.PEAK series which offers a premium 25 year product warranty and technical specifications that match up with their premium competitors.

Latest posts by Jeff Sykes
(see all)