The NSW Central West is one of the most sunshine-blessed regions of Australia and the world, and is an excellent place to have solar panels for home power generation. The Solar Choice Dubbo, NSW office is there to help you find the best solar power PV system deals available in the western NSW.
About Solar Choice Central West NSW–Solar Power for Dubbo and surrounds
Heading up the Solar Choice office in Dubbo, NSW is Ashley Myles. When Ashley is not flying a plane for the Royal Flying Doctor Service, he is matching up people in the Central West region with solar panel installers for systems at discounted rates.
The Dubbo Central West Story
In 2010, while doing research for a solar power system for his own roof, Ashley happened across the Solar Choice website and was impressed with the business model: Solar Choice is a brokerage service, offering solar power quote comparisons from a network of trusted local and national solar power installers to its customers. He had always had an interest in solar photovoltaics, and the idea of working for himself, on his own time, without buying or selling anything appealed to him. His interest lead him to call up Solar Choice general manager Angus Gemmell to convince him that there was enough interest in and around Dubbo to warrant opening up a branch there.
His interest in solar power may have begun as a personal one, but it soon led him to get involved in the solar power industry himself. Ashely had been serving as the senior base pilot for the RFDS in Dubbo for about 5 years when he began working as a Solar Power Broker for Solar Choice. Even now, three days out of 6 he is still on call to fly nurses and doctors out to hard-to-reach regions of the outback and rural Australia should medical assistance be needed. The rest of his time is divided between his office on Maquarie St, Dubbo, or travelling the region in the Solar Choice-mobile in his current role as manager of Solar Choice Central West. In the future, Ashley harbours dreams of starting up his own solar farm.
"It's a massive opportunity. We have only scratched the surface for residential solar power," he says of the industry in regional NSW. "Solar Choice can provide great products for a great price." The customer response has been impressive to date. In one example, within 8 weeks of chatting with an inspector about his business activities while overseeing an install, he fielded 400 inquiries about having home solar power systems installed through Solar Choice. 320 of these went ahead in the end. All of these could be traced back through word-of-mouth from this single source.
Why is solar a good idea for regional NSW?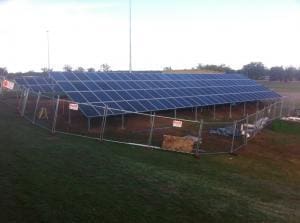 35kW polycrystalline solar module commercial solar power installation in Central West NSW. Installation brokered by Solar Choice Central West office.
Ashley attributes the enthusiasm for solar power in part to the fact that in the Central West, where electricity is more expensive than it is in the city, at $0.24/kWh versus prices 3-5 cents lower in urban areas. This is expected to increase to 29 cents from 1 July 2011.
Probably for this reason, every one of his customers who has gone through with an installation after talking to him has opted for a net feed-in tariff (as opposed to a gross feed-in tariff), which allows an electricity user to keep detailed track of how much they use and produce and when in order to use electricity wisely and hopefully reduce the overall price of their electricity bills. On a net feed-in tariff, electricity produced by the home's solar panels first go into the home, and the surplus, if/when there is one, can sold to the local power provider when it is into the electricity grid. Even with the current absence of an NSW state feed-in tariff, net metering will enable small-scale solar power producers to save money on their electricity bills.
Additionally, under the federally-mandated Renewable Energy Target scheme (RET or eRET), Dubbo and surrounds are located in REC (Renewable Energy Certificate) Zone 2, which because of the higher sunshine, entitles solar systems installed there to more RECs per install than in other the coastal regions of NSW.
Benefits for the environment, households, and the local economy
He is also excited by the opportunity to provide jobs for the local community: the network of solar installers that he has put together is mainly composed of local ones. Even in cases where some of the bigger, nation-wide solar power installation companies get involved, the remote location of many of his customers makes it economically wise for them to contract out to local workers. "It's an unbeatable combination," says Ashley.
Contact the Solar Choice Dubbo office
Solar Choice Dubbo Services all of Central West and rural NSW including Dubbo, Broken Hill, Coonabarabran, and Condobolin.
Contact Solar Choice Central West:
Rob Burnett 0410 154 410 or Matt Lasauce 0410 124 850
Email: matt@solarchoice.net.au
© 2013 Solar Choice Pty Ltd
---
Solar Choice
Solar Choice Testimonials and Feedback
Solar Choice Dubbo and Central West NSW Office
Back to top
---