Since 2008, Solar Choice has assisted over 120,000 Australian households & businesses make informed decisions about going solar. As Australia's national solar power system installation brokerage and advice service, Solar Choice is uniquely positioned to assist customers in finding the best deal on solar power systems, anywhere in Australia. Below are some examples of positive feedback that Solar Choice has received from residential solar customers.
Compare Solar & Battery Quotes
Hi.
Thanks for providing the info on solar power which we found very useful to get our head around our particular needs. We did proceed with a 5 kW system comprising 15 Sunpower panels supplied and installed by [Installer].
Kind regards,
Alex
——
Thanks to your excellent website and all the help it offers.
[Name] from [Installer] has finished installation and I am deeply pleased and impressed. He was happy to fit in with my schedule, came on time, and didn't stop working until it was up and running. I was especially impressed with his cheerful and friendly response to all my questions & comments. I was especially grateful for his fixing a faulty door on the switchboard, as well as a faulty safety switch. All in all, a wonderful experience and I would highly recommend him to anyone thinking of going solar.
I am now waiting for him to send me the invoice so I can pay the balance.
Special thanks also to Solar Choice for providing such a wonderfully easy way to go solar, I have no hesitation in recommending you to anyone thinking of "going solar".
Regards,
Govind
——
Thank you for your interest and information supplied to me in relation to supply of 2 residential 5kw solar systems in Duncraig and Currambine. 
Making a decision has been a difficult process with all companies providing similar quotes for about 6kw of Tier 1 panels, 5kw inverters and similar warranties on panels, inverters and installation.
[We] have now met and selected our preferred supplier. Unfortunately, this is not one of the companies you recommended, but I wish to emphasize our thanks for the invaluable assistance provided by your company and suppliers to get the process under way and be able to make an informed decision.
Kind regards
Graham
——
Hi Catherine,
We went with [Installer], and installed a 6.4kW system with a 5kW inverter.
Service was excellent, very happy with them. Thanks for the website, it helped a lot.
Regards
Peter
——
Hello Solar Choice
Thank you for providing me with three companies for quotes for solar panels for my home.
I received contact from [Installer] and ]Installer].  Both were very professional and helpful and I would not hesitate to recommend them to others.
No one contacted me from [Installer] and I didn't contact them.
Thank you Solar Choice it was very helpful to me.
Ada Mackay
——
G'day Matt,
Thank you for your first class service and support; it is greatly appreciated.
George
——
Hello Laura
We have made a choice for our solar and it isn't one from your list. That isn't because they weren't good. The one we chose spent a lot of time discussing our resources and needs and came up for what we saw as our best options. I went to Solar Choice for more options at the particular time of our information collection. Rest assured Solar Choice's people were both very good. I have recommended them both to one of my friends who is interested. I have learned that it is a very competitive market.
Thank you for your help and interest.
Best wishes
Ada
——
Dear Solar Choice.
Just to let you know I have had my solar installed. Based partially on your recommendation, I went with [Installer]. They installed a 3kw system with a GoodWe inverter about a month ago. The service they provided was excellent, and so far we are happy with the installation. [Name] seemed quite impartial with the advice he provided when providing the quote and took our personal circumstances into account. I would recommend them to anyone looking to install in Perth.
thanks,
Anna
——
I was amazed at the ease of use for the website. All companies have made contact within 24 hours of the request. From your information we found a product we believe we will go ahead with. We have a meeting set up with a company for tomorrow. They were extremely knowledgable and professional.  The complete opposite to the experience we had when trying to negotiate with [installer name]. 
Thanks again. So pleasant to experience such a positive organisation.
Bronwyn
——
Hi
I had a look at Solar Choice on 10/3 and selected 3 installers. I just
wanted to advise you that all three were extremely helpful and informative
and I'm sure would have provided a great solar system for my house.
This morning I confirmed the quote from [installer name] to proceed, just
awaiting contract for signature etc.
Thank you so much for the service you provide I found it really valuable and
learned a lot about it all during the last two weeks of comparing
information and quotes. I'm also very excited to be getting a solar system
for my house :)
Kind regards
Annie
——
Hi Ivor.
Many thanks for  your continued interest and information in regard to my selection of solar, it has been truly fantastic and greatly appreciated.
I am pleased to inform you, after very much research and deliberations, I have selected [installer name] to install a 2kW system.
The information supplied by you has been of the highest quality and once again Ivor. Many many thanks for your invaluable support and interest.
Keep up the good work and continued success with what you are doing for the likes of me.
Regards
Kevin.
——
Justine,
Thankyou for following up with my online enquiry today – I have progressed from a minimal understanding of solar PV systems to appreciating the wider concepts and more intimate detail regarding component parts.
Congratulations on the service provided by Solar Choice, it has proven to me to be a one-stop shop for information gathering through to direct contact with installers.
I have had a productive day researching information via your website.
Cheers,
Steve
——
Thanks Justine,
Solar Choice has really helped me, I had a quote from a company not on your list for a 10Kw system and they wanted $36,000 for it, I knew that was incredibly high so I'm glad it's so easy to get a quick comparison to confirm that.
Chris
(N.b. This is the reason we want to spread the Solar Choice message as widely as possible. Unfortunately, we speak with customers who haven't done their research, leading to situations where contracts have been signed for extremely overpriced solar PV systems. The worst case of this we have come across was a customer who paid more than the most expensive premium solar PV system offered on our quote comparison (100% European, top-end components), for a system that was comprised of un-branded, old stock.)
——
Hi Ivor,
Yes we are very pleased with [Installer A], & they are installing for us a week today, next friday !!! which is great. 
I paid the deposit today & we have gone for a 5kw system. NOT from any pressure from anyone to do so, it was just personal choice, originally we were going with 3.5kw with the intention of upgrading at a later date, but then we thought "Why muck about"?? lets get the 5kw in the first place & have done with it.
Again, paying the deposit straight away was personal choice, we were not pressurised to do so, I just prefer to have everything upfront  done with so I know where I am, so as I said, that was paid first thing this morning. The agreement was also signed this morning & emailed back to them & they then confirmed our date for installation for next Friday. 
I have to say they have kept in contact every step of the way, & I have phoned them several times to ask questions I had initially forgotten to ask, & they have ALWAYS had time to answer & go through things to make sure I am completely satisfied with what I am getting. Thats the sign of a good company, its courteous & much appreciated, & makes me feel more like a valued customer rather than just a job to make them money. Cant praise them enough at this stage.
Elaine
We're so happy Elaine had such a good experience, we love getting positive feedback from our customers. At the same time, if people aren't happy with the service they've received we want to hear about that too. We provide feedback to all our installers, both the good and bad.
——
Hi Justine,
 
Yes, I came to the same solution even now ,after you informed me about the differences in the mono vs poly cristalline panels, I would have preferred mono-crystalline but am happy 
that I get the same effectiveness in collecting sunshine. Looking at the weather forcast in the future and 'surviving today's scorcher' I definitely seem to head in the right direction.
 
I think it's a really great idea to have solarchoice around and getting tailored advice. It's really a very competitive area with everybody claiming being the best supplier, and customers 
get confused as I did only that I stuck to my detailed research in the field. I definitely did not like (non-Solar Choice installer) because of the intrusiveness and their cheeky knowledge that I have made a decision for (installer A) even though I haven't signed contract yet.
 
Thanks very much for your quick response and sending a choice of different quotes and suppliers to my inbox as well as follow up phone-calls to make sure re product quality and service.
 
With kind regards,
 
Beatrix Janek
Happy to help Beatrix, and thank you for your feedback. We always hope we're giving customers what they want and need so it's great to hear first hand that we're doing the right thing.
——
I wanted to share an unbelievably great buying experience with my Solar Panels Supplier.  Firstly, after much deliberation and iterations, I chose my Solar Supplier from the quotes generated by Solar Choice.  I wasn't necessarily after the cheapest system, I was after a quality system.  Surprisingly, (the installer)  provided both quality German panels and exceptional pricing to match.
 Upon selecting (the installer), they made immediate contact with me and talked me through the process.  It was a purchasing transaction that I had never experienced before.  Within two days of contacting (the installer), I had a contract in my hand ready to sign.
 After I made my initial deposit of 20%, (the installer) promptly commenced the necessary approval application process and indicated to me the timeframe for installation, which was within two weeks of contract signing and deposit being received.
 A week prior to installation, (the installer) again made contact and talked me through the installation process.  It was very comprehensive.
Their Electrical contractor for Canberra contacted me as scheduled and talked me through the physical installation of the Inverter and Solar Panels.  They were extremely efficient and very professional in their work.  They completed the installation within 5 hours, which I thought was pretty impressive for 26 solar panels.
[The installer] immediately made contact after installation to ensure that I was happy with the work performed.  Another follow up phone call was made the following day to confirm.
 All in all, this was the most positive buying experience I have encountered.  They have set a new benchmark and have increased my own expectations of how company's should perform for their customer's business.
Thank you Solar Choice for the role that you played in this transaction.  You made the process very easy for me and gave me the confidence to continue down the solar power investment path.
Many thanks
Malcolm
We're very happy to hear you had such a positive experience Malcolm, we really want to help as many people as possible have a similar experience to yours getting a system to suit their needs and budget with an installer who cares about their customers not just their money.
——
Hello Matt,
I am writing to express my sincere thanks for the help that Solar Choice has given me in the selection of my new PV system.
Until my request for help to Solar Choice I was on a totally wrong path, something that your website was able to fix for me immediately.
All suppliers that you included on the comparative quote contacted me within 24 hours and I had five customised quotes within 12 hours of those contacts.
(Three different installers) spent significant time on the phone to educate me in things to do with solar.  Most of the advice these companies gave me was generic and formed the basis of a fully informed decision.  None of these companies bagged each other, or any other supplier.  Rather, they concentrated on highlighting their strengths and invited me to compare with others (something that I'm not used to in this day and age where negativity seems to reign supreme).
I have chosen to go with the (Installer 1).  It was a difficult decision to separate Mark from (installer 2) as both were supremely helpful and had equivalent solutions.  I guess I was more comfortable with Fronius & Canadian Solar than SAM & Bosch.  Definitely a line ball decision.  (installer 3's) offer of Q-cell panels was dismissed because of the financial position of that supplier (as declared on the Q-cell manufacturer page).
Phil from (Installer 1) has assured me that they will be making contact with Solar Choice so that they can pay the reference fee.
I think it important to tell you that at least two of the companies you recommended offered to reduce the cost of their solutions by not paying your reference fee.  All of the companies mentioned above were quite open and declared the reference fee up front, unfortunately not all are as honest as them.
Again thanks of helping me avoid a costly incorrect decision.
Regards
Kevin
——
Hi Matt
We have finally decided to go with (installer name) – he was the best by far.  Extremely helpful.  I think as he is not just the salesperson he certainly knows what he is talking about.  He didn't have any fancy folders and brochures – he went up on the roof with the Suneye to give us a more accurate solar reading.  We have actually decided to go for 4kw's instead of 3, after doing all our research found that 3.5kw wasn't worth the extra money really and we asked for a 4kw system. 
Thanks for all your help.
Cheers
Gillian and Mark
——
Hi Tom,
Thank you so very much for all your help, advice & assistance….it is very much appreciated.
Yes have received both emails from yourself, re the quote comparison earlier today & this email re the links to the various Solar panels & Inverters re Solar panel installation.
It has been both enlightening & very informative speaking with yourself today. Thank you once again for taking the time to talk with me over the phone as well as sending me the information as mentioned below.  I am so happy my sister Mary put me on to yourselves….in order for me to get some good guidance & sound advise re the Solar panel installation.  Would definitely recommend your website to other's looking for similar help & advice.
Have a good weekend Tom, hope the weather everywhere in Australia gets better soon for all. 
Thank you once again so very much for your time, and much appreciated advice & assistance.
——
Hi Henry,
I ended up contacting (installer name) on Friday afternoon, and got through to (the owner) himself. He said they would honour the price for the LG panels with the SMA inverter, and he was very helpful and genuine it seemed, on the phone. Like you said, very customer service focused. So after speaking to Terry and mum again, we have decided to go with them.
Phew, I'm so glad to have finally made a decision! 
Thank you so much for all your help, advice and objectivity, its really made such a huge difference in the process. I also appreciate your patience with our endless questions, and the simple answers we have received. Its a difficult industry to navigate at the moment, so we have really appreciated the impartial, informative and thorough advice received from you. And as a result we feel really happy with the decision we have made in the end!
(PS: Feel free to use our feedback comments if you require, and we won't have any hesitation in recommending your services to others we know trying to navigate their way through the same process!!)
——
Given how much searching and research I've done I can only applaud your service.
I will be referring you to anyone else I know who is interested in solar.
Now I just have to wait for 300+ watt panels to become mainstream so I can put a decent system on my roof.
——
Hi,
A number of weeks ago, we utilised your site to obtain quotes for a Solar unit for our home in West Beach, SA.
We have had a few calls from Matt, a representative from Solar Choice, who has been very professional and willing to assist where possible.
We were advised to let Solar Choice know who we had chosen to obtain the solar product from once our decision was made. We have decided to go with (installer name). We will be agreeing to a 5kwh unit next week.
If there is anything else you require from us, please let me know. I have been in touch with (installer) and advised him of our intention.
——
Hi Angus,
Attached is a picture of the array we had installed at home last week via Solar Choice and (installer name). I also wanted to pass on my thanks to Henry who not only had the knowledge, but more importantly, the patience to explain how everything worked, answer all my questions, etc. He even pointed us in (installer's) direction as they were using the superior equipment at a competitive price. I'm certain that without his assistance we wouldn't have ended up with such a quality system.
In the end we installed a 7.6 kW system which due to the fact it's laid flat is effectively around 6.8 kW. Enough to run the house and a couple of cars. We decided to lay it flat as it was cheaper to add in additional panels than mount it on stands, and we avoided having to gain council permission (and council fees).
Regards,
Mark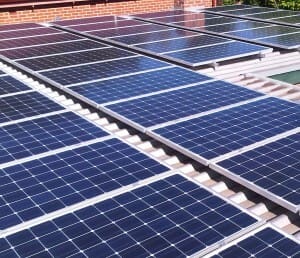 Mark Whyte's 7.6kW solar PV system installation in Adelaide, SA. Panels are laid flat to avoid council fees for tilt frames. (Photo via M Whyte.)
——
Hi Rob
I just wanted to say a big thanks to you and Solar Choice.
You have put my mind at ease such that I now feel able to make an informed decision as opposed to a best guess. I just wish I had contacted you earlier – it would have saved me from a load of worry. I have settled on the option of the (installer's) 4KW system. I will call them now.
Regards
Rod
——
Hi Ella,
Our system is in. The installation was a couple of months after the original date but when it finally did happen it all went smoothly. Their sub contractors were really great and worked hard to get the split system in. They did a very good job and cleaned up well. Post installation has been good with (installer) following up bits of paperwork for me.
Now the sun is shining and we are producing power. Very exciting.
Thanks for all your help along the way. I have been recommending your company and you in particular, to anyone who is talking about installing solar.
Cheers
Katy A
——
Hey Lydia,
The panels went up yesterday. Three guys took nearly all day to install them. I was impressed with their workmanship and attitude, and thank goodness it was a nice day and the rain held off till late in the day. I rang a level two electrician today about getting the meter connected. I have to send him photos of the meter box and certificate of compliance (which they gave me yesterday ).
Once again thank you Lydia.
Cheers,
Denis
——
Justine,
I really appreciate you taking the time to respond and for answering my questions so simply.
Kind regards
Mal J
——
Thanks Matt.
The size we have agreed to install with (installer) is 5.7kW.
Thanks again for all your help & ongoing support.  I hope to write back to you in a few weeks time, expressing how 'wrapped' we are with the final product & outcome.
If there are any 'hiccoughs' or questions along the way, we'll be in touch.
At this stage, we have been very happy with your advice, service & objectivity – and have already recommended you to several friends and colleagues!
Cheers,
Simon
——
Dear Solar Choice,
The service you provided me was pivotal in making make my decision to choose a solar company with confidence.  The side by side comparison of technical data and offers was fantastic.
I decided to go with (installer name) for a 5kw system.  B. was very helpful and easy to understand without all the hype.  The system is due to be installed early next week and I am confident all will go smoothly. B. will be in touch with you shortly.
I would definitely recommend your service to friends and family to help them make their educated choice.
Best Regards
Rosie
Compare Solar & Battery Quotes
---