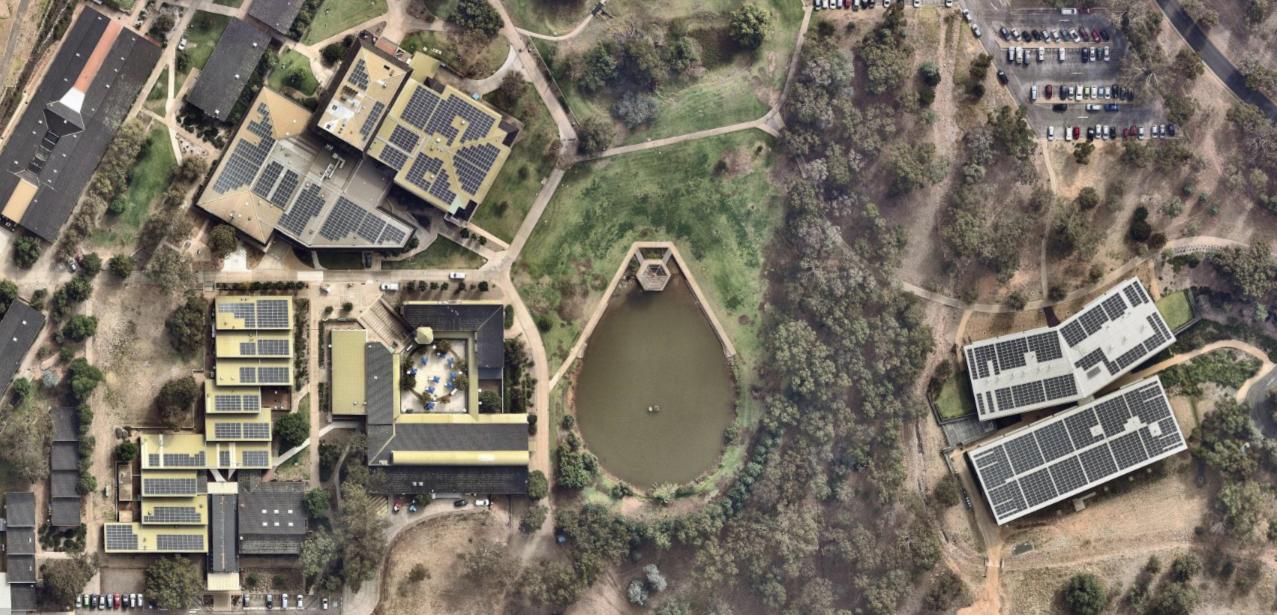 Charles Sturt University has this week officially opened its multi-roof, 1.77 megawatt (MW) solar system at its Wagga Wagga campus in south-west NSW, the tender for which was managed by Solar Choice in 2016.
The solar arrays – which have been commissioned in stages throughout 2017 – are integrated into the university's embedded electricity network, spanning the roofs of 17 different buildings at CSU in Wagga Wagga. At the time of its commissioning, the system was the largest rooftop project of its kind in Australia, but has since been overtaken by Brisbane Markets (stage 1 of which was also successfully brokered by Solar Choice).
The installation deployed a total of 62 Fronius inverters of differing sizes, and over 6,000 Canadian Solar modules. It will generate more than 2,600,000 kWh (2,600MWh or 2.6GWh) in the first year of operation.
With the opening comes a slew of impressive imagery and footage, including two flyover videos produced by CSU's Faculty of Arts and Education Technical Team. We've included them here for your viewing pleasure.
Solar Choice's commercial team manages tenders for a wide range of projects around Australia. If you're considering solar for your organisation, get in touch.
Request a Free Business Case Analysis & Solar Quote Comparison
Gallery: Aerial images of the CSU Wagga Wagga solar system
 Images via Nearmap. These are just a handful of the 17 buildings with solar that comprise the 1.77MW system. Watch the videos below for more.
Videos: CSU Wagga Wagga solar installation
Full-length overview video including drone flyover footage of the CSU Wagga campus.
80-second video overview of the system.
Gallery: Images from the official opening
Request a Free Business Case Analysis & Solar Quote Comparison
© 2017 Solar Choice Pty Ltd