Average residential solar PV system prices in Australia crept down to $1.58 per watt ($1.58/W) from $1.60 in February, according to data from Solar Choice's installer network database. Although so slight as to be inconsequential, the drop represents a new low, with $1.59/W (in Sept 2016 and Dec 2015) being the next lowest since we began keeping track of pricing in August 2012.
Average solar PV system prices for March 2017
Prices in the table below include both the up-front incentive available for small-scale systems through the Renewable Energy Target and GST – they represent the total retail cost of the system to the customer. We've left fields blank where there were only a small number of price points available in our database (usually less than 3).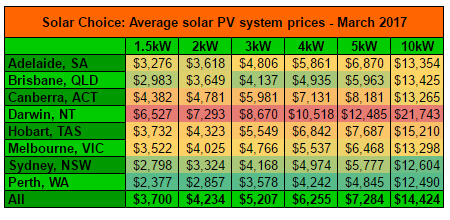 Prices for each system size are colour-coded. (Dark red for highest, dark green for lowest, yellow for middle.)
{ 0 comments }