There are good financial reasons for retirement villages to install solar power systems in Australia. Regardless of whether the state in which the retirement village is located offers a Feed-in Tariff for solar power or not, such multi-rooftop solar PV installations afford the property owners a means to reduce their operating costs by shrinking power bills. Retirement villages are particularly well-suited for solar power because their multiplicity of rooftops means greater ability to take advantage of economies of scale and negotiate a lower per-watt price on each installation than an ordinary homeowner.
Solar Choice Commercial has managed the tenders for solar power system installations for numerous ING retirement villages across Australia. Installation was undertaken by a prominent national solar PV installation company which has also been involved in a number of other high-profile jobs. The following photos are of a number of the ING retirement villages across the country which have made the decision to go solar. In most of the installations Fronius inverters were used in conjunction with either Lightway or Conergy solar panels.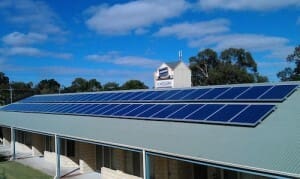 Request a free solar business case and compare leading commercial installers
Since 2008 Solar Choice has consulted with over 3,000 businesses around Australia and helped develop over 800MW solar commercial and solar farm projects.

Latest posts by James Martin II
(see all)