Determining the orientation and tilt angle of your solar power generation system is one of the most important considerations in designing your solar power system. As we have mentioned before, in the southern hemisphere, due north is usually the best orientation for panels. But not everyone has a perfectly oriented roof. When your two best options are east or west, which should you choose?
The sun's movements throughout the day
During the course of a day, the sun passes through the sky in an arc that varies throughout the year due to the earth's orbit (see top image). The arc is always symmetrical from east to west, measuring out from the centre point, which would be midday. This means that from sunrise to midday (not counting during daylight savings time) and from midday to sunset, there is an equal number of hours of sunlight on one particular location. (You can see how this applies to your location using applications like SunCalc, which shows you exactly how the sun moves through the sky at different times of day throughout the year.)
So, if your home or roof does not have any north-facing roof space available, but does have two sides that face east and west, you may be asking yourself which side would be a better location for the most power generation. Making the right decision will impact on how much money you can save with your solar panels.
Compare quotes from up to 7 installers in your area now.
Look for shading
The first thing to consider is shading, of course, which can potentially have a big impact on the productivity of your system. Is either side of the roof shaded by nearby objects? If one side is shaded, choose the other side.
If you've determined that the shading effects are either non-existent or basically the same on both sides, then the next thing to consider is the angle of your roof – if possible, you don't want to have to put in any mounting brackets or solar trackers. The two sides of your roof may be tilted at different angles: you will want to choose the side which is closer to being horizontal, as this will result in the most insolation (incident sunlight) throughout the day.
Fun fact: Even a south-facing roof can work for solar

Check out our article about south-facing solar panels.
Are early morning or late afternoon clouds a common occurrence?
So, you have determined that shading is not an issue, and that both sides of your roof are symmetrically angled. What do you do now? Although Australia is well-known for its unpredictable climate, you will need to consider when you tend to have cloudy weather more often–in the morning or in the evening.
This will depend on your location and climate, but for many locations (including Sydney), mornings have a greater tendency for overcast skies. Shading, even from clouds, can reduce the output of a system by up to 90%: any time it is not sunny, energy production will drop.
So, in essence, the answer is that you should try to put your panels on the 'sunnier' side of the roof in terms of weather: if you have cloudy mornings more often, the west-facing roof, and if you have cloudy afternoons more often, the east roof. You can check out the Bureau of Meteorology's website or use NREL's PVWatts tool to get a clearer idea of which direction is sunnier.
Are you on a time-of-use billing arrangement?
If you are on a time-of-use (TOU) electricity tariff, you are probably thinking strategically about power consumption and pricing. Because most households use more electricity during the afternoon – when it is more expensive on TOU billing, a west-facing solar array is probably the better way to save money.
For example, in NSW the price of electricity between 2 and 8pm on weekdays can be around 45c/kWh (or more), which is nearly three times the off-peak rate of about 12c/kWh (usually the wee hours of the morning). If your panels are west-facing, you will be producing more power right during the expensive peak times than you would if the panels were east-facing.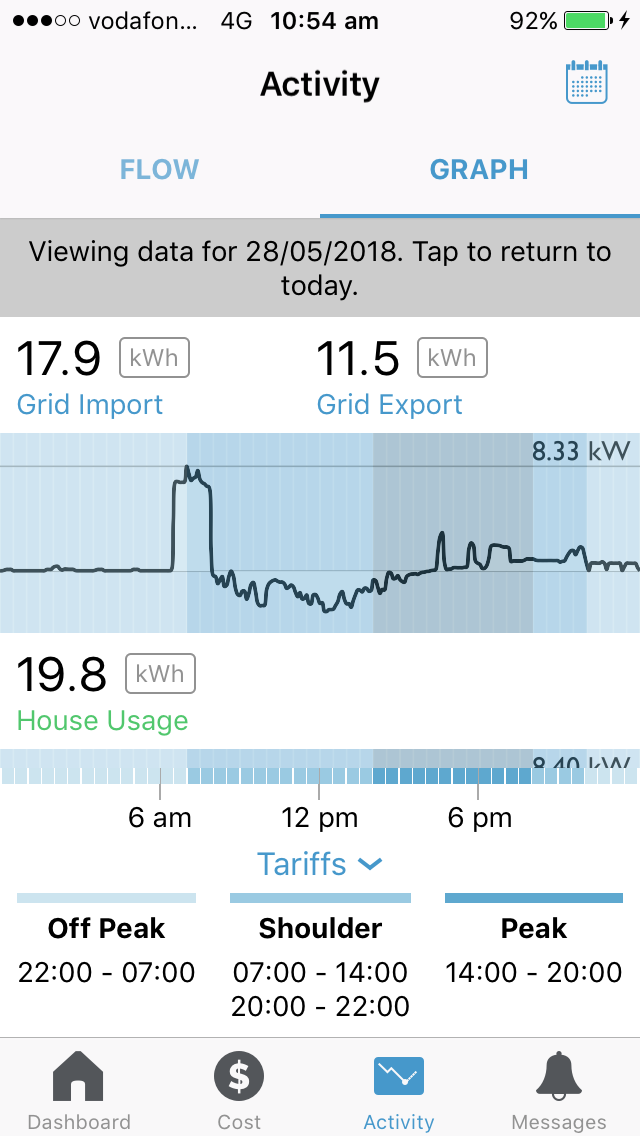 Time of use tariff schedule as displayed on the Reposit First monitoring app. Afternoon peak prices are higher than shoulder or off-peak prices at other times.
West-facing may be the better option even on a flat-rate tariff
Also keep in mind that household electricity consumption tends to be greatest in mid to late-afternoon (read more about electricity consumption patterns). So even if your electricity price is the same every hour of the day, you could still potentially save more money with west-facing panels, because their production will 'peak' slightly later than a north-facing panel array would.
Compare quotes from up to 7 installers in your area now.
See current & historic solar system price ranges for each capital city: Solar Choice's PV Price Index
See the rest of our calculators in our Calculator Resource Library