20kW solar power systems are becoming an increasingly worthwhile and attractive investment for small to medium businesses (or households with very large energy consumption) across Australia, with payback periods in the 3-5 year range in most parts of the country. This article provides an overview of the ranges of prices, energy yields (in kWh), and financial returns that a business may expect to see from a typical 20kW solar PV system.
How much does a 20kW solar system cost?
According to data from Solar Choice's installer network database, a fully installed 20kW system will cost roughly $15,000 – $20,000 as of July 2023. These figures include the up-front 'discount'/incentive available under the federal government's Renewable Energy Target for systems under 100kW in output capacity, as well as GST.
With prices in this range, clean & affordable energy is well within the reach of SMEs facing increasing pressure from rising grid electricity prices.
Solar Choice has been keeping track of commercial solar system prices since May 2014 with our regular Commercial Solar PV Price Index updates. While we don't specifically track 20kW systems, we do track 10kW & 30kW pricing – historic pricing trends for 30kW systems can be seen in the graphs below: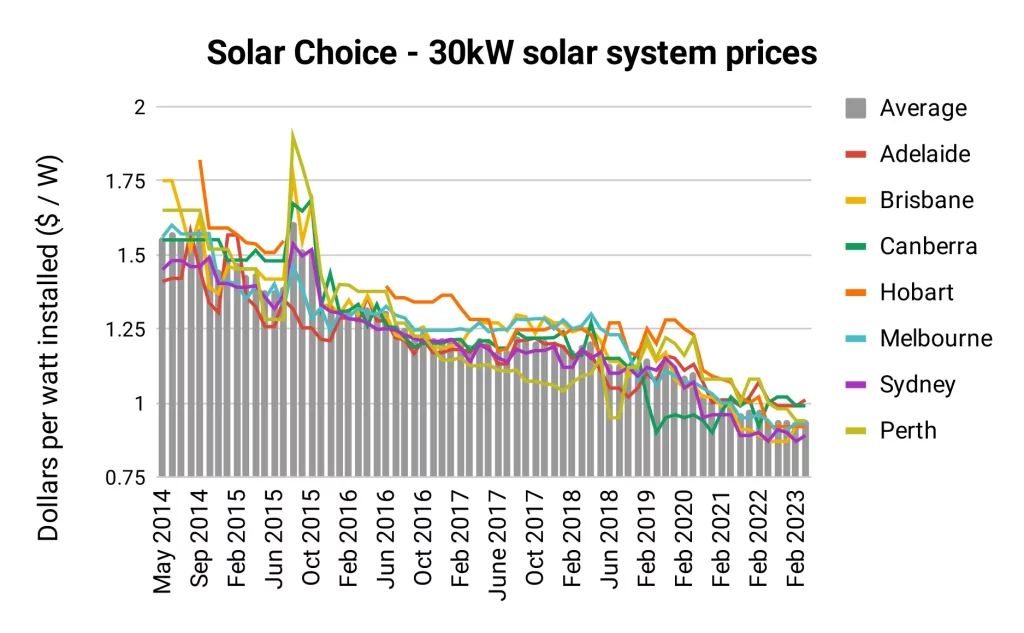 Average 30kW solar system prices between May 2014 and Feb 2023. (From Solar Choice's Commercial PV Price Index.)
Request a free solar business case and compare leading commercial installers
How much energy will a 20kW solar system produce?
Depending on a number of factors, the actual power output of a 20kW solar power system will vary. These variables include:
Geographical location of the system and the expected daily and annual solar irradiation and cloud cover levels there
Actual operating temperature of the panels
Whether solar panel array capacity is accurately matched to inverter capacity
The performance of the individual components – i.e. the panels and the inverter
The table below provides a rough indication of the amount of energy that a 20kW solar system will produce per day (averaged over the year) in Australia's capital cities.
20kW Solar System Energy Output

Capital City
Approx average daily energy production*
Adelaide
72-82kWh
Brisbane
78-82kWh
Canberra
72-82kWh
Darwin
~88kWh
Hobart
58-66kWh
Melbourne
62-72kWh
Perth
80-88kWh
Sydney
68-76kWh
*Assumes north-facing with no shading, 75% system efficiency. Information via PVWatts & Bureau of Meteorology
Keep in mind that the figures in this table are annual averages – daily output figures will generally be higher in the summer and lower in the winter due to the difference in the length of days. In the winter, a system may generate 20-40% less energy, while in the summer it may generate 20-40% more.
Is 20kW the right solar system size for your business?
Determining the right size solar system for your business essentially comes down to three factors:
Roof space available: A 20kW system will require at least roughly 100-136m2 of area, but possibly more depending on the wattage of the panels and whether they require tilt frames.
Your energy consumption habits: In many places in Australia, solar feed-in credits are not paid out for energy sent into the grid by solar systems over 10kW in capacity; this means that any solar energy that your system produces that you cannot use directly is of no financial benefit to you. It is therefore important to ensure that the system you ultimately select is sized to meet your business' energy consumption levels and habits. Talk to an expert at Solar Choice to find the optimal system size for you energy consumption.
Your budget: If you have enough roof space to install the maximum recommended solar system size, then it comes down to whether you have the budget to invest in a system.
What is the typical ROI and payback period for a 20kW solar system?
According to our own data (from nearly 300 business cases compiled in 2023), payback periods for appropriately sized commercial-scale solar systems in Australia are around 2 years on average after considering the government STC rebate and tax incentives that are available for solar projects.
Each case will vary depending on the circumstances and the preferences of the business owner. Some of the major considerations that affect ROI are:
The system cost – both upfront and ongoing costs
The grid price for electricity
How the system is paid for – cash, finance, solar PPA etc.
Whether a feed-in-tariff can be obtained to sell surplus power back to the grid
These are discussed below:
1) Total cost of the system
The 20kW solar system costs we have outlined above (around $15,000-$20,000 inc. GST in Sydney as of the end of 2023) is an estimate of the price for installs without significant extras for complications. Through our tender management service, we have installers' costs for required extras such as switchboard upgrades, crane hire, ground-mounted systems, tilt frames or micro-inverter systems. In order to get the best price and value for your system we would always recommend sourcing a number of quotes from qualified installers.
2) Electricity prices
If you just have one shop and you are buying electricity then you will have less buying power than a chain of stores that can procure a collective agreement. We have several commercial electricity bills every day and the rates vary significantly depending on buying power, location and whether you have shopped around your rates recently. In general, if you are paying higher rates for grid electricity then the value of solar power will be greater. If you are on a very sharp rate then you might be looking at a slightly longer payback period to install solar.
3) System financing
Solar can be funded upfront with a payback period of 2-5 years, however many businesses have progressed on a cash flow positive basis under a financing agreement. That means that the repayments on the loan are less than the savings the solar system delivers. The business case makes a moderate saving through the life of the loan and has a step decrease in operational costs are the end of a 5 – 10 year finance agreement. Rates for solar financing are often low between 4 – 6 % depending on project size and credit rating.
To read a balance review of the pros and cons of all the commercial solar financing options – see our full guide.
4) Solar feed-in tariffs
It is often possible to find a feed-in tariff for a 20kW solar system. If the property is on 3-phase then usually there are no limitations to exporting power back to the grid which can occur with larger solar system sizes. What rates you can get are subject to negotiation with a retailer – you can see some of the published rates here. Solar feed-in tariffs are a small part of the benefits of installing solar and we recommend to think of it as the icing on the cake. The business case should stack up based solely on reducing the amount of power you have to buy from the grid.
Request a free solar business case and compare leading commercial installers
Since 2008 Solar Choice has consulted with over 3,000 businesses around Australia and helped develop over 800MW solar commercial and solar farm projects.

Latest posts by Jeff Sykes
(see all)