10kW solar systems are a great investment for Australian homes with high levels of electricity consumption or businesses with relatively small electricity needs. This article takes a look at 10kW solar system pricing, energy production and returns in Australia.
10kW solar PV system price ranges
Australia is home to some of the lowest solar installation prices in the world, and 10kW solar systems – because of their size – frequently offer some of the best value of any solar PV system size. According to Solar Choice's own data, as of May 2016 the average price of a fully installed 10kW solar system in Australia is around $1.42 per watt – or about $14,200 for the whole system.
For anyone looking to install a 10kW solar system, this price point can act as a reference point – some installers will offer a lower price, while others will offer a higher price. The thing to look for is the comparative value of the system – a balance between quality products and price.
The chart below shows how 10kW solar system prices have changed since Solar Choice first started keeping track in 2012.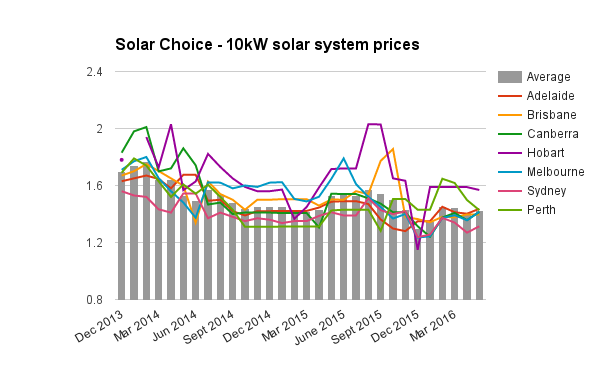 Instantly see current pricing for 10kW solar systems in your area of Australia by filling out the Solar Quote Comparison form to the right of this page. We can also help you compare battery storage system prices.
10kW solar system output
Depending a number of factors, the actual power output of a 10kW solar power system will vary. These variables include:
-Geographical location of the system and the expected daily and annual solar irradiation and cloud cover levels there
–Orientation and tilt angle of the solar panel array
–Whether there is any shade cast on the panels
-Actual operating temperature of the panels
-Whether solar panel array capacity is accurately matched to inverter capacity
-The performance of the individual components–i.e. the panels and the inverter
The table below gives indicative figures for how many kilowatt-hours of energy a north-facing 10kW solar system will generate per day (on average throughout the year) in Australia's capital cities. (If your location is not listed, check out NREL's PVWatts calculator.)
10kW solar system financial returns
These days, in the absence of generous, state-backed solar feed-in tariffs, deriving the most value out of your self-generated solar energy is 'self-consumption' – using as much energy as possible directly. Any excess solar energy that goes into the grid is effectively 'wasted' at modern-day rates of 6-8c/kWh. 10kW solar systems are on the large side for residential installations (where 3-5kW is much more common).
So as mentioned above, 10kW systems tend to be most appropriate for homes with significant amounts of daytime electricity consumption (or businesses with about 40kWh of daytime usage). They may also be a good size choice for homes who have low electricity consumption and want to go off-grid (see: "Can I go off-grid with a 10kW solar system?")
The table below takes a look at payback times and internal rate of return (IRR) for those who install a 10kW solar system in select cities at two rates of self-consumption (low (50%) and high (70%).
Indicative returns for 10kW solar systems @ average prices

(Assuming 40kWh electricity consumption/day @ 25c/kWh)


 Sydney
 Brisbane
 $13,200
 $14,100
 @ 50% self-consumption
 @ 70% self-consumption
@ 50% self-consumption
@ 70% self-consumption
 ~4.7 year payback
 ~3.8 year payback
 ~4.6 year payback
 ~3.8 year payback
 ~22% IRR
~27% IRR
 ~22% IRR
 ~27% IRR
 ~$2,740 annual savings
 ~3,350 annual savings
 ~$2,960 annual savings
 ~$3,620 annual savings
Melbourne
Perth
$14,300
$14,250
@ 50% self-consumption
@ 70% self-consumption
@ 50% self-consumption
70% self-consumption
~5.26 year payback
~4.3 year payback
~4.3 year payback
~3.6 year payback
~19% IRR
~24% IRR
~23% IRR
~29% IRR
~$2,630 annual savings
~$3,210 annual savings
~$1,179 annual savings
~$3,880 annual savings

© 2016 Solar Choice Pty Ltd

James has been involved with Solar Choice since 2010, when he first came on board as a contributor to the Solar Choice blog. Whilst continuing to write for Solar Choice's blog, James also oversees all of Solar Choice's online communications, search engine optimisation & other online development efforts. He is responsible for composing Solar Choice's monthly Solar PV Price Index articles and our Calculator Resource Library.

James holds a Master's degree in Environmental Management from the University of New South Wales. and an undergrad degree in philosophy from Bridgewater State University in his native Massachusetts. He has a keen interest in developments in the renewable energy field, with a focus on distributed solar and energy storage.

Latest posts by James Martin II (see all)