6kW or now more commonly seen 6.6kW solar systems are becoming increasingly popular amongst Australian homes thanks to a number of factors, including their affordability, ample size & ease of approval when it comes to connecting to the grid. This article provides an overview of (almost) everything you need to know if you're considering a 6kW solar system for your household, including pricing, energy yields and their attractiveness as an investment.
How many panels in a 6kW solar system? How much area required?
A modern-day 6kW solar system using 300 watt (W) to 360W modules will consist of about 17-20 panels.
Each panel generally measures out to about 1.7m2, so the roof area required for a 6kW system will be about 30-36m2 – or possibly more depending on how your roof is laid out and whether you require tilt frames (which need to be spaced out more than panels mounted flush on the roof).
An important note about inverters for 6kW/6.6kW solar systems
Are 6.6kW systems the new 5kW system?
Although your system may have 6.6kW worth of solar panels, don't be surprised if the proposed inverter for your system is only 5kW. 5kW solar systems are also incredibly popular in Australia for a number of reasons (including the fact that that size is pre-approved for grid connection on basically every network in the country), which means that 5kW inverters are much more common to come across than 6kW ones. Many of the 6.6kW solar systems on the market are therefore 'overclocked' systems with a 5kW inverter. This is perfectly legitimate within Clean Energy Council guidelines, with benefits such as greater solar energy yields in early morning and late afternoon – even if 'peak' production is clipped back to 5kW during the middle of the day.
How much does a 6.6kW solar system cost?
Solar Choice has been keeping track of residential solar system prices since August 2012 with our monthly Solar PV Price Index. We only have 2 years data on 6kW systems, but the below 5kW graph gives you an idea of how far solar has come over the last decade.
Average 5kW solar system prices (per watt of capacity) in each Australian capital city, from August 2012 to mid 2019. Historic 6kW system pricing trends should follow the same lines.
In Australia, the average retail price of a standard solar PV system installation of mid-range quality is a little under $1 per watt, after federal government solar rebates are taken into account. This means that at the time of writing (February 2021), the average cost of a 6.6kW solar system is $5,510 – significantly less than what it would have been even just a few years ago.
The price of solar systems do, however, vary widely in the market. A more cost-competitive 6kW solar PV systems consisting of cheaper, low-end products will cost less, while premium offerings will generally be pricier.
Compare solar quotes from up to 7 local installers now.
How much energy will a 6kW solar system produce?
Depending on a number of factors, the actual power output of a 6kW solar power system will vary. These variables include:
Location and local climate
The performance of the individual components (primarily the panels and inverter)
Location is one of the main determinants of solar system energy yields, as the amount of sunshine falling on a solar system's solar panels directly affects the system's output. The table below provides rough approximations for how much energy a 6kW solar system will produce, based on Bureau of Metorology and PVWatts data.
Please note that these figures are indicative only and that we have endeavored to be conservative in our estimates, using a system efficiency rate of 75%. Also note that these figures are annual averages – in reality, energy yields will be higher in the summer and lower in the winter.
North-facing 6kW solar system
Capital City
Approx solar energy production
(annual)*
Adelaide
22-24kWh
Brisbane
23-24kWh
Canberra
22-25kWh
Darwin
27kWh
Hobart
17-20kWh
Melbourne
19-22kWh
Perth
24-26kWh
Sydney
20-23kWh

*Via PVWatts & Bureau of Meteorology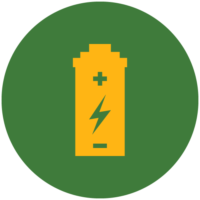 Batteries with a 6kW solar system?
More and more households have battery storage in mind when they purchase a solar system. The smallest size we generally recommend you install if you're considering batteries either now or in the future is 5kW; a system of this size will generally provide plenty of surplus energy for storing. At slightly larger than 5kW, 6kW systems would also be a good size for batteries.
Further reading:
How long is the payback period on a 6kW solar system?
The benchmark by which most solar shoppers measure their panel's performance is the payback period – the number of years that the system will take to 'pay for itself in energy bill savings & feed-in tariff credits.
The table below shows indicative payback periods, 'internal rate of return' (IRR) and annual savings in the first year for 6kW solar systems in a handful of Australian capital cities based on average prices as of April 2019. (Note that these are outputs from our Solar System Payback & ROI Estimator tool – which we encourage you to explore with your own numbers.)
Keep in mind that returns may be better for systems whose price points are lower, or if you achieve a higher level of solar self-consumption. But also be mindful that you'll want to be selective about the products and companies that you consider – some deals are too good to be true.
Indicative returns for 6kW solar systems at average prices in select capital cities

(Assuming 30kWh electricity consumption/day)


 Sydney

(assumes 7c/kWh feed-in tariff, 25c/kWh retail rate)

 Brisbane

(assumes 5c/kWh feed-in rate, 21c/kWh retail rate)

 $4,840
 $4,860
 @ 30% self-consumption
 @ 50% self-consumption
@ 30% self-consumption
@ 50% self-consumption
 4.0 year payback
 2.9 year payback
 4.7 year payback
 3.4 year payback
 25% IRR
35% IRR
 21% IRR
 30% IRR
 $1,181 annual savings
 $1,632 annual savings
 $1,006 annual savings
 $1,403 annual savings
Melbourne

(assumes 10c/kWh feed-in tariff, 21c/kWh retail rate)

Perth

(assumes 7c/kWh feed-in rate, 27c/kWh retail rate)

$4,830
$4,050
@ 30% self-consumption
@ 50% self-consumption
@ 30% self-consumption
@ 50% self-consumption
4.3 year payback
3.4 year payback
3.0 year payback
2.2 year payback
23% IRR
30% IRR
34% IRR
47% IRR
$1,102 annual savings
$1,392 annual savings
$1,343 annual savings
$1,841 annual savings
Calculate your own solar payback period using Solar Choice's free payback calculator.
Compare quotes from up to 7 pre-vetted installers in your area now.
Since 2008 our knowledge and sophisticated software has allowed over 180,000 Australian households and businesses to make a well-informed choice on their solar & battery installer.
© 2019 Solar Choice Pty Ltd