Solar Choice has been publishing its Solar PV Price Indexes for residential solar & commercial-scale solar since 2012 and 2014, respectively. We regularly compile pricing & product and warranty information from our pre-vetted installer network to produce the Residential Solar PV Price Index and Commercial Solar Price Index. Our price index is used frequently as a benchmark to residential customers and businesses as Australia's best guide on how much solar panels cost and is included in reports derived by industry experts such as SunWiz and Bloomberg NEF.
The prices include both the up-front incentive available for small-scale systems through the Renewable Energy Target (i.e. 'STC discount') and GST – they represent the total retail price of the system to the customer.
How much do Solar Panels cost? (Sep 2020)
The below table shows average solar panel costs by city & size of solar panels installed (DC):
| | 3kW | 4kW | 5kW | 6kW | 7kW | 10kW |
| --- | --- | --- | --- | --- | --- | --- |
| All | $4,110 | $4,800 | $5,230 | $5,820 | $7,110 | $9,850 |
| Adelaide, SA | $3,820 | $4,310 | $4,480 | $4,950 | $6,630 | $9,750 |
| Brisbane, QLD | $3,790 | $4,360 | $4,850 | $5,230 | $6,560 | $9,940 |
| Canberra, ACT | $3,250 | $4,380 | $4,390 | $5,410 | $6,610 | $8,050 |
| Darwin, NT | $7,470 | $8,520 | $9,890 | $10,220 | $11,610 | $12,250 |
| Hobart, TAS | $4,250 | $4,890 | $5,530 | $6,540 | $7,150 | $11,340 |
| Melbourne, VIC | $4,010 | $4,470 | $4,960 | $5,380 | $6,660 | $9,890 |
| Sydney, NSW | $3,530 | $4,020 | $4,200 | $4,710 | $5,860 | $8,090 |
| Perth, WA | $2,770 | $3,430 | $3,540 | $4,100 | $5,770 | $9,520 |
Compare quotes from up to 7 installers in your area now.
Historic average residential solar prices in Australia (Aug 2012 – Sep 2020)
Prior to the solar boom in 2008 solar cost were as high as $15 to $20 per watt and was really only taken up by the early adopters with greater financial means. The popularity of solar has been driven in part by the decreasing costs and also by an attractive federal STC scheme which offers up to 40% of the cost of the system via a government incentive. With over 300,000 installs last year, residential solar is now considered a mass market product. The below table focuses on the changes we've seen over the last 5 years as solar prices have continued to decrease dramatically as solar panel and inverter manufacturers reached economies of scale with production.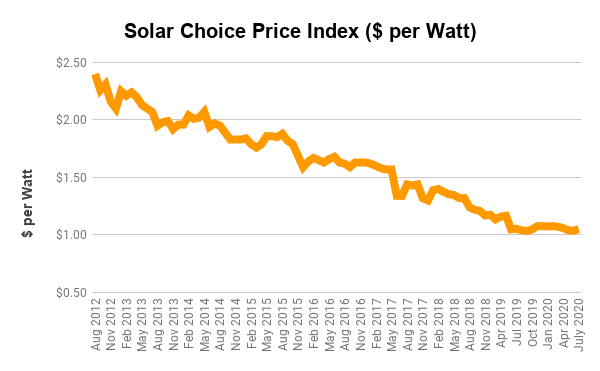 Four important factors that influence the cost of solar in Australia:
1. Wholesale equipment costs
The primary driver of the decreases in the cost of solar over the last decade has been the economies of scale reached by the Solar Panel and Inverter manufacturers predominatly in the Asian continent. As an young industry, factories have been able to automate processes, increase manufacturing and logistics scale and dramatically reduce the cost per watt of a solar installation. Many installers have now reached a volume where they can purchase Solar Panels and in some cases inverters directly from manufacturers which enables them to lower prices further.
2. The Australian Dollar
Most components for a solar system come from overseas. As a result the price of solar reflects the ability of the Australian dollar to acquire equipment, either directly as installers negotiate with manufacturers or passed on through Australian equipment wholesalers. For this reason solar quotes will often have an expiry date of 14 to 30 days to ensure that installers are not at risk if equipment costs change.
3. The Solar Rebates
The federal solar rebate – STC program – winds back each year until it is phased out completely in 2030. This provides upward pressure on solar pricing, but has been overshadowed in the past years with the cost of solar decreasing. That is beginning to change as is shown in the graph above, as we've seen solar prices trend sideways.  The introduction of local solar rebate schemes in particularly states has also had a dramatic effect on the cost of solar, particularly in Victoria.
4. Competition and Cheap Solar
The solar industry is one of Australia's most competitive markets with over 6,000 contractors accredited with the Clean Energy Council to install solar. As a result the margins have been forced to be very slim in the market. Unfortunately this has driven some installers to sacrifice quality of product and service to offer 'crazy prices' and support them with large marketing budgets to drive high volumes. These tactics have provided downward pressure on pricing, but in most cases have not improved the outcome for consumers.
What about solar panel prices in the future?
Many people in the solar industry expect the price of solar systems to continue to decline, albeit at a much slower pace. Manufacturers continue to progressively release improvements in cell efficiency and panel designs which are now edging leading Solar Panels towards 500W of power. However a lot of the early step change efficiencies of production have already been achieved in robotic-driven factories of enourmous scale. Additionally in Australia the STC rebate reduces each year until it is scheduled to phase out completely in 2030. This upward driver in solar prices has led to pricing level out over the last 12 months which can be seen in the above graph.
Compare quotes from up to 7 installers in your area now.
Commercial Solar Prices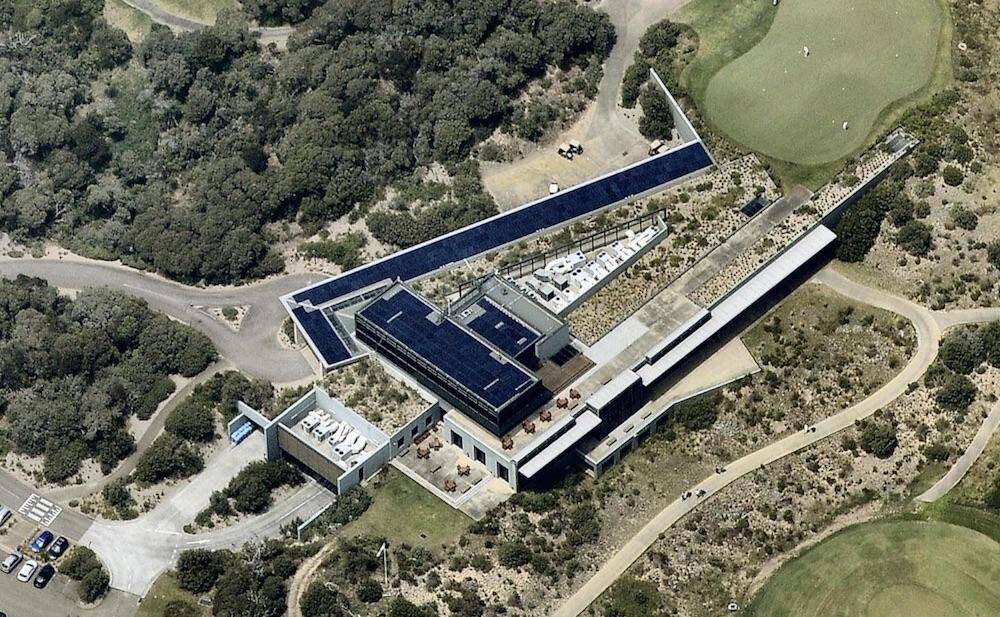 Since May 2014, Solar Choice has been publishing commercial-scale solar PV system prices for each of Australia's capital cities across a range of popular system sizes. The data we use comes from our installer network database, which consists of about 150 reputable solar installation companies around the country. Companies in our network upload their pricing & product information for us to present to our commercial clients in our free & impartial quote comparisons, so that the client can make an informed decision about who to pursue further discussion with.
Our Commercial Solar PV Price Index is published monthly, providing reliable ballpark figures on the going cost of solar panels in Adelaide, Brisbane, Canberra, Hobart, Melbourne, Perth and Sydney.
Solar Choice manages tenders for a wide range of commercial solar projects around Australia. The figures in the tables below are based on data from our extensive network of solar installers, many of which specialise solely in commercial-scale solar projects.
All prices in the tables below include incentives available through the federal Renewable Energy Target (i.e. STCs) as well as GST.
Request a free solar business case and compare leading commercial installers
Average commercial solar panel costs by city & size (Aug 2020)
| | 10kW | 30kW | 50kW | 70kW | 100kW |
| --- | --- | --- | --- | --- | --- |
| All | $12,150 | $31,490 | $55,530 | $75,040 | $96,950 |
| Adelaide, SA | $12,050 | $32,910 | $55,280 | $75,820 | $97,990 |
| Brisbane, QLD | $11,450 | $31,040 | $54,310 | $75,640 | $98,070 |
| Canberra, ACT | $10,380 | $28,080 | $50,980 | $73,000 | $99,940 |
| Hobart, TAS | $13,620 | $33,920 | $59,390 | $79,920 | $94,220 |
| Melbourne, VIC | $12,460 | $31,890 | $55,190 | $74,190 | $99,010 |
| Sydney, NSW | $10,910 | $28,850 | $52,490 | $70,290 | $95,300 |
| Perth, WA | $14,170 | $33,730 | $61,040 | $76,440 | $94,150 |
Average commercial solar panel costs per watt (Aug 2020)
| | Average | 10kW | 30kW | 50kW | 70kW | 100kW |
| --- | --- | --- | --- | --- | --- | --- |
| Average | $1.07 | $1.19 | $1.03 | $1.10 | $1.06 | $0.97 |
| Adelaide, SA | $1.08 | $1.19 | $1.07 | $1.10 | $1.07 | $0.98 |
| Brisbane, QLD | $1.06 | $1.12 | $1.02 | $1.09 | $1.07 | $0.98 |
| Canberra, ACT | $1.00 | $1.01 | $0.94 | $1.02 | $1.05 | $1.00 |
| Hobart, TAS | $1.14 | $1.36 | $1.11 | $1.18 | $1.13 | $0.94 |
| Melbourne, VIC | $1.09 | $1.24 | $1.05 | $1.10 | $1.05 | $0.99 |
| Sydney, NSW | $1.00 | $1.06 | $0.95 | $1.03 | $0.99 | $0.96 |
| Perth, WA | $1.14 | $1.37 | $1.08 | $1.21 | $1.09 | $0.94 |
Historic average commercial solar panel costs (August 2012 – Aug 2020)
Average commercial solar payback periods by state
Request a Free Business Case Analysis & Solar Quote Comparison
Compare Prices and installer options for 250kW, 500kW & 1MW
© 2019 Solar Choice Pty Ltd