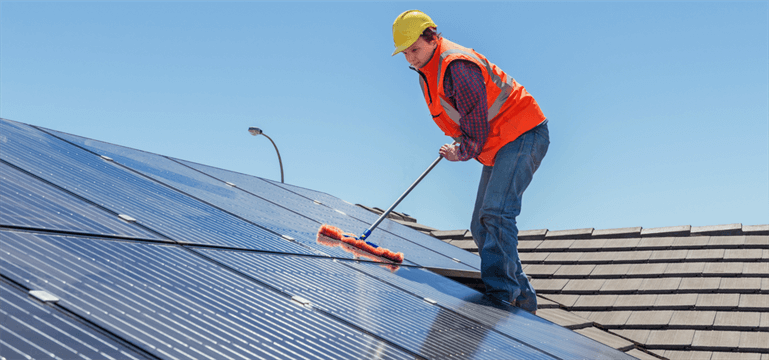 Many commercial solar installations across Australia have been sold on the premise of 'set and forget', the idea that once the solar system is installed, it will run flawlessly for most of its design life.
Therefore, it comes as no surprise that commercial solar maintenance is typically understood to be a reactive process, only required once a system fault has occurred and solar repairs are required. It should come as no surprise that just like most other assets on a facility, and in alignment with Australian Standards 5033, proactive maintenance and inspections on your solar asset(s) are critical in their effective and safe operation, and why industry bodies such as the Clean Energy Council highly recommend its implementation.
We have sought advice from Daniel Lazuras, Co-Founder of Industrias Services Group who provide maintenance services to commercial solar projects across Australia.
Why do I need to maintain my commercial solar system?
Solar systems are electricity-producing assets, that are exposed to constant and changing weather conditions including rain, hail, heat, wind, and dust, leading to material performance degradation, and safety risks over time. Some performance faults can be picked up through actively monitoring the performance of your system, but many items require an onsite inspection.
Get A Quote For Solar Panel Maintenance or Cleaning
What are the most common issues with commercial solar systems?
The most common problems encountered across the industry include poor cable management, loose cable terminations, inadequate protection of components from weather conditions, inverter faults and cracked or damaged panels. As a result, system underperformance, outages, and accelerated component degradation are regular occurrences, many of which cannot be picked up by
remote monitoring alone, but solar panels require onsite inspection.
Even roof fires caused by incorrectly installed or protected DC switch gear are not uncommon. Component failures can equally lead to material uptime losses and onsite risks. A faulty inverter will take a significant part of the installation (if not all of it) offline, despite a connected solar array that is working perfectly fine. A single faulty solar power module can impact the energy output of all adjacent modules and disproportionally reduce the system's energy yield.
How often should commercial solar systems be serviced?
It is recommended systems should be inspected at least once per year by a CEC-certified professional to guarantee the biggest return on investment. Maintenance is essential for a commercial solar system(s) performances, site safety, and the module&'s longevity.
Over time modules will accumulate lichen, beeswax, gypsum, hard water, bird droppings, dust, pollen, cement, and other debris that will affect performance causing deterioration, corrosion, and general wear and tear. Cleaning requirements will depend on site environmental
conditions and system design.
What are the manufacturers recommendations?
Leading inverter and module manufacturers, both in Australia and globally, highly recommend that the concept of 'Preventative Maintenance' in connection to solar is completed, not just solar repairwork. In fact, SMA state "A properly maintained solar system can accelerate investment payback andincrease yields by up to 30 percent".
A preventative system maintenance approach includes a range of measures that can greatly improve system safety, uptime, and efficiency, and is necessary for identifying issues and risks that a monitoring platform cannot such as loose cables, corroded mounting, cracked seals, and dust/debris build-up.
What does an operations and maintenance include?
Industrias Services Group recommends an electrical inspection and in many cases, solar module cleaning as well. The electrical inspection includes the inspection of inverters, protection and isolation devices, fuse enclosures, mounting structures and solar modules.
A check of the connected cables and terminations for degradation, heat discoloration, and hotspots is also completed, as well as verification of warning labels, checks of the air filters, heat sink, and fans to keep them clean and dust-free to mitigate fire risks.
Get A Quote For Solar Panel Maintenance or Cleaning