Note: Solar Choice is not a solar installer and has no financial or other incentives to promote any product brand over another.
Overview of Hanwha Q Cells – Company History
Q-CELLS was founded in Germany in 1999 and has been producing solar silicon cells since 2001 and eventually mannufacturing solar panels in 2010. The company originally listed on the Frankfurt Stock Exchange in 2005. In 2011, after a number of acquisitions and joint ventures, Q-CELLs posted significant losses and ultimatley filed for insolvency in 2012. Hanwha Group acquired the assets from the insolvent Q-CELLS and launched the brand Hanwha Q Cells late in 2012. Hanwha Group merged Hanwha Q Cells with another subsidiary, Hanwha SolarOne, in 2014 and the merged company was listed on the NASDAQ between 2014 and 2019 and is now a private subsidiary of the Hanwha Group.
Hanwha Q Cells only uses solar cells of its own production to control the quality and meet their high standards, which is different from other manufacturers. Although panels were originally produced in Germany, manufacturing facilities have shifted to Malaysia, China, and South Korea. In 2021, Q Cells shipped 12.4 GW of the total volume of production.
Q Cells has served the Australian market since 2009 with its head office based in North Sydney and warehouses around the country, providing products and warranty support. In 2022, Q Cells modules reached about 10.3% market share in the residential and commercial rooftop segment of Australia.
Key Indicators
| | |
| --- | --- |
| | Q CELLS Solar Panels |
| Bloomberg Tier 1 Ranking | Yes |
| PV Evolution Labs Top Performer | Yes (5/6) |
| Office location in Australia | Yes |
What is a Bloomberg Tier 1 Solar Panel?
Bloomberg's infamous tier 1 ranking is NOT a measure of Solar Panel quality in any way. It is simply an indication of the bankability of the manufacturer based on publicly released information on the financial health of the company. This should give you an idea if the company is a large, well-known manufacturer.
Q Cells Solar Panels are in the Bloomberg Tier 1.
See full list of Bloomberg Tier 1 Solar Panels
What is PV Evolution Labs Top Performer?
PV Evolution Labs with support from DNV GL independently test solar panel reliability. The tests are voluntary, with solar panel manufacturers paying to participate in the testing. This testing process is internationally renowned and is an accurate reflection of the solar panel's performance.
Q Cells Solar Panels are currently ranked in the PV Evolution Labs Top Performers across 5 of the 6 annual tests.
See full list of PV Evolution Labs Top Performing Solar Panels
Why is office location in Australia Important?
Most solar panel manufacturers entering the Australian market first set up their distribution channels and worry about customer service later. This has led to many unhappy customers who are left trying to contact Chinese head offices to claim on their 10-year product warranty.
Relying on your solar installer is not always an option as since 2011 we've seen over 700 residential solar installers (including the large ones) go out of business well within the lifetime of the systems they are installing.
Q Cells currently has an office located in North Sydney, NSW.
How Much Do Q Cells Solar Panels Cost?
Based on Solar Choice's database we have provided the below-average costs as an indicative guide. These prices include:
Full turnkey Solar System with Q Cells Solar Panels
Installation from a pre-vetted reputable installer from Solar Choice's network
The STC rebate and GST
| | |
| --- | --- |
| System Size | Average Fully Installed Cost |
| 10kW | $12,047 |
| 8KW | $9,532 |
| 6kW | $6,968 |
Important Note: Prices will vary depending on location, inverter brand and which installer is used
Compare quotes from up to 7 installers in your area now.
Q Cells Solar Panels – Points of Difference
There are many solar panels out there, what makes Q Cells solar panels stand out?
Multiple Manufacturing Sites
Q Cells owns four manufacturing sites globally making their solar panels and batteries (South Korea, China, United States and Malaysia). As a result, there is less risk of country specific market dynamics affecting their prices – as was observed in 2021 with the Chinese Energy Crisis affecting 90% of the solar panel market. Partly due to this diversification away from Chinese manufacturing, Q Cells solar panels have a high market share in the US (estimated at 24.1% in 2022).
Long history company and trusted products
Q Cells was founded in 1999 in Germany and has steadily grown their presence in the market over the last 20 years. Having been awarded certifications through most independent testing authorities including PV Evolution Labs and Bloomberg Tier 1, their panels have been trusted by large investment firms on many large-scale solar farm projects.
Q Cells's Warranty for Australian Customers
Q Cells was provided an industry-standard 12-year product warranty and 25-year performance warranty. But on the new series G9+ and G10+ panels, the product warranty has been upgraded to 25 years, which equals the industry leaders in the market.
For the Q.Maxx and Q.Maxx-G2 panels, the summary of warranty terms and conditions:
12 years limited product Warranty: 'For material defects or processing defects, Hot-Spot Protect and Anti PID Technology.'
25 years limited linear performance warranty: 'At least 98 % of the nominal power within the first year. Thereafter, the decrease of the power output will not exceed 0.54 % p. a. Minimal nominal rated power after 25 years at least 85 %.'
For the Q.PEAK DUO-G9+ and Q.PEAK DUO-G10+ panels, the summary of warranty terms and conditions:
25 years limited product Warranty: 'For material defects or processing defects, Hot-Spot Protect and Anti PID Technology.'
25 years limited linear performance warranty: 'At least 98 % of the nominal power within the first year. Thereafter, the decrease of the power output will not exceed 0.54 % p. a. Minimal nominal rated power after 25 years at least 85 %.'
Q Cells Solar Panel Technologies
All the panels they currently sell in Australia are salt mist corrosion-resistant and suitable for installation in any location.
Currently, Q Cells offers a variety of panels in Australia, the most popular panels are from premium Q.Peak and Q.Maxx monocrystalline range, which can provide the best efficiency especially for those homeowners with limited roof space.
Q.MAXX series
The Q.MAXX is Q Cells lower cost option which provides 120 half-cut cell solar panels up to 360W with a 12 year product warranty. This series uses the next generation Mono PERC half-cut solar cells with 12 busbars per cell, which increases the efficiency up to 20.1%. Additionally these black panels offer an aesthetically pleasing for homes with visible roof-space. The solar panels degrade at 0.54% after the first year which beats most of their peers (normally 0.7%) and it is guaranteed under their 25 year performance warranty.
Q.PEAK series
The latest Q.PEAK DUO is a step up in technical specifications from the Q.MAXX and also offers an industry leading 25 year performance warranty. They also utilise the Q Cells branded technology, Q.ANTUM DUO, which is aimed at increasing the power output of each cell through in-house developed innovations. Ultimately this technology delivers a high efficiency rating of up to 20.2% and a low degradation rate of 0.54% a year after the first year. For residentail use, the panel's power range from 335W to 415W. For commercial use, the power is up to 580W.
Tested in Australian Conditions
Not only does Q Cells carry out rigorous testing in the lab, but also in the field. Q Cells is one of the only manufacturers to perform cyclone testing in Australia. Q Cells modules have been installed at The Desert Knowledge Australia Solar Centre (DKASC) since 2012, a facility for solar modules operating in the arid weather conditions of Alice Springs, and display the performance onto the internet for demonstration.
Q Cells Efficiency
Solar panel efficiency is the ability of cells to convert solar energy into electricity. The higher the panel's efficiency, the more power output generated by the solar panel. So a higher panel efficiency will be one of the main features to rate the quality. The efficiency of Q Cells modules will be depending on different types for each country. The available product line in Australia has the efficiency vary from 17.1% to 20.1%. Most of the popular panels have the efficiency of around 19% upwards, which reach to the level of the front line in the industry.
Comparison of Q Cells Solar Panel Specifications (common modules)
Q Cells Q.MAXX 330W

(2019-10_Rev02_AU)

Q Cells Q.PEAK DUO-G5+ 330W

(2019-09_Rev02_AU)

Q Cells Q.PEAK DUO-G6+ 350W

(2019-06_Rev01_AU)

Cell Number
120 Half-cut Cells
120 Half-cut Cells
120 Half-cut Cells
Cell Type
Monocrystalline
Monocrystalline
Monocrystalline
Power Output
330
330
350
Max Power Voltage
34.14V
33.98V
34.07V
Panel Efficiency
19.6%
19.6%
19.5%
Annual Power Degradation
0.54%
0.54%
0.54%
Dimensions
1685 × 1000 × 32 mm (1.68 m²)
1685 × 1000 × 32 mm (1.68 m²)
1740 × 1030 × 32 mm (1.79 m²)
Weight
18.7kg
18.7kg
19.9kg
Warranty
12 Years
25 Years
25 Years
Operational Temperature Range
−40 °C to 85 °C
−40 °C to 85 °C
−40 °C to 85 °C
Made in
China
South Korea
South Korea
Q Cells Solar Panels Pros and Cons
Pros
Listed as a top performing solar panel by PV Evolution Labs
Tier 1 Solar Company by Bloomberg New Energy
Have an Australian Head-Office in Sydney
Cons
If you are looking for a more price competitive solution, Q Cells will not be for you. High on the premium list
Q Cells went bankrupt in 2012 before being brought out by a large South Korean business conglomerate called The Hanwah Group
So, Should I Buy Q Cells Solar Panels?
The Q.PEAK series offers good value for solar buyers looking for a 25-year product warranty but don't want to pay the premium for the top of the line solutions (like SunPower or LG). In our opinion at Solar Choice, Q Cells offer a good middle range between your standard tier 1 cost-effective brand and the expensive premium options.
Despite a chequered history, the Q Cells brand appears to be in financial stable territory with the backing of Bloomberg's tier 1 rating, so there's a good chance that you will be able to receive all the value of the 25-year product warranty, even if your solar installer closes up shop.
Example of a Q Cells Commercial Solar Project – Yalumba Winery, Barossa Valley
In 2016, 1.4 MWp Q Cells modules installed in the Yalumba Winery project, the largest commercial solar PV system installed at an Australian winery in South Australia, producing around 2000MWh output annually. It is expected to reduce the energy bill for the wine business by 20% each year.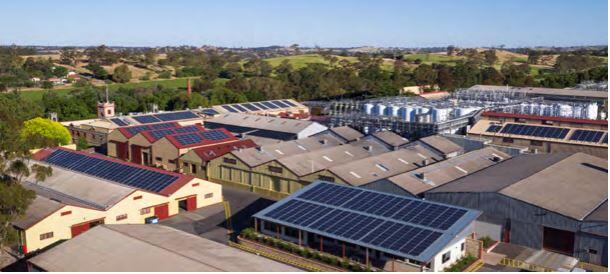 Read more product reviews from Solar Choice
Compare quotes from up to 7 pre-vetted installers in your area now.
Since 2008 our knowledge and sophisticated software has allowed over 300,000 Australian households and businesses to make a well-informed choice on their solar & battery installer.
Reviews from Australians who have installed Q-Cells Panels
Rated 4.74 from 38 reviews
7th September 2023
Olivier
ACT - 2611
8kW system
Great performing, have been flawless so far (4+ years).
25th August 2023
A.
TAS - 7052
5kW system
22nd August 2023
Greg
NSW - 2773
4kW system
8th August 2023
Gareth
-
5kW system
7th August 2023
Sandy
-
15-20kW system
19th July 2023
Martin
VIC - 3126
4kW system
Suspect there are better panels available
10th July 2023
Jean
VIC - 3995
6kW system
2nd July 2023
David
WA - 6066
6kW system
They look good and seem to be working fine
1st July 2023
Joseph
NSW - 2097
4kW system
No comment - performing as expected
28th June 2023
R
-
1.5kW system
27th June 2023
Paul
TAS - 7277
7kW system
Panels were installed in September 2020, this latest installation was the addition of a battery and updated DC inverter.
25th June 2023
Mike
NSW - 2093
8kW system
7th June 2023
Gerard
NSW - 2290
10kW system
23rd May 2023
Lee
-
8kW system
These panels were highly recommended to us by Johna
17th May 2023
Luke
-
9kW system
3rd May 2023
Raymond
VIC - 3956
6kW system
Seem competitive in price, and quality.Also local access to distribution and good parts warranty.
26th April 2023
Peter
-
5kW system
No problems with the panels for the last 3.5 years. These appear to be working well in all conditions
23rd April 2023
Ian
NSW - 2317
5kW system
We chose Duo type to minimise effects of shading. So far, after 2 years, they are still performing like new, which is better than expected. 350W x 16 panels = 5.6 kW nominal. We chose 350W as it is the same as the microinverter rating. As they don't all face the same direction (10 panels face east, 6 face north - if we had the space we would have faced them all north) peak power is 4.8 kW in summer, 3.0 kW in winter. Energy on a clear sunny day is 35 kWh summer, 17 kWh winter.
1st April 2023
Jen
QLD - 4520
6kW system
31st January 2023
Kevin
QLD - 4179
6kW system
so far so good and the dark panel blends in well.
17th January 2023
Frank
VIC - 3782
8kW system
18th December 2022
Darren
-
10kW system
Great product. Works in low light conditions ,we are usually fully charged around 10am, 16 KW. Great warranty
15th December 2022
Ian
VIC - 3995
6kW system
13th December 2022
Bob
NSW - 2324
5kW system
Did some research and found these were one of the best brands in the market, they do perform well even in very cloudy conditions
18th November 2022
Christobel
-
8kW system
8th November 2022
Juliet
WA - 6019
5kW system
8th November 2022
Nigel
SA - 5072
10-15kW system
So far they are working well. It is early days though
30th August 2022
Leon
-
6kW system
30th July 2022
Mark
QLD - 4511
10-15kW system
22nd July 2022
John
-
6kW system
WORKING VERY WELL INSTALLED FEB 2021
28th June 2022
Mrs Rijntje
SA - 5162
6kW system
What my son researched is what we got
21st March 2022
Peter
-
6kW system
whilst yet to have an account, it appears the panels are operating correctly and efficiently
7th March 2022
Rob
-
5kW system
Appears to be a quality product and installed requested
26th February 2022
Jim
NSW - 2535
7kW system
24th November 2021
James
-
6kW system
22nd September 2021
Daniel 3
TAS - 7018
7kW system
13th July 2021
Daniel
VIC - 3155
10-15kW system
panels have been working flawelessly for over 18 months
25th March 2021
Robert
VIC - 3984
6kW system