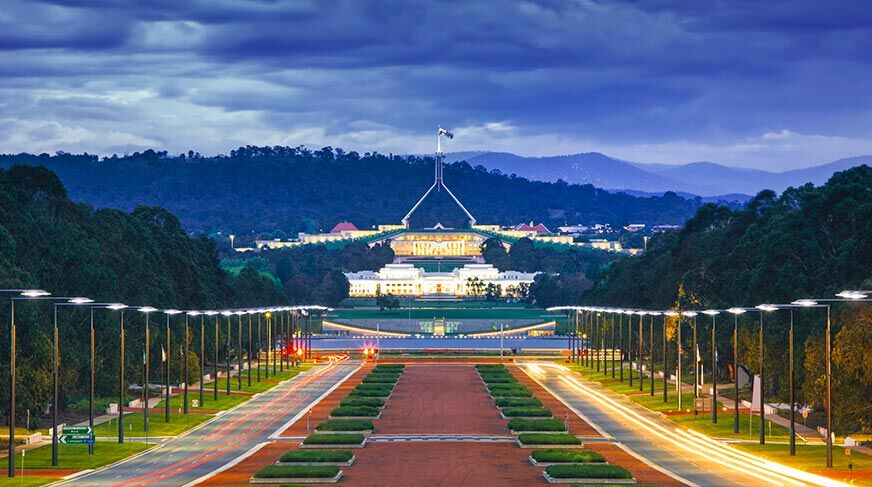 Canberra, ACT is a great place to go solar in Australia, thanks primarily to the ever-improving economics of solar panel installations. This article takes a look at the some of the key considerations for going solar in Canberra, including system pricing, energy yields and incentives available to system owners. It also touches on battery storage.
How do you benefit from solar power in Canberra?

Getting an optimal solar power system anywhere in Australia – including Canberra – means first understanding how a system benefits a home or business. Solar panels only produce electricity during sunlight hours, and how much electricity is generated depends on the intensity and duration of the sunshine.
ACT residents can benefit from solar in two ways:
1) 'solar self-consumption', where you use the solar energy directly (and avoid having to pay your retailer for electricity), and
2) solar feed-in credits, where you receive a credit on your bill for 'excess' solar energy that you send into the grid. The combination of these two benefits helps to make solar a great investment for the ACT.
Note that the feed-in tariff rate that you receive depends on who sells you electricity (your retailer) and the plan that you're on with that retailer. You can compare feed-in tariffs and switch electricity plans using the government's EnergyMadeEasy.gov.au comparator website, or our own electricity plan comparison tool.
Compare quotes from up to 7 installers in your area now.
How much energy will a Canberra solar panels produce?

The average Canberran rooftop receives an annual average of about 4.8 hours of sun per day based on data from the Bureau of Meteorology. This number fluctuates seasonally (higher in summer and lower in winter). Estimated daily generation figures for different size systems based on 4.8 sun hours are detailed below (minus a 25% efficiency loss). Note that 'kilowatt-hours' (kWh) is the same unit that you'll see on your electricity bill; the average Australian home uses between 15-25kWh of energy per day.
Assumptions:
Solar panels are free of shading and a orientated to the North at 30 degrees
The solar power system's efficiency is 75% (conservative estimate)
How much do solar panels cost in Canberra?
Solar Choice regularly publishes articles with indicative pricing for PV systems in Australia's capital cities (including Canberra) in our Solar Choice Price Index.
Based on the price index data from September 2022, we can see that in Canberra a typical 6kw solar system would cost $5,470 on average after deducting the STC rebate and including GST.
The table below shows how solar system price trends for Australia over the last decade. The prices are in dollar per watt ($/W) format and segmented by capital city (including Canberra).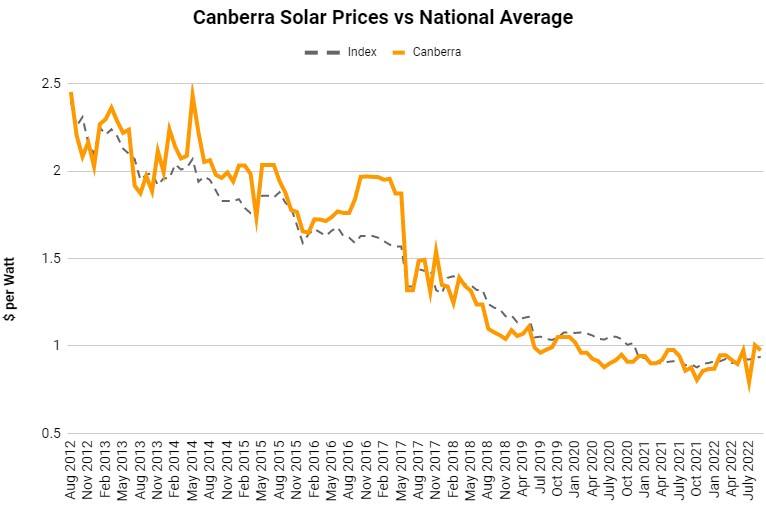 Compare solar quotes from up to 7 local installers now.
Choosing the right solar system size
Because solar is affordable these days, sizing up a system for your home is not an exact science.  The most popular residential system size in Australia has risen to 6.6kW system; the larger the system, the less you'll pay per watt of capacity ($/W) for comparable equipment. This size system could work with a household consuming the typical 15-25kWh/day – increasing the system size up and down will slightly adjust the return on investment which we discuss below.
To simplify the shopping process, our online comparison portal provides a good way to get started. You can easily browse through difference system sizes and the costs, along with different qualities and types of solar equipment – click compare now on the right to get started. You can also check out our Simple Solar System Sizing Estimator to explore different scenarios.
Federal and state government incentives for solar panels Canberra
Federal rebate for solar (STCs)
Significant up-front incentives are available from the federal government. Technically speaking, this discount comes in the form of 'small-scale technology certificates' (STCs), which utility companies and other liable entities are obligated to purchase under Australia's national Renewable Energy Target. This discount is applied directly to the purchase price of your system – there is no need to claim it, as it is passed through to you by the company that sells you the system; all you have to do is compare prices.
As an example, the STC benefit associated with the scheme for a 5kW solar system in Canberra is approximately $2,287 based on pricing from Green-bank.
ACT Battery Rebate Program
The ACT's battery rebate scheme (called Next Gen) was originally launched in 2016 and has subsidised the installation of over 600 batteries across the state. The scheme provides a rebate of $825 per kW of battery sustained peak output (SPO) up to a maximum of $24,750 for households and $41,250 for businesses.
Potential ACT Rebate for Popular Solar Batteries Canberra

Battery
Usable Capacity
Sustained Peak Output (SPO)
Rebate
Tesla Powerwall 2
13.5 kWh
5 kW
$4,125
LG RESU10
8.8 kWh
5 kW
$4,125
Alpha-ESS SMILE T-10
Expandable
10 kW
$8,250
BYD B-Box LVS
Expandable
3.33 kW
$2,747
This definitely helps the case for batteries and has been increasing in popularity in Canberra. The resulting financial return for a solar battery installation is explored further down this page.
Is solar power worth it in Canberra?
Residents of the ACT are fortunate enough to benefit from some of the lowest grid electricity prices in the whole of Australia, with the most competitive rates coming in at around 19c/kWh according to government site Energy Made Easy. While this means that a typical (pre-solar) household electricity bills in the ACT tend to be less than those in QLD or NSW, it also means that the return on investment for a solar system is slightly lower than other states.
The table below examines 3 popular system sizes (5kW, 6.6kW and 10kW) with varying energy usage profiles to estimate the return on investment for common scenarios. A big input to the calculation is the "self-consumption rate" which estimates how much of your generate solar power will be used in the household rather than being sold back to the grid. As the feed in tariff rates are low and reducing, it always presents a better payback period if you can use as much of the solar power as possible.
Note that we've used average solar system prices, but there are a full range of options available on Solar Choice's comparison portal if you are ready to get quotes for solar.
Indicative Returns for solar panels Canberra

– Last updated March 2022-

Solar Panel Size
Average Cost
Average Daily Energy Usage
Self Consumption Rate
Annual Savings
Payback Period
5kW
$4,910
15 kWh
40%
$751
6.4 Years
6.6kW
$5,620
20 kWh
40%
$995
5.5 Years
10kW
$8,730
40 kWh
40%
$1,705
5.0 Years
Assumptions/Limitations of this analysis
Assumes energy price of 19c / kWh which is towards the cheaper end of what is possible in different areas of Canberra
Assumes a solar feed in tariff of 7c / kWh
Average costs come from the Solar Choice Price Index for March 2022
Your self-consumption rate will vary depending on how you use power in your home. At higher rate, means less power is exported to the grid and improves your financial return
You can play with the numbers for yourself using our Solar Payback Calculator.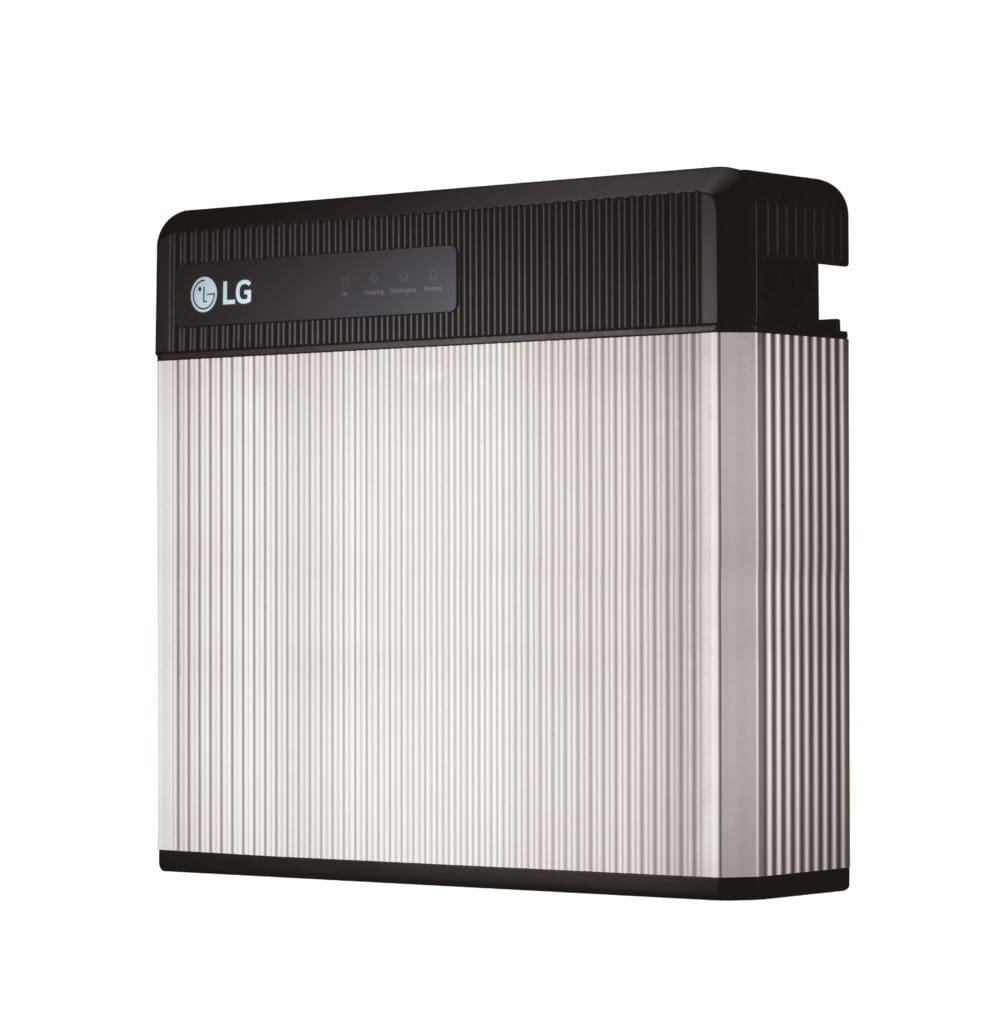 What about solar battery storage in Canberra?
The ACT is one of the few local governments in Australia to offer an incentive for home battery storage under its NextGen program. NextGen helps to reduce the cost of installing batteries, provided you go with one of the program's handful of pre-selected providers. This is a fantastic program that makes battery storage worth looking into for Canberrans and which we hope will be emulated by other state & territory governments going forward.
Solar Choice has been regularly assessing the financial return of batteries for many years in our 'Are solar batteries worth it?' article. We looked at three different use cases and matching solar panel and battery solutions to arrive at the results below. You will notice that the return for batteries isn't quite at the same level of solar panels (despite the rebate).
| | | | | |
| --- | --- | --- | --- | --- |
| User Case | Solar and Battery Solution | Total Year 1 Savings | Payback Period Solar & Battery | Payback Period Battery Only |
| Young Adults / Older Family | 5kW of Solar Panels and a 3.5 kWh battery | $946 | 7.9 years | > 20 years |
| Retirees / Young families | 6.6kW of Solar Panels and a 6.5 kWh battery | $1,408 | 7.1 years | 18.9 years |
| Big Energy User | 13 kW of Solar Panels and a 13.5 kWh battery | $2,450 | 8.1 years | > 20 years |
For a full explanation of our methodology and assumptions – see the full article.
Many solar panels Canberra customers are installing solar panels first to lower power bills and keeping their options open to add a battery once prices come down (we expect they will over the next few years).
Increasingly Australians are making the decision to add a battery to their solar panel solution due to the non-financial benefits like having power during a blackout and running the house almost entirely off renewable energy.
Compare quotes from up to 7 pre-vetted installers in your area now.
Since 2008 our knowledge and sophisticated software has allowed over 160,000 Australian households and businesses to make a well-informed choice on their solar & battery installer.
FAQs
How many houses have solar panels in Canberra?
Can I install solar panels on my house in Canberra?
What direction should solar panels face in Canberra?
How many solar panels do I need in Canberra?
© 2019 Solar Choice Pty Ltd 

Latest posts by Jeff Sykes
(see all)