Image credit: ZJ Beny
Note: Solar Choice has no affiliation with any EV Charging company and is here to offer an honest review for anyone looking to buy an EV Charger in Australia.
ZJ Beny Company Overview
ZJ Beny, founded in 2011, operates out of Yueqing City in China. The company specialises in producing switching and electrical components for Solar PV systems.
ZJ Beny is the number 1 supplier by volume for DC isolator switches for solar systems in Australia.
They have recently expanded their product line to include AC and DC electric vehicle chargers designed for residential, commercial, and public charging sites.
Popular Models and Comparison of Features
The ZJ Beny 22kW Home Charger comes with a myriad of optional add-ons including a tethered charging cable, Wi-Fi, dynamic load balancing, RFID and smart app control.
It is important to understand all of these features and to select the model that is most appropriate for your needs.
*Note: Some models are offered in both Smart and OCPP versions, with identical model numbers. If you wish to use the OCPP service, it is necessary to specifically request the OCPP version. The Smart version does not have support for OCPP.
| | | |
| --- | --- | --- |
| Product Name | Smart EV Charger Type 2 Tethered | Smart EV Charger Type 2 Untethered |
| Product Image | | |
| Product variant | | |
| Price (Approx. AUD price RRP inc. GST) | $1,100 | $975 |
| Rating | 1-Phase 7.4kW3-Phase 22kW | 1-Phase 7.4kW3-Phase 22kW |
| Country of manufacture | China | China |
| EV compatibility | Type 2 | Type 2 |
| Enclosure dimensions | W278 x H360 x D152 mm | W278 x H360 x D152 mm |
| Weight | | |
| Operating Temperature | -25˚C to 55˚C | -25˚C to 55˚C |
| Charge cable length | 7 meters | – |
| Solar self-consumption optimisation? | Optional | Optional |
| Internet connection? | Optional | Optional |
| App control | Optional | Optional |
| Weather resistance | Outdoor Rated | |
| IP rating | IP65 | IP55 |
| Warranty (years) | 3-year | 3-year |
| Datasheet | ZJ Beny Datasheet | ZJ Beny Datasheet |
What We Like About ZJ Beny EV Chargers
The ZJ Beny Home Charger is one of the most affordable chargers on the market making it ideal for those on a budget. The dynamic load balancing function ensures that the charger works optimally with other household appliances, balancing the total household current to avoid overloads.
Key Features
The following features can be optionally added to their basic charger option:
Smart App
The smart ZJ Beny EV Chargers have wifi and Bluetooth connectivity meaning you can control the charger through an accompanying app.
The 'unsmart' chargers will be a plug-and-play device and will have minimal ability to control the charging speed or function of the charger.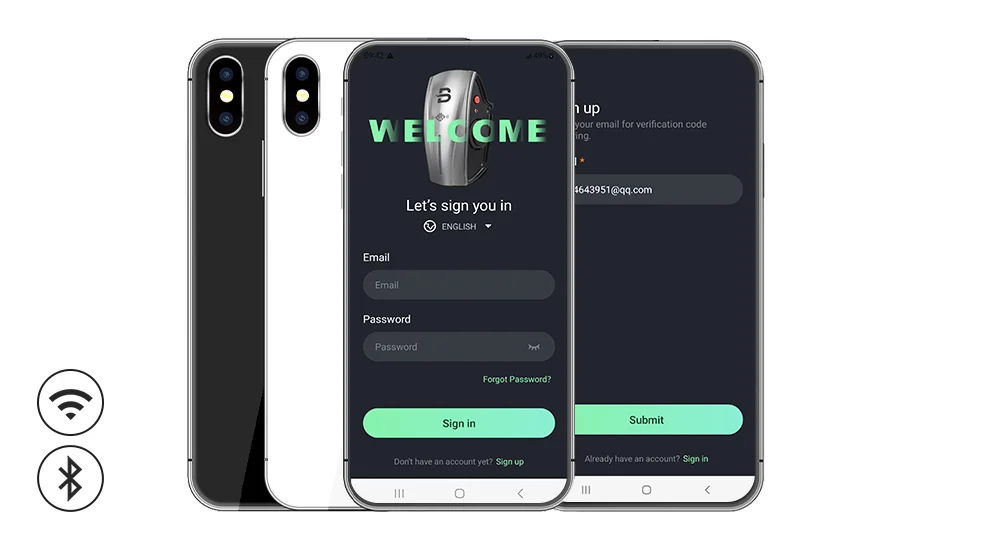 Dynamic Load Balancing
This function is available on their BCP series. These chargers come with a clip-on grid electricity sensor, which measures the amount of electricity your home or business is currently consuming.
The dynamic load balancing function will then determine the power capacity left available in real-time and adjust the output of the ZJ Beny accordingly to avoid overloading the power supply and tripping any fuses.
One limitation of the ZJ Beny load balancing system is that many of the chargers can only drop to a minimum of 16A compared to many other chargers on the market which can go as low as 4A or 6A.
This feature is more commonly required in commercial applications.
PEN Fault Detection
The PEN fault detection is a safety feature that monitors the electrical system and disconnects all poles in the event of a fault.
RFID (Radio Frequency Identification Card)
With this option, the charger can be activated through the use of a specially designed RFID card. This is not compatible with a regular credit card.
Solar Optimisation
The ZJ Beny EV charger with the support of an additional monitoring sensor and control box can optimise the charge speed to use solar power.
This is not a standard inclusion and we recommend getting an installer to confirm that the function is compatible with your solar system.
OCPP (Open Charge Point Protocol)
OCPP enables your charger to communicate with 3rd party applications. This may become highly beneficial in the future with options like vehicle-to-grid discharging.
How Much Does the ZJ Beny Charger Cost?
There are lots of models and variations of the charger available so i difficult to give an exact cost but this range of EV home chargers can range from anywhere between $550 and $1200 depending on the model and features you select.
The unsmart and untethered option is the cheapest wall-mounted charger we could find in Australia but is very limited in functionality.
Pros and Cons
| | |
| --- | --- |
| Pros | Cons |
| Great value option | The model range is confusing with so many different configurations |
| Compatible with solar | No Australian support office |
| | An additional $170 for the Dynamic Load Balance monitor module |
Installation
Installation should be performed by a qualified electrician and typically takes a few hours. The can be additional time and costs required if you are looking at a ground-mounting charger, outdoor installation or there is not an easy cable pathway from your main switchboard.
Need an EV charger installation quote?
Get the best prices for an installed EV charger near you
Warranty & Service
Warranty information is not provided on the website. For warranty and service details, it's recommended to contact ZJ Beny directly. It looks like they currently only have customer service in China, this could be a problem if something goes wrong.
Should I Buy a ZJ Beny 22kW Home Charger?
If you're looking for an affordable EV home charger that offers safety features like Dynamic Load Balancing and PEN Fault Detection, the ZJ Beny 22kW Home Charger is worth considering.
Unfortunately, we have found that the material released by ZJ Beny has not been translated well into English and it is difficult to understand the different options available. It would be essential to discuss all the options with an installer that has experience with this charger.

Latest posts by Jeff Sykes
(see all)