Note: Solar Choice is not a solar installer and has no financial or other incentive to promote any product brand over another. 
Overview of Hyundai Solar – Company History
Hyundai, well known by most for the car manufacturing business, entered the solar industry in 2005. Hyundai Solar Panels are made by Hyundai Heavy Industries Green Energy which is a subsidiary of Hyundai Heavy Industries (HHI). HHI has revenue over $30billion and their core business is shipbuilding, offshore oil & gas construction and industrial engineering.
The solar panel manufacturing activities are predominantly based in South Korea and according to Bloomberg's module tiering list, Hyundai Solar's manufacturing capacity is small compared to their tier 1 counterparts at 600MW per year.
Hyundai Solar made an initial entry to the Australian market in 2009 before exiting again a few years later. In 2018, Hyundai Solar are back and have signed up distribution agreements with Supply Partners and Solar Juice. Hyundai's Australian website features a single scroll page and their datasheets are hosted in Dropbox and Google Drive – so it seems Hyundai Solar's investment into their Australian operation is focused on distribution agreements.
Key Indicators
| | |
| --- | --- |
| | Hyundai Solar Panels |
| Bloomberg Tier 1 Ranking | Yes |
| PV Evolution Labs Top Performer | Yes (3/6) |
| Office location in Australia | Yes |
What is a Bloomberg Tier 1 Solar Panel?
Bloomberg's infamous tier 1 ranking is NOT a measure of Solar Panel quality in any way. It is simply an indication of the bankability of the manufacturer based on publicly released information on the financial health of the company. This should give you an idea if the company is a large, well-known manufacturer.
Hyundai Solar Panels are in the Bloomberg Tier 1.
See full list of Bloomberg Tier 1 Solar Panels
What is PV Evolution Labs Top Performer?
PV Evolution Labs with support from DNV GL independently test solar panel reliability. The tests are voluntary, with solar panel manufacturers paying to participate in the testing. This testing process is internationally renowned and is an accurate reflection of the solar panel's performance.
Hyundai Solar Panels was listed as a top performer for the thermal cycling, Damp Heat and LID+LETID in the latest report.
See full list of PV Evolution Labs Top Performing Solar Panels
Why is office location in Australia Important?
Most solar panel manufacturers entering the Australian market first set up their distribution channels and worry about customer service later. This has led to many unhappy customers who are left trying to contact Chinese head offices to claim on their 10-year product warranty.
Relying on your solar installer is not always an option as since 2011 we've seen over 700 residential solar installers (including the large ones) go out of business well within the lifetime of the systems they are installing. 
Hyundai Solar has an office on Martin Place in Sydney under the name of Hyundai Energy Solution Co. Ltd.
How Much Do Hyundai Solar Panels Cost?
Based on Solar Choice's database we have provided the below-average costs as an indicative guide. These prices include:
Full turnkey Solar System with Hyundai Solar Panels
Installation from a pre-vetted reputable installer from Solar Choice's network
The STC rebate and GST
| | |
| --- | --- |
| System Size | Average Fully Installed Cost |
| 10kW | $12,000 |
| 8KW | $9,300 |
| 6kW | $7,500 |
 Important Note: Prices will vary depending on location, inverter brand and which installer is used
Compare quotes from up to 7 installers in your area now.
Hyundai Solar Panel Technologies
All the panels they currently sell in Australia are salt mist corrosion-resistant and suitable for installation in any location.
Currently, Hyundai offers two series of panels on Australia market for residential solutions — RG Series and SG series. At the time of updating this page (Dec 2020), they can produce panels with efficiencies of up to 20.2% (HIE-S350SG).
The majority of Hyundai solar panels are approved by the Clean Energy Council (listed under the name of Hyundai Energy Solutions Co Ltd) for the Small-scale Renewable Energy Scheme – Australia's home solar rebate program.
RG Series
The RG series has 60 cells of monocrystalline silicon with up to 19.24% efficiency, which can be used for either residential or commercial systems.
The panels claim to eliminate power degradation from both LID (Light Induced Degradation) and PID (Potential Induced Degradation)
This series also offer all black modules to provide a very sleek appearance, which gives customers with visible roof space an aesthetically pleasing option.
Modules available in Australia:
SG Series – Shingled Solar Modules
Conventional solar modules consist of 60 or 72 full solar cells electrically connected via metallic busbars. Visually you can see that solar cells have gaps around them and effectively busbars cross over the cells to link them together.
Shingled solar modules have layers of solar cells which link each other and electrically connected using an ECA (electrically conductive adhesive). The shingled solar panels eliminate the need for metallic busbars, meaning the silicon cells can take up higher percentage of the surface area of a the panel.  The absence of busbars also reduces the light on the solar cells and improve the efficiency of the modules. PERC Shingled Technology provides over 20% efficiency with better performance in low irradiation and maximizes installation capacity in limited space.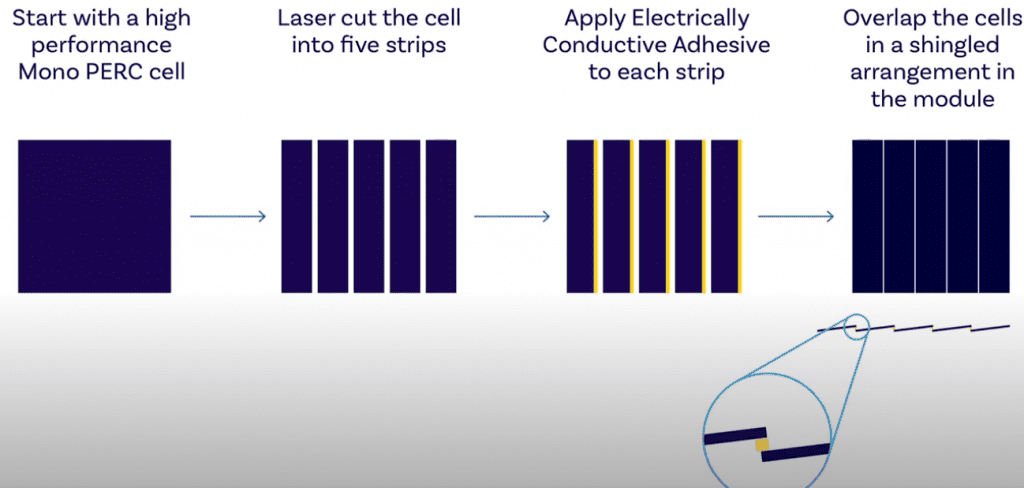 The standard half-cut solar modules are split into 2 pieces while the Shingled solar modules are split 5 times, which means that if shading is on 1/5th of both the panels, the standard half-cut will only operate 50% whereas the Hyundai Shingled solar modules would still be performing the output at the level of 80%.
Modules available in Australia:
Hyundai's Warranty Offering
Solar panels come with a product and performance warranty. The product warranty is designed to cover manufacturing faults in the panel that leads to damage or malfunction, while the performance warranty guarantees a minimum amount of output from the solar panel, which typically declines annually in line with the natural degradation of the silicon in the panel.
Most solar panels on the market have 10 to 15-year product warranty and 25-year performance warranty. However, in 2019, Hyundai increased their product warranty to 25-years along with 25-year performance warranty for all ranges (30-year performance warranty for RG series). This is definitely above the average warranty offer in the market.
It should be noted that, while the future of parent company Hyundai Heavy Industries seems fairly certain, their renewables offshoot is a comparatively small non-core subsidiary and no guarantees are made that HHI will back Hyundai Solar's warranty claims should the subsidiary go out of business.
Please read more on the latest warranty policy.
Hyundai Solar Panels Pros and Cons
Pros
Tier 1 Solar Company by Bloomberg New Energy
Have an Australian Head Office in Sydney
Listed as a top performing solar panel by PV Evolution Labs
Cons
Diverse brand (could be considered a pro)
Smaller portfolio of completed projects in Australia compared to larger Chinese manufactured competition
Comparison of Hyundai Solar Panel Specifications (common modules)
Hyundai 300W RG

HIA-S300RG

Hyundai 350W Shingled

HiE-S350SG

Cell Number
60 Cells
340 Cells (increments of 5)
Cell Type
Mono PERC
PERC Shingled
Power Output
300
350
Nominal Power Voltage
32.37V
37.6V
Panel Efficiency
18.44%
20.2%
Annual Power Degradation
0.55%
0.55%
Dimensions
992mm × 1640mm × 35mm
1068mm × 1622mm × 35mm
Weight
18.2kg
19.8kg
Product Warranty
25 Years
25 Years
Operational Temperature Range
−40 °C to 85 °C
−40 °C to 85 °C
Made in
China/South Korea/Vietnam
China/South Korea/Vietnam
So, Should I Buy Hyundai Solar Panels?
Hyundai have re-positioned themselves towards the premium end of the market by extending the product warranty to 25 years matching the likes of LG, Sunpower and REC. This makes sense given their brand awareness from their similarly named, but legally and finally separate, car manufacturing business.
If you are weighing up a decision between different premium solar panels, the only downside of Hyundai Solar is that they are a smaller business (considering the solar subsidiary in its own right) with a shorter track record and a lower footprint in the Australian market. When examining their products all signs point towards high quality and great performance.
If you're a fan of the shingled-cell solar panel technology, Hyundai is currently one of your only options in Australia.
Example of an Hyundai Solar Project –the Timber Yard, Falls Creek NSW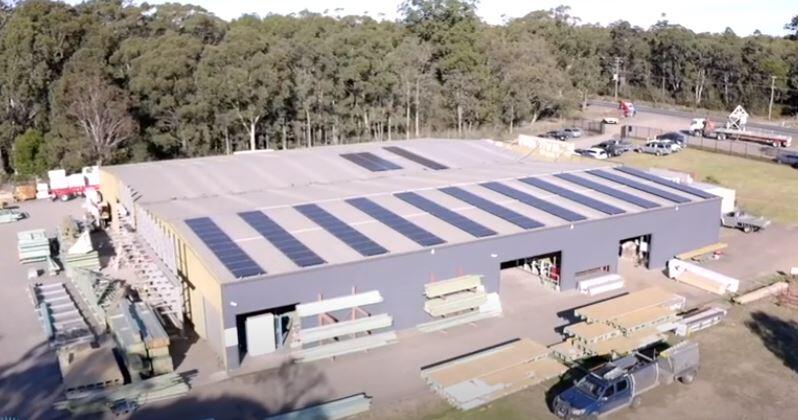 Year: 2019
Type of Application: Commercial
System Size: 40kW
134 Hyundai RG-Series panels were installed generating the power for the machinery-heavy business operation, reducing the power bills by 93% and the carbon emissions by around 51 tonnes yearly
Read more product reviews from Solar Choice
Compare quotes from up to 7 pre-vetted installers in your area now.
Since 2008 our knowledge and sophisticated software has allowed over 180,000 Australian households and businesses to make a well-informed choice on their solar & battery installer.
Reviews from Australians who have installed Hyundai Panels
Rated 4.57 from 14 reviews
19th May 2022
Hank
NSW - 2594
6kW system
They look like they are great panels. Because we are only allowed a 1.5kWh feeding it is very hard to ascertain if the panels work at top capacity.
12th May 2022
Gary
-
6kW system
Only fitted recently but looks good and producing well
11th May 2022
Matt
-
5kW system
10th May 2022
Des
-
6kW system
24th March 2022
Michael
-
10-15kW system
22nd March 2022
Paul
QLD - 4610
15-20kW system
4th March 2022
Brett
-
6kW system
22nd February 2022
Geoff
WA - 6208
6kW system
17th February 2022
Bob
QLD - 4575
6kW system
10th February 2022
Brian
SA - 5290
6kW system
Early days but all working efficiently
3rd February 2022
David
NSW - 2325
10-15kW system
27th January 2022
Nathan
QLD - 4122
6kW system
29th September 2021
Glenn
TAS - 7004
6kW system
27th July 2021
Graham
VIC - 3089
6kW system
Panels seem okay. The app is reporting that one panel is producing less than those adjacent to it. Will need to be looked at.