Note: Solar Choice is not a solar installer and has no financial or other incentives to promote any product brand over another.
Leapton Solar- Company History
Leapton Solar is a solar panel and mounting system manufacturer which was founded in Kobe, Japan. Dating back to 2012, Leapton is a later entrant to the solar panel manufacturing market with many of the bigger names in the industry setting up in the early 2000s.
Leapton have quickly established a tier 1 bankability rating by Bloomberg NEF establishing key trust in the company's longevity and warranty offer. The company has a published manufacturing capacity of 660MW per year which makes them a boutique manufacturer, however they have plans for a new 2GW manufacturing plant which would make a big increase in volumes. Leapton solar panels are manufactured in Changshu, China and they distributed solar panels across the globe.
In 2018 Leapton commenced efforts to sell their solar panels in the Australian market, received the mandatory Clean Energy Council approval in 2019. They have established an office in Melrose Park, S.A. to provide after-sales service, technical support, and market Leapton Solar panels in Australia.
Key Indicators
| | |
| --- | --- |
| | Leapton Solar Panels |
| Bloomberg Tier 1 Ranking | Yes |
| PV Evolution Labs Top Performer | No |
| Office location in Australia | Yes |
What is a Bloomberg Tier 1 Solar Panel?
Bloomberg's infamous tier 1 ranking is NOT a measure of Solar Panel quality in any way. It is simply an indication of the bankability of the manufacturer based on publicly released information on the financial health of the company. This should give you an idea if the company is a large, well-known manufacturer.
See full list of Bloomberg Tier 1 Solar Panels
What is PV Evolution Labs Top Performer?
PV Evolution Labs with support from DNV GL independently test solar panel reliability. The tests are voluntary, with solar panel manufacturers paying to participate in the testing. This testing process is internationally renowned and is an accurate reflection of the solar panel's performance.
Leapton Solar Panels are not currently ranked in the PV Top Performers List. As a new company, we hope to see them in future rounds of testing in the coming years.
See full list of PV Evolution Labs Top Performing Solar Panels
Why is office location in Australia important?
Most solar panel manufacturers entering the Australian market first set up their distribution channels and worry about customer service later. This has led to many unhappy customers who are left trying to contact Chinese head offices to claim their 15-year product warranty.
Relying on your solar installer is not always an option as we've seen many residential solar installers (including the large ones) go out of business well within the lifetime of the systems they are installing.
How much do Leapton Solar Panels cost?
Based on Solar Choice's database we have provided the below-average costs as an indicative guide. These prices include:
Full turnkey Solar System with Leapton Solar Panels
Installation from a pre-vetted reputable installer from Solar Choice's network
The STC rebate and GST
| | | |
| --- | --- | --- |
| System Size | Average Fully Installed Cost | Price per Watt |
| 6kW | $5,029 | 84c per watt |
| 10kW | $7,984 | 80c per watt |
Important Note: Prices will vary depending on location, inverter brand and which installer is used

Compare solar quotes from up to 7 local installers now.
Leapton Solar Panels – Points of Difference
There are many solar panels out there, what makes Leapton's solar panels stand out?
Highly accredited solar panels
Along with the mandatory Clean Energy Council accreditation, Leapton solar has passed TUV, PID, Chemitox, SGS, CQC, GAMCORP, and other international authorized certifications meaning their solar panels have passed a variety of different qualification hurdles. This extends significantly beyond the minimum requirements for a solar panel to be sold in Australia or other global markets.

Leapton's 25 Year Product and Performance Warranty
All solar panels come with a product and performance warranty. The product warranty is designed to cover manufacturing faults in the panel that may lead to damage or malfunction and is typically 10 years for most mainstream solar panel manufacturers. Leapton's Solar Panels come with an industry leading 25 years reflecting their intent to be a premium option for customers.
The performance warranty guarantees a certain level of output for the lifetime of the panel – typically guaranteeing 80-82% of the nameplate output after 25 years. Leapton offers a 25 year performance warranty with a guaranteed output of 80.68% for monocrystalline modules and a guaranteed output of 80.7% for polycrystalline modules. This is towards the lower end of what is offered on the solar panel market for power degradation.
The Australian warranty document references both the Australian and Chinese contact details for making a warranty claim. Importantly they do have a local phone number (1800 717 636) that can be contacted by customers.
You can access their full warranty document here.
Leapton Solar Panel Technologies
Leapton Solar currently have 76 solar panels approved by the Clean Energy Council in Australia. This is a requirement to be eligible for the federal STC solar rebate.
Leapton currently have 10 solar panel options listed as available on their Australian website which range in size and output. We have listed some of their solar panels aimed at the residential market below: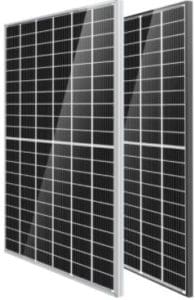 Solar Panel Model – LP158*158-M-60-MH
The output of this solar panel ranges from 325W to 340W with a solar panel efficiency of up to 20.1%. The solar panel uses 158mm by 158mm monocrystalline solar cells which have been half cut to increase the efficiency. Whilst holding up fairly well on their technical specs, this solar panel is one of Leapton's least impressive models that is currently available on the market. Like most of their panels, customers can choose from a silver or black Aluminium frame.
Solar Panel Model – LP166*166-M-66-MH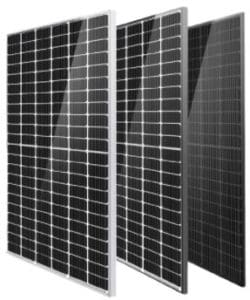 Featuring a larger cell size and 6 more monocrystalline solar cells in total, the LP166*166-M-66-MH panel has a rated output of 385W to 415W. The 9 bus bar cell technology and other improvements have enabled the efficiency of the panel to reach up to 20.5% which is edging towards one of the best options on the market.
This solar panel also has a low temperature co-efficient of -0.28%/degC which makes the panel suitable for some of the northern parts of Australia which experience very hot days.
Solar Panel Model – LP166*166-M-60-MH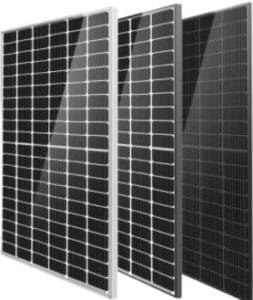 Very similar to the above model, the LP166*166-M-60-MH utilises 6 less solar cells in its 60 cell design. This means it is 9% smaller in dimensions which can be more flexible to cater to certain residential roof space. The overall output potential of the solar panel is also 9% smaller ranging from 360W to 380W.
These panels come with black frame options and all black cell options which can provide an aesthetically pleasing look to a roof space.
Pros and Cons of Leapton Solar Panels
Pros
Cons

Tier 1 listed manufacturer
Industry leading 25-year product warranty
Australian office and support staff

Shorter company history than most of their competitors
Only selling in Australian market since 2019
Not many large-scale project examples in Australia
Leapton Solar Panel Specifications (common modules)
| | | |
| --- | --- | --- |
| | LP182*182-M-54-MB | LP156*156-P-72-H |
| Cell Number | 54*2 pcs | 72*2 pcs |
| Cell Type | Monocrystalline | Polycrystalline |
| Power Output | 390Wp | 360Wp |
| Max Power Voltage | 30.42V | 39.7V |
| Panel Efficiency | 19.95% | 17.90% |
| Annual Power Degradation | 0.7% | 0.7% |
| Dimensions | 1721 x 1134 x 35 mm | 2008 x 1006 x 35 mm |
| Weight | 24.5 kg | 22.5 kg |
| Product Warranty | 15 Years | 15 Years |
| Operational Temperature Range | -40°C to 85°C | -40°C to 85°C |
Example of a Leapton Solar Project
Leapton Solar has internationally provided panels to a large number of commercial and industrial scale projects, particularly in China and Japan. The below image shows a 4 MW Leapton solar farm project in Thailand which was installed in 2019.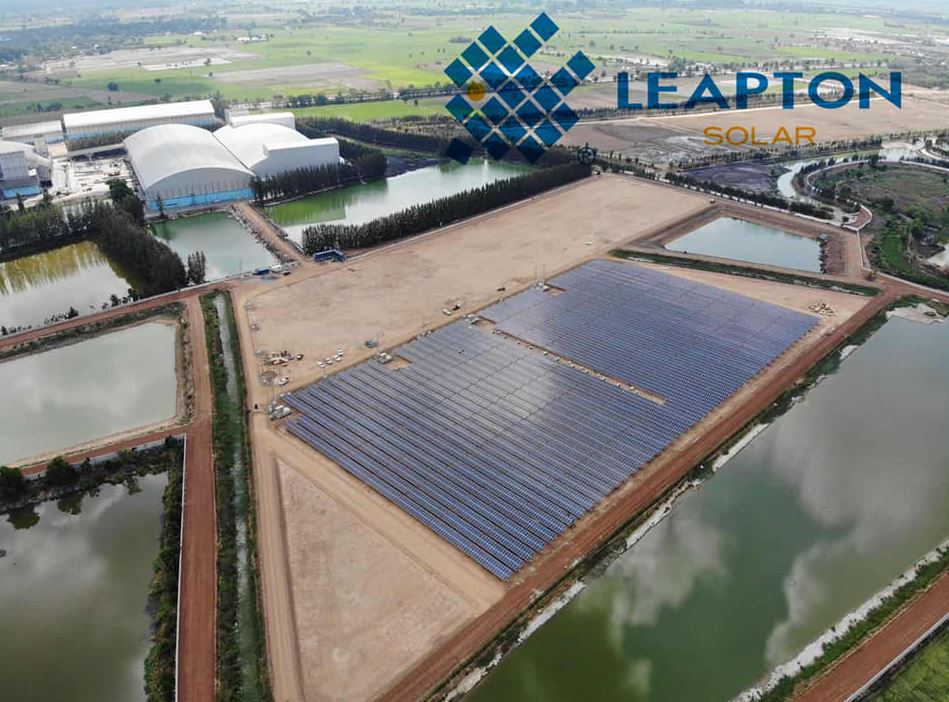 Read more product reviews from Solar Choice
Compare quotes from up to 7 pre-vetted installers in your area now.
Since 2008 our knowledge and sophisticated software has allowed over 300,000 Australian households and businesses to make a well-informed choice on their solar & battery installer.

Latest posts by Jeff Sykes
(see all)
Reviews from Australians who have installed Leapton Panels
Rated 4.80 from 10 reviews
2nd August 2023
Jonathan
WA - 6211
5kW system
30th March 2023
Lysander
VIC - 3461
2kW system
24th March 2023
Patricia
VIC - 3264
5kW system
21st March 2023
Neil
VIC - 3107
4kW system
Seem to work as advertised, but they cost me more money than quoted on lower efficiency panels
23rd August 2022
Frank
WA - 6065
6kW system
Japanese unit now available in Australia. Good warranty. They have an office here.
30th July 2022
Jim
WA - 6172
6kW system
7th July 2022
Sabine
WA - 6210
6kW system
So far providing great yield
5th March 2022
Stefan
SA - 5251
10-15kW system
Seems to be very efficient
10th February 2022
Naveen
NSW - 2155
6kW system
9th August 2021
Ron
WA - 6169
6kW system
Seems like a world wide product