Note: Solar Choice is not a solar installer and has no financial or other incentives to promote any product brand over another.
Overview of LG – Company History
LG initially entered the solar market in 1985 as the company 'Lucky-GoldStar'. The company developed its first portable solar cell technology in 1988, 'The Solar Lantern'. Lucky-GoldStar rebranded to LG (Life is Good) in 1995 and proceeded to design solar systems for traffic lights and clock towers. In 2009 LG created its first solar panel and has gone on to win the Intersolar Award in 2013, 2015 & 2016 for its innovations. It also won the Readers Digest Australia Most Trusted Solar Panel Award 2020 after a survey of 3000 readers.
The South Korean multinational conglomerate corporation is currently the 4th largest chaebol (family-owned business) in South Korea. Holding a very impressive panel return rate of only 40 in 1 million, LG has built the reputation of being a premium global solar panel manufacturer.
This brand recognition has strengthened through achieving EUPD Research Top Brand PV Award for Modules in Australia each year for the past 5 years.
LG have a website dedicated to their Australian energy division and an office space located in Eastern Creek, NSW.
Key Panel Indicators
| | |
| --- | --- |
| | LG Solar Panels |
| Bloomberg Tier 1 Ranking | Yes |
| PV Evolution Labs Top Performer | No |
| Office location in Australia | Yes |
What is a Bloomberg Tier 1 Solar Panel?
Bloomberg's infamous tier 1 ranking is NOT a measure of Solar Panel quality in any way. It is simply an indication of the bankability of the manufacturer based on publicly released information on the financial health of the company. This should give you an idea if the company is a large, well-known manufacturer.
See full list of Bloomberg Tier 1 Solar Panels
What is PV Evolution Labs Top Performer?
PV Evolution Labs with support from DNV GL independently test solar panel reliability. The tests are voluntary, with solar panel manufacturers paying to participate in the testing. This testing process is internationally renowned and is an accurate reflection of the solar panel's performance.
LG Solar Panels are not listed in PV Evolution Labs Top Performing Solar Panels report (2023)
See full list of PV Evolution Labs Top Performing Solar Panels
Why is office location in Australia Important?
Most solar panel manufacturers entering the Australian market first set up their distribution channels and worry about customer service later. This has led to many unhappy customers who are left trying to contact Chinese head offices to claim on their 10-year product warranty.
Relying on your solar installer is not always an option as we've seen over 700 residential solar installers (including the large ones) go out of business since 2011 – well within the lifetime of the systems they are installing.
LG's head office and key warehouse is in Eastern Creek in Western Sydney and they have satellite offices in all states except Tasmania. LG also retains a old stock on all Solar Panels they have sold since 2010 to cater to warranty claims where necessary. LG has an Australian revenue of over $1bn meaning their 25 year product warranty is one of the strongest and most trustworthy offers in the market.
Compare quotes from up to 7 installers in your area now.
How much do LG Solar Panels cost?
Based on Solar Choice's database we have provided the below-average costs as an indicative guide. These prices include:
Full turnkey Solar System with LG Neon 2 Solar Panels
Installation from a pre-vetted reputable installer from Solar Choice's network
The STC rebate and GST
| | |
| --- | --- |
| System Size | Average Fully Installed Cost |
| 6kW | $8,885 |
| 8kW | $11,830 |
| 10kW | $14,302 |
Important Note: Prices will vary depending on location, inverter brand and which installer is used
LG Solar Panels' 25-year Product and Performance Warranty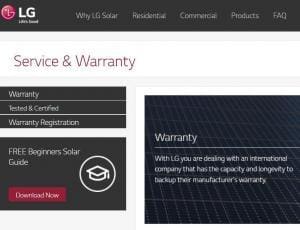 Likely the most significant point of difference for LG panels is their industry leading 25 year product and performance warranty. The performance warranty guarantees a minimum amount of output from the solar panel, which typically declines annually in line with the natural degradation of the silicon in the panel. LG's performance warranty for the NeON 2 guarantees an output of 90.08% after 25 years which is a significantly higher proportion that the tier 1 cost-effective panels who offer 80% to 85% after 25 years. Over time you could expect up to 5% higher output of usable electricity from an LG solar panel than most of their counterparts.
The more significant difference in their warranty period is the 25-year product warranty. Most panels stick to a 10-year warranty period which has rapidly become the industry standard. Providing a 25-year product warranty period means that LG will provide a spare panel and covering the shipping and labour costs to replace in the instance of a manufacturing or materials defect. To provide clarity to the customer LG have providing a list of exclusions in their warranty document to provide clarity on where warranty would not be claimable. Many of these reasons relate to improper procedure used by the installer or weather events that are often cover by home and contents insurance.
A Solar Panel product warranty is only valuable to you if the company is still in business and has a clear process by which warranty can be claimed directly be end-users (don't rely on your installer to still be around). In our opinion, if you are looking for peace of mind, LG's warranty is one of the best on the market and justifies their position as a top-of-the-line solar panel.
LG Launches the LG Mono X in November 2020

LG has launched a solar panel into the Australian market which is aimed to win market share of the customers who are looking for a more cost-effective. The panel features many similar characteristics to the NeON 2 series with slightly lower panel efficiency and most notably a reduction in product warranty to 15 years.
LG claims this will enable installers to shave off $2,000 from a common 6.66kW which would utilise 18 panels.
The Mono X series will sit towards the top of the cost-effective panel range and offer buyers on a budget some of the comforts of the LG brand without a premium price-tag.
LG Launches the NeON H+ Series in 2022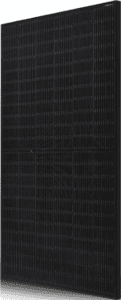 The newest NeON H+ series from LG features N-type solar cells which improves the solar panel's efficiency with the 415W model's max efficiency reaching 21.2% The solar panel is suitable for residential and commercial installations with 66 half cut solar cells adding to a total height of 1.88m and width of 1.04m.
The panel features the same warranty characteristics as the flagship NeON 2 model with a 25 product warranty and a 25 performance warranty degrading at an industry leading 0.33% p.a. after the first year leading to a minimum production of 90.6% of the nameplate value by the 25th year.
The LG NeON H+ series also comes with a 410W all black panel (see photo right) which offers an aesthetically appealing option for visible roof spaces.
Model Range Available in Australia
Residential LG solar panels are approved by the Clean Energy Council for the Small-scale Renewable Energy Scheme, which is Australia's home solar rebate program.
CEC approved models available for residential installation in Australia:
LG NeON® 2 350-365Wp
LG NeON® 2 Black 340-350Wp
LG NeON® R 375-380Wp
LG NeON H+ 415W
LG NeON H+ 410W black
LG Mono X Plus 370Wp
Compare quotes from up to 7 installers in your area now.
LG Solar Panel Specifications
LG NeON® 2
LG NeON® 2 Black
LG Mono X Plus
Cell Number
60
60
120 (half-cut)
Cell Type
Monocrystalline N-type
Monocrystalline N-type
Monocrystalline N-type
Power Output
370Wp
340Wp
370Wp
Nominal Power Voltage
35.8V
34.9V
33.95V
Power Density
214 W/m²
199 W/m²
198 W/m²
Panel Efficiency
21.4%
19.8%
19.8%
Annual Power Degradation
0.33%
0.33%
0.40%
Dimensions
1700 x 1016 x 40 mm

(1.72 m²)

1686 x 1016 x 40 mm

(1.71 m²)

1776 x 1052 x 40 mm

(1.87 m²)

Weight
18kg
17.1kg
19.7kg
 ">Warranty
25 years
25 years
15 years
Operational Temperature Range
-40°C to 90°C
-40°C to 90°C
-40°C to 90°C
Made in
South Korea
South Korea
South Korea
Conclusion – Are LG Solar Panels worth it?
When buying a solar system, you need to make a decision on whether you are happy to pay more for something that will last longer, or whether you are happy with something that is more likely to run into issues down the line but will pay for itself quicker. If you're in the first camp, then LG Solar Panels are one of your best options with proven technology and an excellent track record in Australia.
Example of an LG Commercial Solar Project
In November 2017 Kedron-Wavell Services Club located in Brisbane installed 300 LG NeON®2 335W panels. This totalled a system size of 80.4 kW with an approximate annual output of 131,000 kWh. The goal was to install a system as large as possible to reduce the club's power bill. The installation had its challenges as the roof surface had multiple angles and differing levels. Overall, it was estimated that the club saves $34,000 yearly on their electricity bill. The environmental benefit of this installation is the reduction of approximately 53 tonnes of CO2 per annum. The club's panel array is pictured below.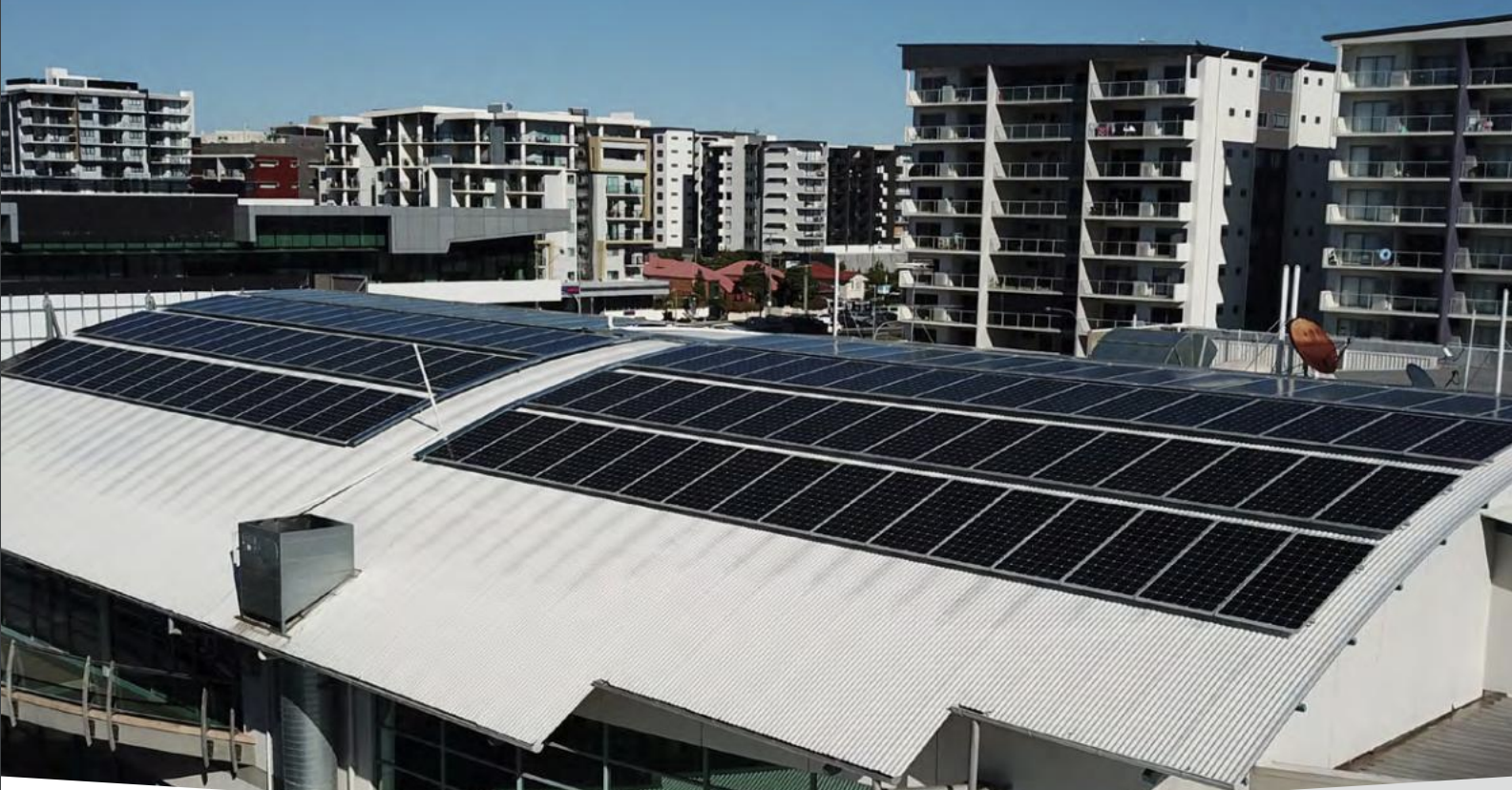 Read more product reviews from Solar Choice
Compare quotes from up to 7 pre-vetted installers in your area now.
Since 2008 our knowledge and sophisticated software has allowed over 300,000 Australian households and businesses to make a well-informed choice on their solar & battery installer.

Latest posts by Jeff Sykes
(see all)
Reviews from Australians who have installed LG Panels
Rated 4.67 from 21 reviews
4th September 2023
-
10kW system
13th August 2023
Mike
NSW - 2785
6kW system
Samsung Black cells work very well.
11th August 2023
Alexander
NSW - 2110
5kW system
Noticeable variation in the performance of the individual panels, despite adjacent location on roof
24th July 2023
Matthew
NSW - 2120
5kW system
15th July 2023
Sue
ACT - 2604
7kW system
Since installation we haven't had ant issues
27th June 2023
Sara
VIC - 3228
5kW system
Chosen due to good reviews in Choice magazine. Has not had an issue.
24th June 2023
Glenn
NSW - 2101
7kW system
Chose them for the 25yr warranty, however they have ceased making them now. Apparently they will still honour the warranty
14th June 2023
David
NSW - 2076
8kW system
We have 2 arrays - one of 20 panels @ 335 W each, and one of 6 panels of 360 W each (installed 2 years later than the first set) Both sets were installed by SolarPro
23rd May 2023
Wolfram
VIC - 3071
5kW system
22nd May 2023
Craig
SA - 5007
8kW system
The LG panels have delivered the output as predicted in spite of not being ideally orientated.
17th January 2023
Sanjay
VIC - 3105
10kW system
2nd September 2022
Susannah
QLD - 4878
6kW system
No news is good news. The panels have been ticking along perfectly since we had them installed 5 years ago.
10th May 2022
Alison
ACT - 2605
10kW system
21st March 2022
David
NSW - 2347
8kW system
27th September 2021
Phillip
NSW - 2782
5kW system
they are working efficiently and giving the results that we expected
17th August 2021
Regina
-
10kW system
We want LG as we wanted a good panel
2nd July 2021
Julien
-
10kW system
We bought the top range LG panels because we are near the sea and they had the highest corrosion resistance + the best optimization and warranty.
14th April 2021
Geoff
WA - 6530
3kW system
1st April 2021
Denis
VIC - 3150
8kW system
Expensive but offer very good performance and great 25 year warranty on the panels
28th March 2021
Max
QLD - 4868
6kW system
Early days, but So far, so good!
24th February 2021
Anthony
NSW - 2285
6kW system
Chosen due to higher output and longer warranty from a reputable South Korean company. LG NeON 2 360 Watt panels installed onto north facing roof in two arrays on either side of an existing evacuated tube solar hot water collector. One array is 10 panels, the other is 8 and they are wired to seperate phases (I have a two-phase supply to the house).