Note: Solar Choice is not a solar installer and has no financial or other incentives to promote any product brand over another.
Overview of REC Group – Company History
Founded in Norway in 1996, REC Group is one of the original manufacturers of solar photovoltaic modules with a focus on premium quality. Originally production was completed in Norway and Sweden. In 2010 they became fully automated, producing 26 million solar panels in their production plant in Singapore. In 2015 Norway's Elkem Group (Bluestar Investment Co. Ltd) acquired REC. Elkem is a world leader in silicon production, this has aided the development of REC's integrated photovoltaics in the global market.
REC Group now has 8 offices across the globe including an Australian office in the Melbourne CBD. The REC Certified Solar Professional Program enables solar installers to become 'certified' with them enabling them to offer longer warranty periods to their customers including a product and labour warranty of up to 25 years.
For those looking for an independent REC solar panels review, we've done our research and written extensively on this topic:
Key Indicators
| | |
| --- | --- |
| | REC Group Solar Panels |
| Bloomberg Tier 1 Ranking | Yes |
| PV Evolution Labs Top Performer | Yes (2/6) |
| Office location in Australia | Yes |
What is a Bloomberg Tier 1 Solar Panel?
Bloomberg's infamous tier 1 ranking is NOT a measure of Solar Panel quality. It is just an indication of the bankability of the manufacturer based on publicly released information on the financial health the company. This should give you an idea if the company is a large, well-known manufacturer.
REC Group were ranked on the Bloomberg tier 1 list as of Q4 2020.
See full list of Bloomberg Tier 1 Solar Panels
What is PV Evolution Labs Top Performer?
PV Evolution Labs with support from DNV GL independently test solar panel reliability. The tests are voluntary, with solar panel manufacturers paying to participate in the testing. This testing process is internationally renowned and is an accurate reflection of the solar panel's performance.
REC solar panels are currently ranked in the PV Evolution Labs Top Performers across 2 of the 6 annual tests in the latest 2023 report.
See full list of PV Evolution Labs Top Performing Solar Panels
Why is office location in Australia Important?
Most solar panel manufacturers entering the Australian market first set up their distribution channels and worry about customer service later. This has led to many unhappy customers who are left trying to contact Chinese head offices to claim on their 10-year product performance warranty.
Relying on your solar installer is not always an option as we've seen many residential solar installers (including the large ones) go out of business well within the lifetime of the systems they are installing.
REC has an Australian office located in Melbourne.
Compare quotes from up to 7 installers in your area now.
How much do REC Solar Panels cost?
Based on Solar Choice's database we have provided the below-average costs as an indicative guide. These prices include:
Full turnkey Solar System with REC Solar Panels
Installation from a pre-vetted reputable installer from Solar Choice's network
Small Scale Technology Certificates (STC) rebate and GST
| | |
| --- | --- |
| System Size | Average Fully Installed Cost |
| 6kW | $7,659 |
| 8kW | $10,556 |
| 10kW | $13,896 |
Important Note: Prices will vary depending on location, inverter brand and which installer is used
REC Solar Panels – Points of Difference
There are many solar panels out there, what makes REC solar panels stand out?
Long Product Warranty
Now that LG have dropped out of the market, REC is one the leading premium solar panel manufacturers. They aim to lead the market in quality and reliability, and as a result offer an industry leading 25 year product warranty. REC solar panels have been shown to be more resilient in corrosive coastal conditions and are tested independently to higher standards than most panels. For example they have been called a top performer by PV Evolution Labs solar module scorecard.
Lower Degradation Rate
REC's top quality Alpha Pure series solar panels lose only 0.25% of their power annually after the first year and still retain over 92% of their nameplate value after 25 years. At the time of writing, the only other solar panel on the market to match this degradation rate is the Sunpower Maxeon 5. This means this REC solar panel will deliver significantly more power than other solar panels on the market through the course of its 25-year lifetime.
REC's Warranty Offer for Australian Customers
Solar panels in the Australian market come with a performance warranty and a product warranty.
The product warranty is probably the more important one as it covers manufacturing defects and most problems experienced with solar panels. The new series of REC Alpha Solar offers 25 years for their product warranty on their panels that are sold in Australia which is just about as good as it gets for residential solar panels. While the other series of REC panels offer a 20 year product warranty with a 25 year performance warranty, which can be extended to 25 years if the installer is a 'REC accredited installer'.
The performance warranty of REC solar panels is also industry leading. The Alpha and N-peak 2 series offer a guarantee that the solar panels won't degrade more than 2% in the first year and 0.25% per year thereafter for another 24 years. That means they will be performing to at least 92% of their nameplate value after 25 years. The twin-peak 2 series has a slightly lower guarantee of 0.5% per year for years 2-25 landing at 86% of the nameplate value after 25 years.
REC have a very clearly documented process to claim a warranty directly if your solar installer is no longer around to help you.
Unlike most solar panel warranties REC will also cover the labour required during a warranty claim process if the solar panel is installed by an 'accredited REC solar installer'.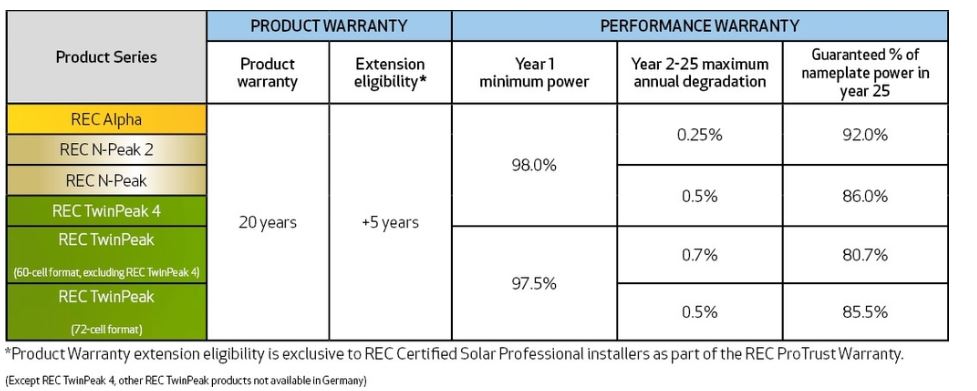 Click here to read REC's full Australian warranty document
REC Panel Technologies
Half-cut cells are the innovation that REC is best known for. The split module design allows for a more efficient solar panel than the standard cell design, providing a number of advantages. Many other manufacturers are developing their own half-cut cell panels. The REC Group has opened a patent infringement lawsuit against Hanwha Q Cells in China, over the half-cut cell technology.
We are awaiting the launch of the Alpha 72 which was scheduled to start production in May 2020. The Alpha 72 tested up to 450Wp at 21.3% efficiency, this combination of high performance and quality will enable REC to further capitalise in the market.
REC Alpha Series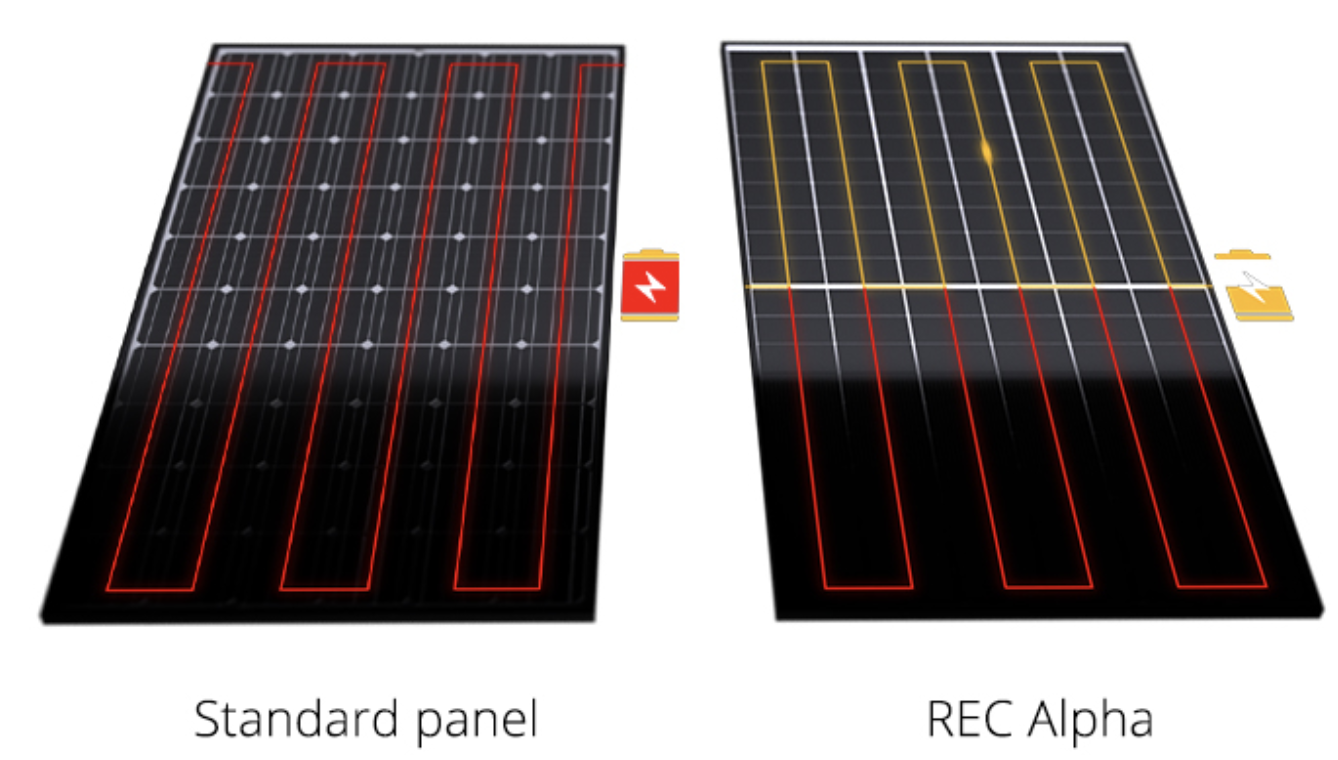 The Alpha Series is the most recent panel to be developed by REC, unveiled in early 2019. With capacity up to 380W, the solar panel is composed of 120 half-cut heterojunction cells. With N-Type silcon, the module has a slower degradation rate and a better temperature coefficient compared to solar panels using P-Type silicon. With a high-power density of 217.14 W/m², the REC Alpha 380W has a 26% greater annual energy yield compared to a typical 320W panel. The REC Alpha is solder-free which increases panel longevity, by removing the risk of potential cell damage from cracking. This feature also improves their sustainability, as the solder-free cell design reduces the lead content by 81%. The REC Alpha award-winning Twin panel design splits the panel into two twin sections, as pictured. This enables greater energy production in shaded conditions, getting the most out of the sun at all times. REC claims that after 25 years it will still have at least 92% of its initial power, which is an industry leading degradation rate.
REC N-Peak Black Series
The REC N-Peak Black Series solar panels utilise black monocrystalline half-cut cell technology constructed with N-Type silicon. The sleek and seamless all black panel was designed to provide an aesthetic option for residential roofs. The panel was the first solar panel to combine N-Type monocrystalline half-cut cells with a twin-panel design. The 305 to 325W panel has 120 half-cut cells, structured in 6 strings of 20 cells. The REC N-Peak Black Series has extra support bars, enabling the panel to hold loads 30% heavier than conventional panels. This results in a higher energy yield per square metre making it an attractive option where roof space is at a premium.
REC TwinPeak 2 Mono Series
The REC TwinPeak 2 Mono Series is comprised of P-Type monocrystalline PERC cells, offering heightened efficiency accredited with REC's industry leading half-cut cell technology. The efficient panel gets the most out of whatever space available. Not surprisingly, the TwinPeak 2 Mono panel is constructed as REC's unique twin split panel design. This enables as previously mentioned, the benefit of electricity generation even when panels are partially shaded from the sun.
Compare quotes from up to 7 installers in your area now.
REC Solar Panel Specifications
REC Alpha Pure R

REC410AA Pure

REC TwinPeak 

REC370TP4 Black

REC Alpha Pure R

REC410AA Pure-R

Cell Number
132 half-cut cells
120 half-cut cells
80 half-cut cells
Cell Type
Heterojunction Cells
Monocrystalline Cells
Heterojunction Cells
Power Output
410Wp
370Wp
410Wp
Nominal Power Voltage
42.7V
34.7V
49.4V
Panel Efficiency
22.2%
20.3%
21.2%
Annual Power Degradation
0.25%
0.5%
0.25%
Dimensions
1821 x 1016 x 30 mm

(1.85 m²)

1775 x 1040 x 30 mm

(1.83 m²)

1730 x 1118 x 30 mm

(1.93 m²)

Weight
20.5kg
20.0kg
21.5kg
Warranty
20-25 Years
20-25 Years
20-25 Years
Operational Temperature Range
-40°C to 85°C
-40°C to 85°C
-40°C to 85°C
Made in
Singapore
Singapore
Singapore
Pros and Cons of REC Solar Panels
Pros
Cons

Technical performance that leads the market in terms of efficiency and reliability
REC have vertically integrated their manufacturing process so they control most elements of the chain of production
Excellent warranty offer and Australian office to deal with directly

The main downside of REC solar panels is that they are one of the most expensive options on the market and may not fit into everyone's budget
Should I Buy REC Solar Panels?
In our opinion you can't go wrong with any of the REC solar panels offered in Australia. If its in your budget then REC solar panels represent some of the best quality you can get in Australia. REC Solar Panels are best suited to homeowners who plan to be in the property long-term so they can enjoy the hassle-free life of the products.
Example of a REC Commercial Solar Project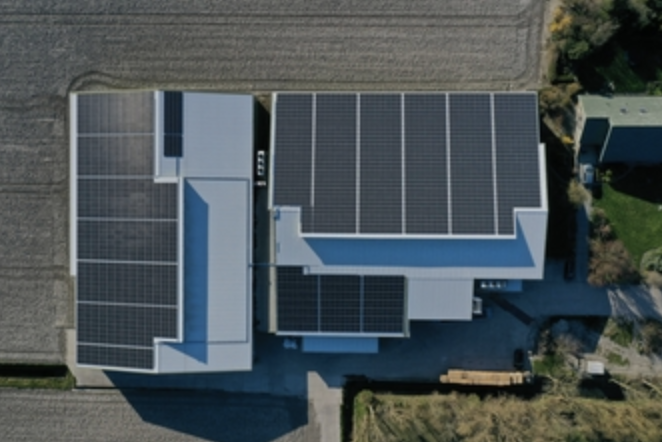 In March 2020, REC Group installed the below commercial rooftop system on a farm in the Netherlands. The system REC installed is the largest REC Alpha panel setup in Europe, with the 1,415m² system's capacity totalling 268.56 kWp. This system contains 746 REC Alpha panels and has the capacity to generate around 240,000 kWh of power a year. To put it into perspective, this much power could supply 80 average houses with electricity for a year.
Read more product reviews from Solar Choice
Compare quotes from up to 7 pre-vetted installers in your area now.
Since 2008 our knowledge and sophisticated software has allowed over 300,000 Australian households and businesses to make a well-informed choice on their solar & battery installer.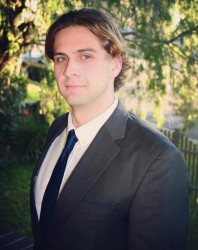 Latest posts by Jack Boutchard
(see all)
Reviews from Australians who have installed REC Panels
Rated 4.79 from 28 reviews
23rd September 2023
Peter
QLD - 4570
8kW system
We installed REC Split Cell Panels, and they are brilliant.
1st August 2023
David
NSW - 2439
6kW system
Perform well. Clients need to be aware that angle of installation as well as compass points can make a large difference to output of panels. More so in winter.
28th July 2023
Mark
QLD - 4659
8kW system
works as described very happy with output
2nd July 2023
Matt
TAS - 7173
10kW system
20th June 2023
Hugh
TAS - 7155
8kW system
400kw panels, great technology at a reasonable price point.
1st June 2023
Glen
QLD - 4053
7kW system
Flawless REC Alpha panels on a solaredge system just works every day.
25th May 2023
John
-
10-15kW system
24th February 2023
Dan
-
4kW system
REC are working well, they are split in half so if shading hits one half of the panel, it won't affect the other half or the whole string of panels... bonus
24th January 2023
Graham
-
10kW system
24th January 2023
Michael
QLD - 4300
5kW system
REC have given me 10 years uninterrupted service on my western roof.
19th January 2023
Caylen
-
6kW system
27th November 2022
Edwin
-
6kW system
very happy with Solar twin peak 2
17th November 2022
Doug
-
6kW system
30th October 2022
Linda
-
6kW system
16th October 2022
Susan
-
6kW system
10th October 2022
George
-
8kW system
After discussing a number of options we decided to go with REC as they have fantastic warranty conditions and service support .
7th October 2022
Stephen
-
6kW system
26th September 2022
Carlo
NSW - 2250
8kW system
works well in low sunlight
13th September 2022
Robert
TAS - 7018
6kW system
We were looking for something that was highly recommended and performed in the top quarter of brands available on the market plus a panel that had a good appearance with black surround. Unlike a neighbour whose silver frames have an overbearing reflection at certain angles of the sun.
1st September 2022
Allan
QLD - 4227
10kW system
Very happy with specifications and technical information provided by the manufacturer.
22nd June 2022
Wolfgang
WA - 6038
10kW system
Panels perform very well, overall reviews been excellent.
18th May 2022
Stephen
TAS - 7004
3kW system
Only a week in so hard to say.
12th May 2022
Paul
QLD - 4573
10-15kW system
I went for the REC Alpha Pure 405w panels
12th March 2022
Paul
VIC - 3815
8kW system
the panels seem to perform very well
11th February 2022
Rosh
NSW - 2154
6kW system
6th September 2021
Stephen 2
TAS - 7150
7kW system
Too early to tell if these are good. But the reviews are good.
16th July 2021
James
WA - 6210
6kW system
Not made in China. Look good on the roof. Slimline
10th June 2021
Geoff
QLD - 4075
10-15kW system