Small-scale Technology Certificates (STCs) is the official term of what is commonly deemed Australia's residential solar rebate. STCs are a component of the Small-scale Renewable Energy Scheme, this is the specific individual and small business component of the Australian Government's Renewable Energy Target.
This was developed to promote the use of renewable and sustainable energy sources and reduce greenhouse gas emissions. In the process, the Renewable Energy Target has created a market, with a financial incentive for small businesses and Australian households to install solar power systems.
What are STCs?
STCs are created upon installation of a Solar PV System with a solar panel capacity under 100kW. The number of STCs created is dependent on the solar system's size and geographical location.
The created STCs can be sold in a live market which is used to reduce the cost of the installation to the home or business owner. In practice, Solar Installers normally take ownership of the created STCs and simply charge the customer for the difference.
Can you trade STCs yourself?
The other method is to register with the REC and create the STCs yourself, this costs $20 and requires proof of system ownership and eligibility. After completing this process, the STCs can be traded like stocks on an open market or through what's called the 'clearing house', however, this can take up to 12 months.
Generally speaking, it is much easier and will result in a better outcome by passing your STCs to an honest and reputable installer. They can trade STCs in large bulk parcels and access better pricing through a broker.
Compare quotes from up to 7 installers in your area now.
What is the current STC Price?
As the STCs are traded on an open market it is exposed to fluctuations. The historic low that an STCs price has fallen to is $16 a certificate. As of the day this article was written, the STC price was $37 a certificate. Click here to see the current STCs market price and the recent price history.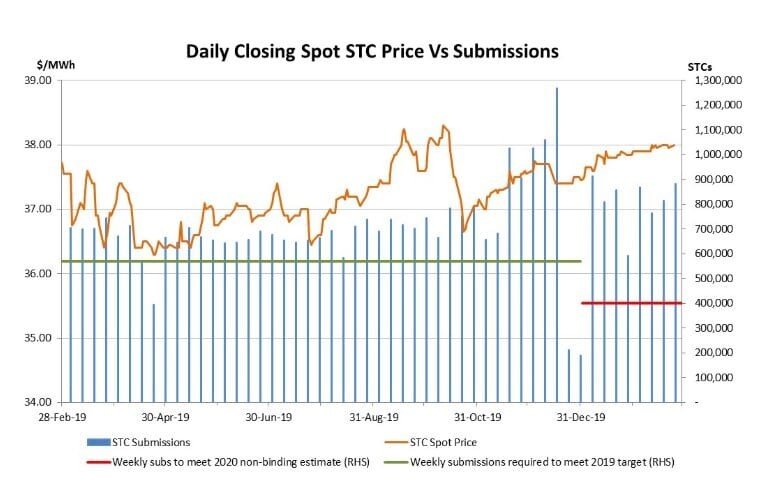 Above image sourced from RenewEconomy
What projects are eligible for STCs
There are eligibility requirements under the Small-scale Renewable Energy Scheme that must be met to create STCs Criteria
STC created within 12 months of installation
Clean Energy Council approved inverter and solar panels
Maximum 100kW DC capacity (nameplate rating of solar panels, not inverter)
Adhere to local, state, and federal government legislation
Uphold Australian and New Zealand standards
The following projects ARE eligible for STCs if the total system remains under 100kW in capacity:
creating additional capacity or upgrading
installing an additional separate system, and
replacing an additional system
Geographic Location (Zones)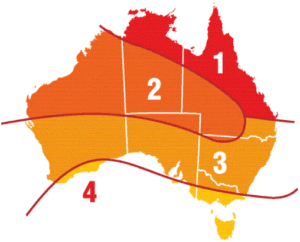 The geographic location of where the system is important to the STCs calculation, as different parts of the country generate vastly differing amounts of renewable energy. For example, Darwin is going to be able to generate more solar power than Hobart and is therefore able to receive a larger rebate.
Instead of calculating the sun radiance in every postcode, Australia has been split into four zones with a different ratings and multiplier for the creation of STCs. As of January 1st this year certain postcodes have changed zones, to check the updated postcode zones click here.
Installation Date & Deeming Period
The installation date determines the "deeming period" and factors into the calculation of how many STCs your project will create. The deeming period is the renewable energy created during the period up until 2030 when the Small-scale Renewable Energy Scheme is designed to phase out. As per the below graph each year the deeming period will reduce by 1 and be reflected in the number of certificates created.

STCs decrease on 1st January every year
Every year on January 1st the number of available STCs per project reduces. This only influences the number of certificates created, not the price of a certificate. Each year this will only increase the end price of a solar system to the customer by around 4-5%, but provides an incentive to get solar installed today!
How are STCs Calculated?
STCs are calculated based on the systems; geographic location (zone), installation date & deeming period and system size in kW as per the below formula:
Postcode Zone Rating x Deeming Period Years x System Size in kW = Number of STCs created
Each of Australia's postcodes has been allocated to a different zone and you can find the multiplier in the below table:
| | |
| --- | --- |
| Zone | Rating |
| 1 | 1.622 |
| 2 | 1.536 |
| 3 | 1.382 |
| 4 | 1.185 |
For example, a house in Manly, NSW is considering solar. Manly has the postcode 2095 which resides in zone 3. The roof has space for 17 x 320W solar panels, totalling a 5.44kW system size. They wouldn't be installing the solar panels until 2021.
So, this calculation would be: 1.382 x 10 x 5.44 = 75 STCs
With the current STCs price at around $37 per certificate.
75 STCs x $37 would equate to an STC rebate value of $2775.
Remembering that this example is in Zone 3, if you are in Zone 1 or Zone 2 your return would be higher!
The Clean Energy Regulator provides a free STC calculator to determine the number of STCs your project will create. Additionally, STC broker Greenbank has a calculator where you can see the current STC value based on live prices.
What about state rebates for Solar?
STCs is a federal program that is available to all Australians in every state and territory. This can be combined with other grants and rebates that might be available in your particular region.
See the below links to learn about some of the other rebate programs:
Compare quotes from up to 7 installers in your area now.

Latest posts by Jeff Sykes
(see all)