If you care about battery storage and distributed energy in Australia, you're probably aware that a number of battery incentive programs are now available through various state & territory governments (not counting the federal Labor party's election promise). Interestingly, they are being delivered by governments from both of the major political parties – a fair indication of which way the winds are blowing longer-term.
SwitchDin sees the introduction of these programs as the beginning of a wave that will speed up the (now unstoppable) transformation of Australia's energy ecosystem. Especially encouraging is the fact that a number of these schemes go beyond simply incentivising batteries for homes, taking steps to ensure that batteries (and other devices) can be controlled and coordinated to provide grid services or to participate in energy markets.
We've put this list as a stocktake of which governments are now offering programs to bolster uptake of home battery storage.
Battery incentive programs – state by state
The table below provides a state-by-state roundup of what small-scale battery system support programs are now in effect or being floated around with a reasonable chance of implementation, while the text that follows provides more detail about each of the schemes.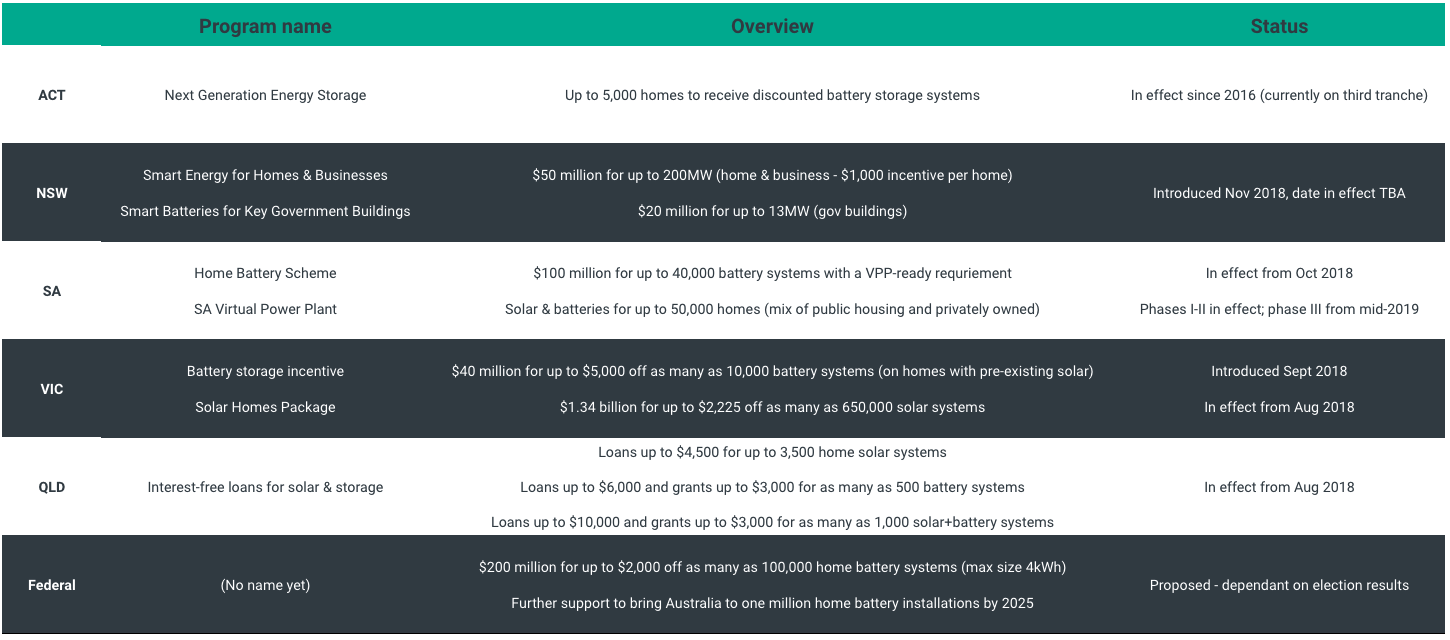 (Click to expand.)
Australian Capital Territory
The ACT has led the way in supporting batteries in distributed energy for several years now, with the territory's Next Generation Energy Storage program about to enter its third round since 2016, with $3 million committed for the current tranche. The aim of the program is for 5,000 ACT households to have batteries installed under the scheme by 2020. Battery installations are incentivised on a 'per kilowatt' (power capacity) basis when the customer chooses a package from a pre-approved supplier using pre-approved products.
The ACT is also running a 250-home VPP pilot program involving a subset of homes that have installed batteries under the Next Generation program, and is home to a lithium battery performance testing lab.
New South Wales
The NSW Liberal government has a collection of clean energy initiatives spanning an array of energy system elements.
Of particular interest for distributed energy are:
Smart energy for homes and businesses – a $50 million program to "bring together smart energy technologies in NSW homes and businesses to form a 'distributed' power plant with a demand response capability of up to 200MW, to help manage peak demand on the grid"; the program will include a $1,000 incentive for customers who have batteries and/or 'smart' air conditioners and 'agree to contribute to the grid when we need it most' – a maximum of five days out of the year for at least three years
Smart batteries for key government buildings – a $20 million commitment to back the installation of batteries for government buildings with the aim of reducing electricity costs & bolstering supply resilience; it will include provisions that the separate systems can function as a virtual power plant with demand response capacity of up to 13 megawatts (MW) across 900 systems
South Australia
South Australia was the first Australian state (besides the ACT) to introduce a statewide battery incentive – the Home Battery Scheme – under the current Liberal government. The program will provide $100 million in funds to support the installation of up to 40,000 home battery systems.
Even after a flurry of similar programs in other places, the SA program remains one of the most generous in the country, offering a subsidy of $500-$600 per kilowatt-hour (capped at $6,000) instead of a flat amount where size doesn't matter. In order to receive the subsidy, battery systems must meet 'virtual power plant ready' criteria set out by the government.
This program is separate from the ambitious (and headline-grabbing) SA Virtual Power Plant project, which could include battery systems for up to 50,000 households.
Victoria
In the run up to the recent election, the incumbent Victorian Labor government introduced a series of major energy initiatives; the implementation of several of these were contingent on Labor's being returned to government – which it was. With this, the second most populous state now has one of the most ambitious renewable energy agendas in the country, with a 25% target by 2020 and 40% target by 2025.
The Victorian programs that directly support residential batteries (and solar) include:
A $40 million program providing battery incentives up to $4,838 (tapering down annually to 2026) for up to 10,000 homes who already have solar in 'growth areas' where there are already large amounts solar connected to the grid; these programs
The battery incentive is one component of the larger $1.34 billion Solar Homes rebate, which knocks as much as $2,225 off the cost of having a solar system installed and also offers incentives for efficient water heating systems (SwitchDin has suggested all of these systems should be VPP-ready, even without batteries)
Queensland
Queensland's Labor government is running three related programs providing interest-free loans, grants or both to homes & small businesses interested in solar and/or battery storage. Applications must be lodged before 30 June 2019, after which the program will presumably be either closed or modified. The Queensland program does not have any requirements for VPP-readiness, but products must be chosen from a pre-approved product list and installed by a pre-approved company. (Queensland also has a renewable energy target of 50% by 2030.)
The three segments of the solar & battery affordability scheme are:
Loans for solar systems – Interest-free loans up to $4,500 for homes to purchase a solar system (to be repaid within 7 years); about 3,500 assistance packages will be available
Loans and grants for battery systems – Grants of $3,000 (home or business) and interest-free loans up to $6,000 (homes only – repayable over 10 years) repayable over 10 years; about 500 assistance packages will be available
Loans and grants for combined solar and battery systems –  Grants up to $3,000 (home or business) or interest-free loans up to $10,000 (homes only – repayable over 10 years) to install combined solar & battery systems; around 1,000 assistance packages will be available
Federal (proposed)
The federal Labor party made headlines last week with its announcement of a suite of initiatives supporting battery storage & renewable energy with the stated triple goal of a) reducing emissions, b) lowering electricity prices, and c) improving energy system reliability.
For households, the program of most interest is the proposed $500 per kilowatt-hour (kWh) incentive for battery storage systems up to 4kWh – or a maximum subsidy of $2,000 per system. The ALP says it will commit $200 million for up to 100,000 households; the party says this will be a stepping stone in a roadmap towards one million home battery systems by 2025.
Households will not be allowed to 'double dip' into both state and federal incentives, and most of the state-based programs are more generous than the federal proposal. This means that if it comes into effect this program may become the default fallback option for homes in states without a dedicated battery program – a catch-all for the left-behinds.
Other components of the party's broad-reaching energy platform include a $5 billion 'Energy Modernisation Fund' administered by the Clean Energy Finance Corporation (CEFC), a 50% renewable energy target by 2030, and support for community-based energy programs. Labor is also promising to take up the National Energy Guarantee as the framework for its energy policy if elected.
—
SwitchDin is building the enabling platform for the distributed energy system of the future. SwitchDin integrates inverters, batteries, power meters and other controllable devices to enable vendor-agnostic virtual power plants and microgrids while providing monitoring & control to end users & fleet managers.
Compare Solar & Battery Quotes

Latest posts by James Martin II
(see all)