In this article we take a look at some of the product options that are available here in Australia as well as elsewhere globally. With a list of all of the energy storage products that we come across, this article will serve as a reference for anyone who wants to keep track of what options are out there. The list will be updated as we learn about new products on offer.
If you notice any products missing from the lists below, please leave a comment or contact the author directly: james@solarchoice.net.au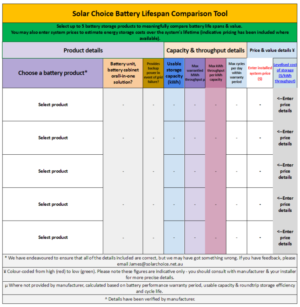 List of battery storage products currently available in Australia
–360Storage offers a range of energy storage solutions for homes & businesses
–AllGrid Energy's WattGrid is an affordable, Ausralian-made plug-and-play 10kWh battery storage solution. The company also has a number of interesting renewable energy-based products.
–Alpha-ESS provides a range of storage solutions to the Australian market – from a basic battery solution to an intelligent, all-in-one, plug-and-play unit.
–Ampetus Energy has a price-competitive all-in-one unit called the Energy Pod.
–Aquion's sodium-ion batteries are one of the few options available in Australia that are not lithium-based. They can be used with a variety of inverter technologies – including SMA.
–BYD offers energy storage solutions for residential, commercial, industrial and grid applications. (More details coming soon.)
–Enphase Energy has recently introduced an innovative, modular 'AC Battery' solution – which will be launched in Australia
–Fronius's Symo Hybrid inverter is compatible with both Fronius' own Solar Battery as well as Tesla's Powerwall. (Read more about Fronius' energy storage solutions.)
–GCL Poly's E-kWBe units are small, modular, colourful and inexpensive
–Giant Power offers a range of battery storage solutions with a focus on off-grid solar.
-USA's Imergy offers vanadium redox flow batteries for residential, commercial and industrial applications.
–Latronic Sunpower's PV Edge: A 'battery-ready' solar PV inverter from one of Australia's leading inverter manufacturers. (Latronics also offers a first-of-kind device called the SATS which allows for quick and easy energy storage retrofits to existing solar systems.)
–LG Chem made a splash in the Australian market with a 6.4kWh residential energy storage solution expandable up to 12.8kWh; the company has since released its next generation of products.
-Magellan Power: The company's 'Solar Smoother' is essentially a small-scale energy storage system designed with minimising disruption to the electricity grid in mind; currently being deployed most widely on Western Australia's northwestern Horizon grid. More recently, Magellan has introduced two energy storage solutions for the residential market and one for the commercial market: RES1, RES3 and the CESS, respectively.  Magellan also has a DC-coupled storage solution called the DCSS.
–Panasonic has a range of all-in-one home battery storage units.
–neeoQube and neeoSystem are the two lines of lithium-ion batteries designed and manufactured by Germany's Akasol and distributed in Australia by Solar Energy Australia.
–Redback Technologies offers an intelligent, hybrid inverter compatible with a range of lead acid and lithium-ion batteries. The company has big plans for more sophisticated network integration in the future.
–Redflow's ZCell is a sleek-looking, Australian-designed flow battery for residential applications.
–Renesola's 'Small energy storage system' (SESS) (available from 2014): An all-in-one, portable, 'kit' energy storage solution. Can be charged via the grid or via solar PV array. 2.5kWh storage capacity.
–RESA's Voltlogic 'Power Equaliser': A 4-quadrant device that can manage power inputs from the grid, a solar PV array, battery bank, and wind–plus perform other power quality management functions. The VoltLogic will be used in a demo project at a golf course in the Northern Territory to demonstrate its solar export-limiting function.
–Samsung's AIO (all-in-one) series of battery storage solutions include both batteries and inverters.
–Selectronics: Selectronics is an Australian company that has been developing inverters & off-grid solutions for the Australian market for decades. They now offer a number of complete, grid-connect energy storage solutions, focusing mainly on uninterruptible power supply for the commercial market.
–SolarWind Solutions' Multi Grid Island Inverter: The Multi Island Grid Inverter is an all-purpose 'hybrid' inverter capable of managing grid power, solar PV, battery storage, and wind-power.
-Inverter manufacturer SMA has two primary inverter offerings for battery storage: Sunny Island and Sunny Boy Storage. The Sunny Island is a battery-only inverter and Sunny Boy Storage is a battery-only inverter compatible with Tesla's Powerwall and other 'high-voltage' batteries.
–SolaX Power's X Hybrid series: 'Smart inverters' that are available with or without SolaX-branded charger, battery bank and battery cabinets. The company also offers an all-in-one product called the Solax Box. (You can also check out SolaX's highly informative, interactive demo of how a hybrid inverter works.)
–Sonnen is a German-based battery storage & energy management system developer who have a range of high-quality products available on the Australian market.
–Panasonic has introduced a storage system of its own which will be available through certain utilities.
-Immediately after its announcement, Tesla's PowerWall quickly became seen as a benchmark for Australia's battery storage industry both on price and performance.
–Victron Energy's ECOmulti: The ECOmulti is a complete energy storage solution (designed for solar PV system integration but deployable without solar PV as well) whose default setting is to optimise for 'self-consumption'–i.e. maximising energy independence for homes and businesses. Victron also offers a number of other energy storage products. (More details coming soon.)
Plug-and-play energy storage devices in Australia
All-in-one, plug-and-play battery storage solutions tend to be the easiest to understand for homeowners. Plug-and-play systems usually come in the form of a box or cabinet that contains virtually everything (beside the solar panels and their cabling) that a household needs to increase their energy independence in one fell swoop.
An all-in-one device will generally include:
a hybrid (solar & battery) inverter,
a battery bank,
battery management system (if required),
energy management system (if included),
communications equipment, and
any requisite cabling and wires.
Please note: The below list is non-exhaustive. If you notice something incorrect or missing from this list, please notify us via email on communications@solarchoice.net.au.
Plug-and-play battery storage solutions
(click links for more info)
360 Storage – City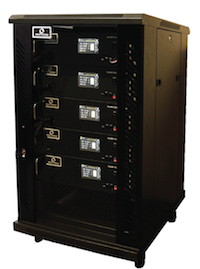 360 Storage – Backup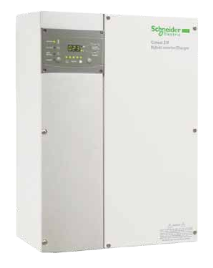 AllGrid Energy – Wattgrid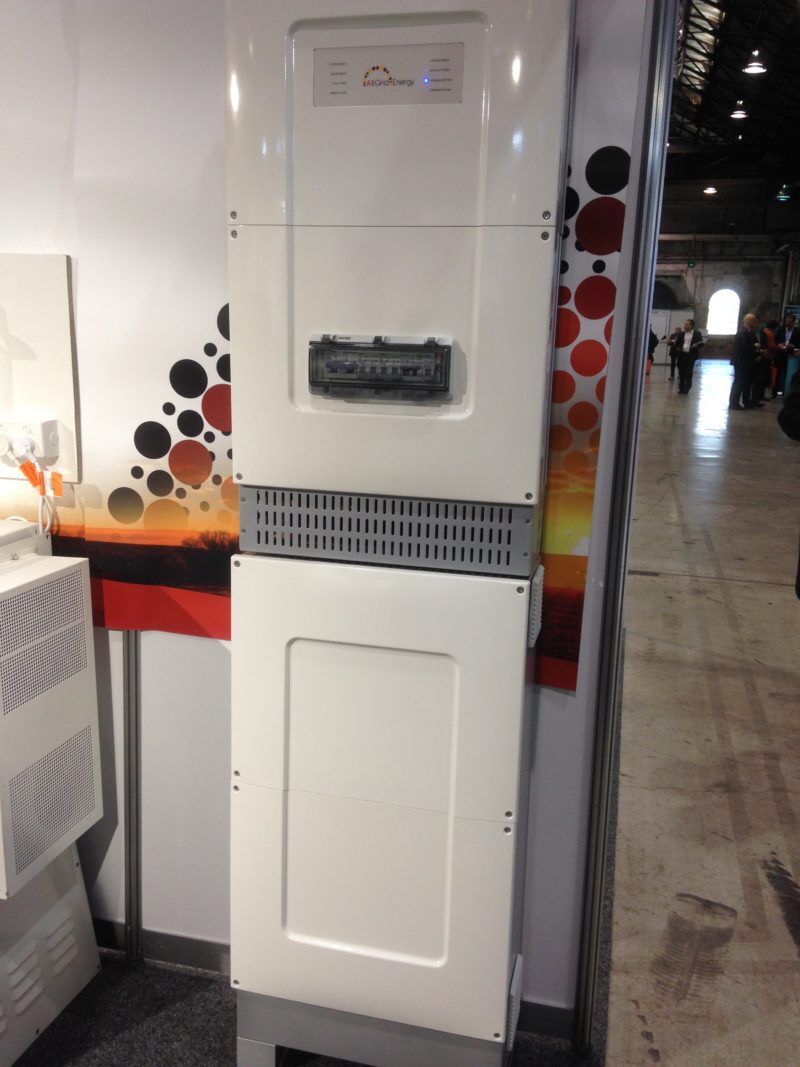 Alpha-ESS – Storion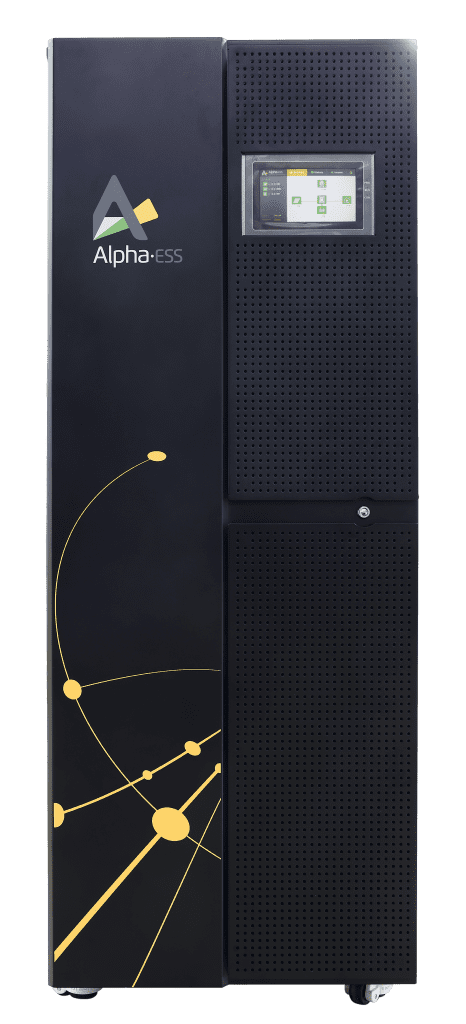 Alpha-ESS – Storion Eco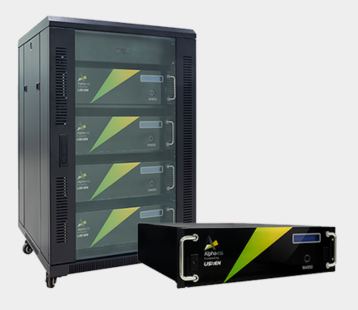 AU Optronics – Power Legato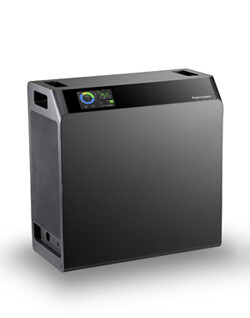 Bosch Power Tec – BPT-S Hybrid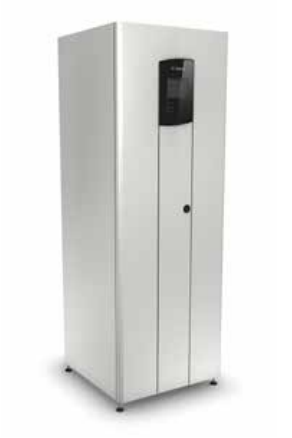 BYD B-Box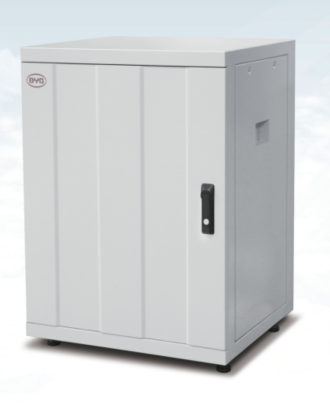 Enphase Energy – AC Battery (Available next year)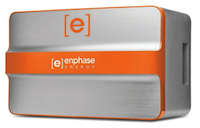 Fronius – Energy Package (Technically a modular solution sold as a package)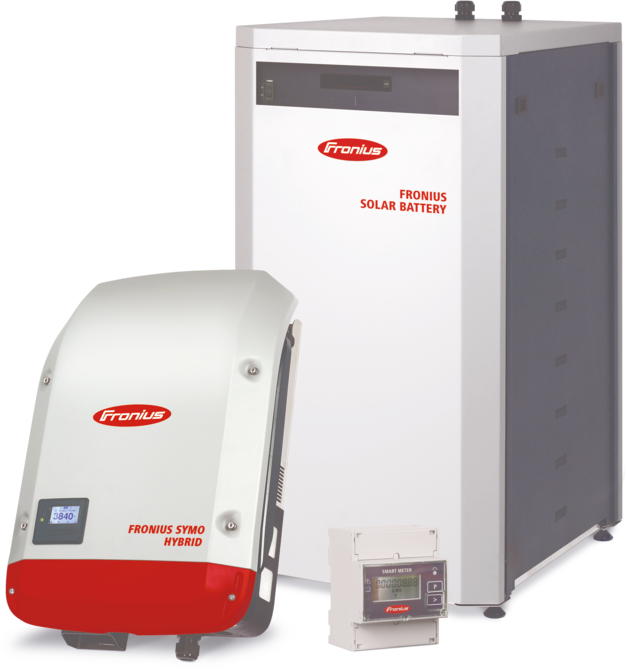 Fronius – Energy Package (Powerwall) (Technically a modular solution sold as a package)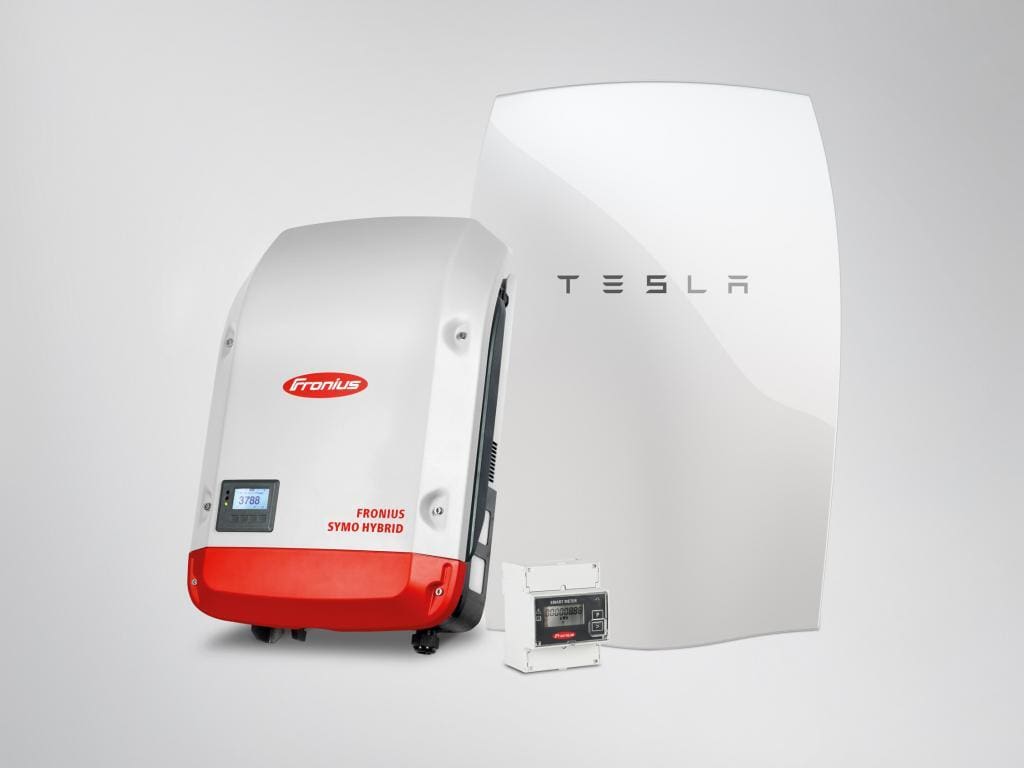 Magellan Power – RES1, RES3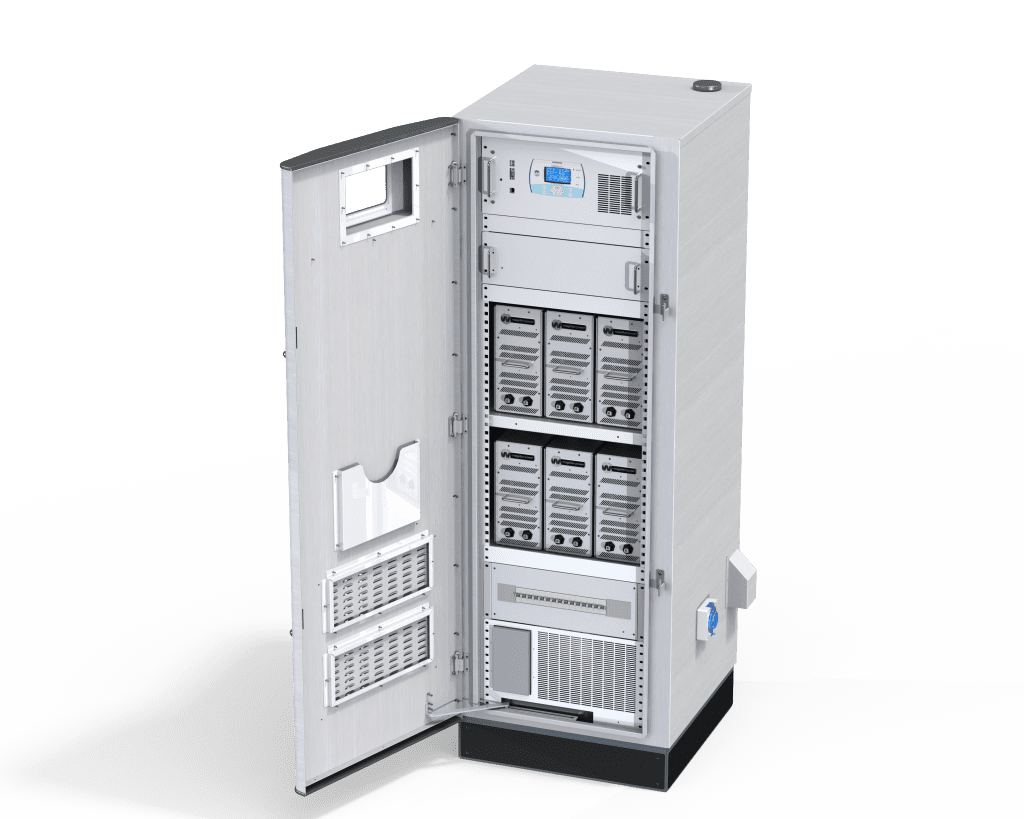 Magellan Power – DCSS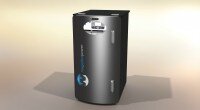 Redback Technologies – Smart Hybrid System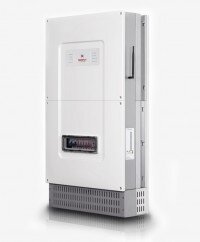 ReneSolar – SESS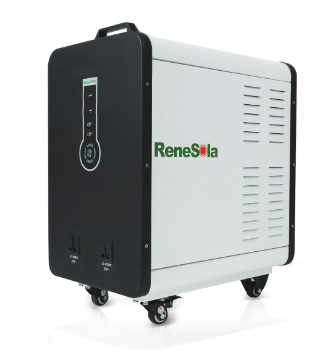 Samsung – Residential ESS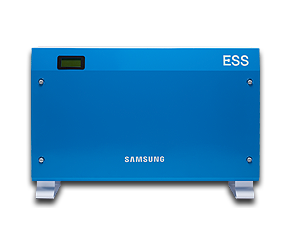 SolaX  Box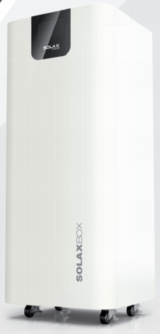 Panasonic – SESS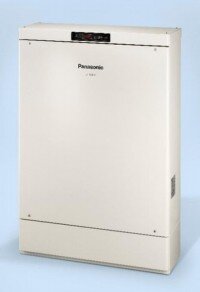 Victron – Ecomulti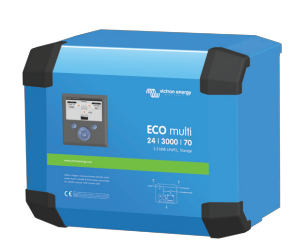 Home battery bank products in Australia
The products in the list below all require separate inverters to be used in home energy applications, where AC current is standard. They're listed in alphabetical order and wherever possible specifications from the manufacturer are used. We have taken pains to make sure that the information is correct, but if you see a discrepancy please notify us and we will remedy it as soon as possible.
Please also note that this list does not include the various types of lead acid batteries, which are available in Australia through a number of distributors.
Chemistry: Sodium-sulfate 'saltwater' electrolyte
Energy storage capacity: 2kWh per S-Line stack
Recommended Depth of Discharge (DoD) for daily use: 100%
Cycle life: 3,000 @ 100% DoD
End of life: 70% of original capacity
Performance warranty: 5 years full (plus 3 years prorated)
Unit dimensions:

Weight: 118kg
H/W/D: 935/330/310mm
Chemistry: Lithium-iron phosphate (LiFePO4)
Energy storage capacity: 1.2kWh per unit
Recommended Depth of Discharge (DoD) for daily use: 95%
Cycle life: 7,300 @ 95% DoD
End of life: 80% of original capacity
Performance warranty: 10 years
Unit dimensions:

Weight: 25 kG
H/W/D: 235/390/220mm
Chemistry: Liquid vanadium
Energy storage capacity: 5-30kWh
Recommended DoD for daily use: 100%
Cycle life: Unlimited
End of life: 10 years
Performance warranty: 10 years
Unit dimensions:

Weight: Up to 3,100kg (890kg without electrolyte)
H/W/D: 2.08/2.15/1.33m
Chemistry: Lithium polymer
Energy storage capacity: 6.4 / 9.8 / 12.8kWh (expandable with 3.2kWh units)
Recommended DoD for daily use: 80-90%
Cycle life: 6,000 – 10,000 @ 80-90% DoD
End of life: 60% of original capacity
Performance warranty: 10 years
Unit dimensions:

Weight: 60kg+
H/W/D: 2.08/2.15/1.33m
Chemistry: Lithium-ion
Energy storage capacity: 5.5kWh
Recommended DoD for daily use: 90%
Cycle life: 7,000 @ 90% DoD
End of life: 80%
Performance warranty: 10 years
Unit dimensions:

Weight: 62kg
H/W/D: 456/456/282mm
Chemistry: Zinc-bromide flow battery
Energy storage capacity: 10kWh
Recommended DoD for daily use: 100%
Cycle life: Guaranteed energy throughput of 30,000kWh (about 1 cycle per day, or 3,650 cycles over 10 years)
End of life: Warranty good for 30,000kWh of use (electrolyte does not degrade, but other battery parts may suffer wear with time)
Unit dimensions:

Weight: 240kg (with electrolyte)
H/W/D: 823/400/845mm
Chemistry: Lithium-ion
Energy storage capacity: 7kWh
Recommended DoD for daily use: ~90%
Cycle life: 3,650
End of life: 60%
Performance warranty: 10 years
Unit dimensions:

Weight: 95kg
H/W/D: 1300/860/180mm
© 2016 Solar Choice Pty Ltd

Latest posts by James Martin II
(see all)