Latronic Sunpower is a Queensland, Australia-based inverter manufacturer that operates globally. The company has been in business for over 27 years. The company makes inverters for residential, commercial and industrial applications. The company has a strong reputation in Australia and many of its products are also available overseas.
Latronic Sunpower: Product range
Although Latronics started out as a specialist in off-grid inverter applications, the company has since branched out and now manufactures a range of inverters for different applications, as well as other renewable energy conversion devices.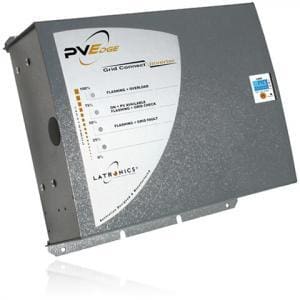 Latronics inverters for residential, grid-connected homes
Latronics' PV Edge inverters are designed for grid-connected homes. PV Edge inverters utilise cutting-edge microprocessor algorithms to ensure smooth, reliable power conversion. Additionally, their ability to accept low voltage inputs means easier system design, greater levels of electrical safety and better performance in conditions where shade may be an issue.
Latronics Grid Connected Battery Backup System
Systems that use PV Edge inverters can also be designed or retrofitted to include a battery backup system, which would assist in energy management and reducing power bills in addition to ensuring access to power, even in the event of a blackout. With estimated 2013 payback periods of 6-7 years, Latronics' battery backup system is one of the most affordable on the market in Australia. It also boasts greater ease of installation, configuration and use than other battery backups available in Australia.

Grid-connected system using PV Edge inverters with battery backup. (Click to see animation.)
There are 2 models in the PV Edge series: The PVE 1200, and the PVE 2500.
The PVE 1200 and PVE 2500 allow panels to be wired in parallel sets of short strings. By separating the panels into smaller 'strings' than are ordinarily found in conventional PV systems, the PV Edge inverters offer an advantage in locations where shading might sometimes be an issue–e.g. next to a chimney or under a tree branch. In a conventional inverter system with longer strings, shading of even just 1 of the panels would significantly bring down the power output of the entire string. With the PVE 1200 and 2500, having multiple parallel strings means less susceptibility to the effects of partial shading while balancing volts and amps across the system.
These two unique grid inverters are 48V and 96V based and have been designed from the outset to work with batteries (by changing a simple DIP switch). Latronics Grid Connect and Off Grid inverters run on compatible voltages, making it possible to easily marry their grid and off grid inverters to form a grid connected/battery back up system that is charged from the very same panels that are usually used for exporting power to the mains grid.
Download: Latronics PV Edge brochure and datasheet (pdf)
Latronics off-grid inverters for remote power systems
Latronics is one of the oldest players in the Australia's off-grid solar industry. The LS series feature a number of 12 volt (V), 24V, and 48V models ranging from 500W up to 7kW, as well as 36V, 72V, 96V & 120V units.
Download: Latronics LS 500 series brochure and datasheet (pdf)

Latronics off-grid inverter energy flow chart. (Click to see animation.)
Other Latronics products
In addition to its inverter products, Latronics also offers a number of complementary devices and solutions, including outdoor enclosures, a turbine controller (for integrating wind and water turbines into grid-connect systems), energy meters, maximum power point trackers (MPPT), AC transfer switches (for grid/battery hybrid systems), battery chargers and a suite of solutions for marine and mobile applications. The company also builds made-to-order inverters for industrial and custom energy applications.
Latronics: Points of difference
-Latronics is wholly Australian-owned and operated. Inverters are hand-assembled by highly skilled and trained staff at the company's plant in Caloundra, Queensland. Being Australia-based also means rapid, local support from the original manufacturer of the hardware.
-Latronics is an environmentally-minded and conscientious manufacturer: Latronics' operations are carbon neutral thanks to an 80kW on-site solar array, and almost all of the components in its products are recyclable.
Latronics: Company info
Headquarters and manufacturing plants: Caloundra, Queensland
Other locations: Latronics distributes to over 33 countries worldwide
History in the industry: Latronics has been manufacturing inverters since 1985
All images via Latronic Sunpower
© 2013 Solar Choice Pty Ltd