Solar Choice, as Australia's solar photovoltaic (PV) installation brokering service, does not ordinarily work with wind turbine installers or manufacturers, but both technologies are similar in spirit and offer many of the same benefits to their owners. This article is an overview of one of the wind turbine technologies available on the Australian market: the Eco Whisper Turbine.
The Eco Whisper Turbine is a competitively-priced, Australian-made horizontal axis wind turbine (HAWT) that is quieter and more compact than popular 3-blade turbines. Eco Whisper Turbines may be deployed to offset electricity loads in a variety of applications, including residential, commercial, industrial and manufacturing sites, as well as farms and urban locations such as schools.
Much like a rooftop solar panel system, the Eco Whisper Turbine has a long lifespan (20+ years) and is clean, fuel-free electricity generation option for those who are located somewhere with favourable wind conditions.
Eco Whisper Turbines: Product range
The Eco Whisper comes in two 'sizes': The Eco Whisper 325 (5 kilowatt (kW) in capacity), releasing in the 2nd half of 2013, and the Eco Whisper 650 (20kW in capacity). Over the course of a year, the turbines can generate up to 45,00 kilowatt-hours (kWh) and 11,250kWh of power, respectively.  These figures, however, represent peak capacity; actual output will vary with the wind wind speed and frequency of the location in question.
As a reference, the average Australian 3-person household consumes around 30kWh of electricity per day, or about 11,000kWh annually. This means that the Eco Whisper 650, in the right conditions, would be capable of powering up to 3 homes or a small factory. The 350 would produce enough power to significantly offset the power bills of a large home or an industrial shed.
Download an information sheet: Eco Whisper Turbine 650 & 325 (pdf)
Eco Whisper points of difference
-Operates almost completely silently, thanks to the cowl around the turbine's blades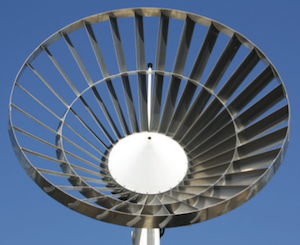 -Small footprint–both in terms of area and the environment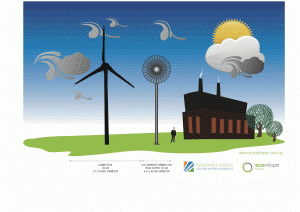 (Click to enlarge)
-Pole is hinged for ease of maintenance over the lifetime of the system, and for safety in extreme weather events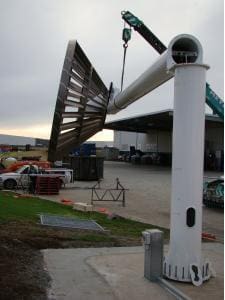 (Click to enlarge)
-Efficient even in relatively low-wind conditions
-Attractive design with a smaller blade span than 3-blade turbines
-Australian designed & manufactured
– Australian made Inverter + Generator
About Renewable Energy Solutions Australia Holdings & Eco Whisper
Company Headquarters: Acacia Ridge -Brisbane, QLD
Manufacturing locations: Geelong, Brisbane, Gold Coast
History in the industry: 4 years
Further information
Whether the wind quality of a given site is suitable for the installation of a wind generator is determined in an assessment undertaken by an accredited Eco Whisper Turbine installer. If you are interested in learning more about the Eco Whisper Turbine, please contact Michael Le Messurier – enquiries@resau.com.au or 0755 232 655.
© 2013 Solar Choice Pty Ltd