Depending on where you live, your home may be fed by single-phase or 3-phase electrical connection. What relevance does this have for your solar PV installation?
3-phase and single-phase power
Both single-phase and 3-phase electricity are used to transmit and distribute electricity. Depending on where you live and how much electricity you consume, your home will be fitted out with either a single-phase grid connection or a 3-phase solar grid connection. (Most homes have single-phase connections.)
Regardless of whether you have a single-phase or 3-phase connection, the appliances in your home all (almost certainly) run on a single phase. (3-phase power is used to power motors in certain industrial applications, but not in homes.) In the case that you have a single-phase connection, electricity flows in and out of your home through a single phase (imagine a single cable/circuit).
If you have a 3-phase solar inverter connection, on the other hand, the electricity entering your home is divided into three separate phases (imagine three cables/circuits). Different devices in your home will be powered by these different phases. For example, your lights may run on one phase, while your washing machine and refrigerator may be on the other two phases.
The image below, from Prolux Electrical, illustrates how 3-phase power is 'divided up' for household & industrial loads. You can see that all three phases feed into the industrial motor, while the light globe and power point are each serviced by a single phase (represented by the yellow and red lines, respectively).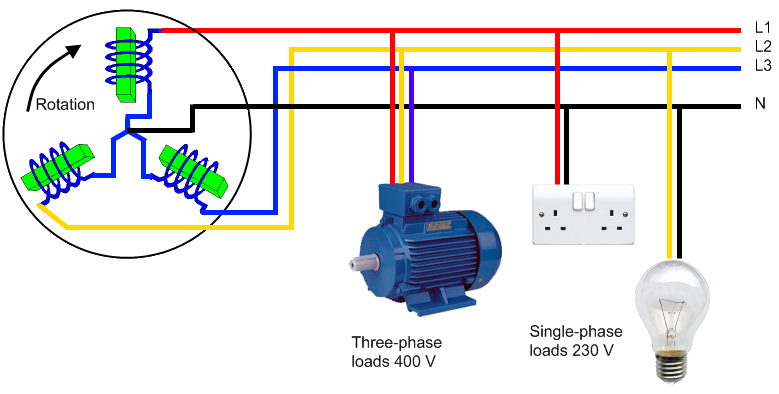 Illustration of how 3-phase power works on types of electrical loads. (Image via Prolux Electrical.)
What the number of phases mean for your solar PV system?
If you don't have a solar PV system, you may very well have no idea if you're on a single-phase or 3 phase solar inverter connection. Regardless of which one you have, the electricity you use is most likely being delivered seamlessly to all of your appliances – so it's not really anything to be concerned about.
In the event that you want to install a solar PV system, however, phases matter. For a single-phase connection, a single-phase solar inverter should be installed – fairly straightforward.
For a 3-phase connection, on the other hand, there are a number of options. In most cases the best and simplest option is to get a 3-phase inverter, which will distribute the solar power evenly across all three phases.
Another option for a 3-phase connection is to install one single-phase inverter on one of the phases in the home (preferably the one that uses the most electricity/has the heaviest loads). The downsides of this approach are that 1) if the solar system is too large, the inverter could 'trip out' if the voltage for that phase goes to high, and 2) the solar energy may not flow to the phase where it is needed most. For this reason, with this approach it's important to have your solar installer undertake an assessment to determine which phase is the best one – if you install on the wrong phase, the energy that your solar system generates could end up going to waste.
The third option is to install multiple (up to three) single-phase inverters, each one on its own phase. This could prove to be a more expensive option than simply using a 3-phase solar inverter, however, so it's important to consult with several solar installers to collect a variety of quotes and opinions before making a decision.
Solar system size considerations
It's also important to check whether your phase connection will have an impact on the size of solar system that you're allowed to install. Generally speaking, tighter solar system size limits are placed on homes with single-phase connections than those with 3-phase connections.
In South Australia, for example, solar PV system size is limited to 10kW in buildings serviced by single-phase connections, whereas homes and businesses with a 3-phase connection may install systems as large as 30kW. Generally speaking, this is why a requirement for special approval from utilities for grid-connection of large solar PV systems in remote areas (which are sometimes serviced by 'single wire earth return' or SWER lines) is more common than in areas with high population densities.
AC vs DC electricity explainer (just in case)
AC (alternating current) electricity. AC electricity is what most household electrical appliances require to operate. The other type of electricity, DC (direct current), is what solar panels and batteries produce. DC electricity is converted to usable AC electricity through a device called an inverter. AC current is distinguished from DC current primarily by the fact that its direction 'switches' back and forth rapidly, whereas DC is uni-directional. Without getting into the technical details as to why, this property makes AC electricity more suitable for long-distance transmission.
Compare quotes from up to 7 installers in your area now.
Top image via Wikipedia

Latest posts by Jeff Sykes
(see all)