BHP Nickel West Kalgoorlie is a mining facility located in the Goldfields region of Western Australia, approximately 600 kilometres east of Perth and includes two sites – a smelting operation in Kalgoorlie itself and a concentrator plant in Kambalda. During the summer months, temperatures in the region regularly reach 35 degrees or above, pushing demand on the grid to its capacity. In order to alleviate some of this pressure, Solar Choice worked exclusively with BHP Nickel West to develop a commercial scale solar project for installation at across 195 residential and commercial properties at Leinster, including the local school.
Mining and solar power
The link between mining and solar energy is an obvious one: solar PV can be the ideal solution for generating power at many mining sites. Due to their remote location, the cost of importing fuel can be dramatically deduced or removed completely with an appropriately sized system with, or without, battery storage. Mining facilities in Western Australia in particular receive some of the highest daily sunshine hours in the country and, for the time being, qualify for additional Federal incentives as a result of this.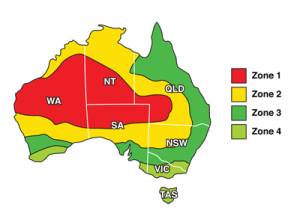 Solar PV REC zones in Australia
Using the BHP Nickel West Leinster example, 195 residential and commercial properties, as well as the local school, were fitted with solar PV systems. At the time of installation, it was expected that the systems would  generate 456 megawatt hours (MWH) of renewable energy each year – reducing energy consumption from West Leinster's gas and diesel power station. Good quality solar components are more than capable of standing up to the extreme climate found in the interior, but as an extra measure, to ensure that all installations consistently perform at their maximum efficiency, each unit is monitored to record the daily, weekly, monthly and annual yield.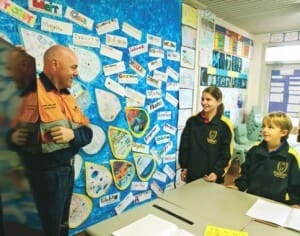 A BHP miner talks Leinster school children through the solar PV system that will be installed on their school thanks to Solar Choice
In having access to real time and historic data, under-performing installations can be easily identified and rectified, data is transferred via Bluetooth which can then be accessed online. BHPB said of the system:
"The solar panel project demonstrates Nickel West Leinster's commitment to the community, environment and the business as a whole to efficiently manage energy usage."
If you have a commercial scale solar project and would like more information about the support Solar Choice can offer please complete out Commercial Quote Comparison form.
Gallery: BHP Nickel West Leinster's Completed Solar Arrays
(Click images to enlarge)
Images via bom.gov.au and BHP
© 2013 Solar Choice Pty Ltd

Latest posts by Rebecca Boyle
(see all)