German car manufacturer, Volkswagen (VW), has switched on its largest solar installation to date. Located next to its Tennessee plant in Chattanooga, the 33 acre site will produce around 13 gigawatt hours of electricity every year, that's enough to power 1,200 homes.
Frank Fischer, head of VW's Chattanooga operations, stated 'We are proud to power up the biggest solar park of any car manufacturer in North America'. The solar park builds on the Tennessee plant's recognition by an environmental group for sustainable operations, and will supply all the plant's electricity needs when manufacturing lines aren't operating.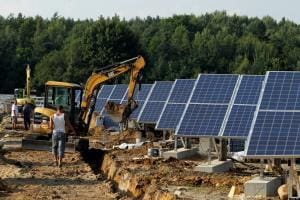 Installation of VW's solar PV plant in Chattanooga, Tennessee
The car plant is the first in the industry with top-level platinum Leadership in Energy and Environmental Design (LEED) certification from the U.S. Green Building Council, which rates properties on how well they limit effects on the environment. VW does not own the solar plant but purchases the energy from Silicon Ranch Corp., based in Nashville, Tennessee, under a 20-year supply contract, the carmaker said.
VW's plant in Wolfsburg and factory in Emden, Germany, are also powered by solar energy.
© 2013 Solar Choice Pty Ltd