Solar Choice Commercial has brokered a 100kW solar car park for Sunny Queen Farm's facilities in Carole Park, QLD. Sunny Queen is one of Australia's leading producers of eggs, supplying their products to some of the country's leading retail grocers.
The construction of the solar car park is the culmination of a 9-month journey with Sunny Queen and Ipswich Council, guided by the Solar Choice team's own navigation and engineering with the assistance of infrastructure and town planning consultants RPS Group.
The project is the first long-line solar car park of its kind in Australia, standing in contrast to the more common 'sawtooth' approach used in most others. The hardware and technology used is manufactured by solar car park specialist PowerPark Systems.
Sunny Queen decided on a solar car park as an alternative to the solar shade park often used to provide shelter from the sun's heat for parked vehicles in similar situations. It serves the dual purpose of also producing electricity for the facility and reducing its power bills.
The project was ultimately completed by one of the leading installers in the Solar Choice network – a company that has been in operation for nearly four decades.
The system uses 270W Jinko Solar modules and ABB inverters. For more information regarding poultry solar projects, visit our poultry solar page.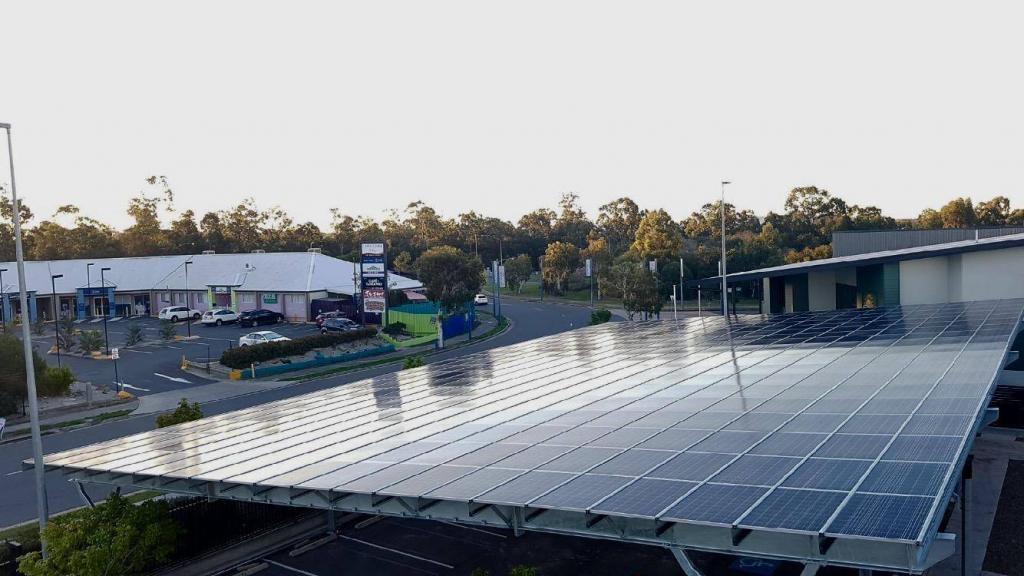 Australia's largest 'long-line' solar car park for Sunny Queen Farms. (Note that nearby poles are to be removed to eliminate shading issues – photos will be updated in the future.)
Sunny Queen's solar car park (Aerial photos of completed stage 1)
Sunny Queen's solar car park (Under construction)
Considering solar power for your business?
Solar Choice impartially has managed tenders for hundreds of commercial clients around Australia. Get in touch today to learn about how we can assist your business to reap the benefits of going solar. (See more examples and learn about what we do on our Commercial Solar Power page.)
Request a Free Business Case Analysis & Solar Quote Comparison
© 2017 Solar Choice Pty Ltd