100kW solar systems are among the most popular commercial solar system sizes in Australia. This article takes a look at pricing & energy yields for 100kW solar systems throughout Australia and offers some guidance as to how a business might go about comparing quotes and choosing an installer to do the job.
Pricing for 100kW solar systems
The cost of installing a solar system has fallen significantly in recent years thanks to a number of factors, including Australian government incentives for renewable energy, growing competition between solar panel installers and component manufacturers, and global manufacturing trends.
Thanks in part to these falling costs, solar power is now widely understood to be a a cost-effective way for businesses to generate clean electricity, and its uptake has increased significantly both in Australia and around the world in the last few years.
Commercial solar systems in the 100kW range are generally slightly less expensive on a per-watt basis that smaller systems, although ultimately prices depend on the particular circumstances of the project in question. In the name of bringing transparency to Australia's commercial solar market, Solar Choice publishes monthly articles which track pricing trends for commercial-scale solar systems (10kW, 30kW, 50kW and 100kW) across Australia's capital cities in our Commercial Solar PV Price Index. You can check out the most recent pricing figures here.
For the most up-to-date pricing, however, we recommend that you fill out the Commercial Solar Quote Comparison form to the right of this page, which will allow you to see quotes from a range of installers who operate in your area. Our team will also develop a solar business case customised to your energy bills – and even advise you about alternative solar system size options. 
100kW solar power installation on the roof of a regional airport in Newman, WA. (Project tender managed by Solar Choice Commercial.)
To see more photos of commercial installations managed by Solar Choice, visit our Tender Management page.
Power yields for 100kW solar systems
There are many factors that influence the output of solar PV systems. These include the orientation and tilt angle of the solar panels, the presence or absence of shading, average system operating temperature, and the quality of the system's components. All of these factors are taken into consideration when a system is designed in order to arrive at a reasonable estimate as to what that system's power output will be once it is operational.
The theoretical upper limit for the amount of power a flat-panel 100kW solar system (or any flat-panel system) can produce is determined first by the amount of incident sunlight on the area where it is located throughout the course of a day, month, season, or year. It goes without saying that different regions of the country receive different amounts of solar irradiation. As a rule of thumb, a system in Australia will produce 4 kilowatt-hours (kWh) per kW of installed capacity per day, averaged throughout the year. This figure will of course be higher in sunnier locations and lower in less sunny spots (Brisbane sees more sunlight than Hobart, for example) and the season (power generation is higher in the summer thanks to the longer days).
As an example: a well-installed 100kw solar system in Sydney, NSW would produce about (3kWh x 100kw =) 300kwh on a winter's day, while in the summer the same 100kw solar PV system would produce around (5kWh x 100kw =) 500kwh. A similar system in Brisbane might produce as much as 350kWh in winter and 550kWh on a day in summer. (Figures are approximate only.)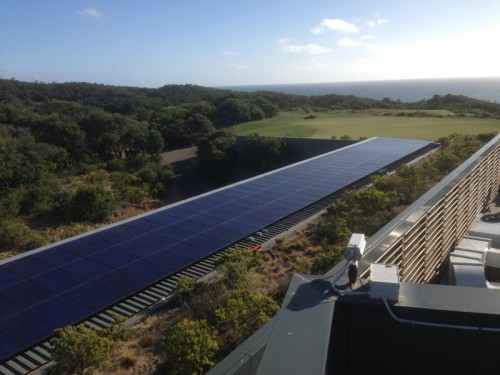 100kW solar array for the National Golf Club in Mornington Peninsula, Victoria. (Read more about this project. Project tender managed by Solar Choice Commercial.)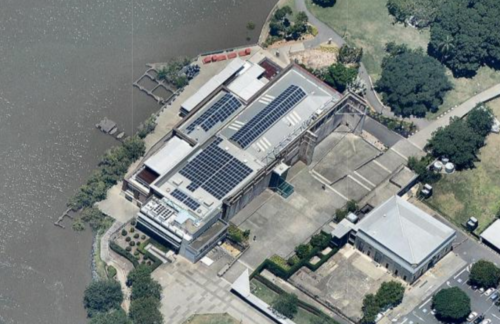 100kW solar array for Brisbane Powerhouse in Brisbane, QLD. (Read more about this project. Project tender managed by Solar Choice Commercial.)
Returns for 100kW solar systems
Similar to system output, return on investment (ROI) for a 100kW system depends on the circumstances. The primary factors that influence solar system ROI are: 1) the up-front and ongoing costs associated with the system, 2) the cost of power purchased from utilities, 3) methods of payment/financing for the system, and 4) the amount paid, if any, for surplus power fed into the grid or sold to a 3rd party. These are discussed below.
1) The long-term investment-worthiness of a 100kW solar system will depend in part on the total cost of the system. System prices can vary significantly, and customers need to learn to discriminate between 'cheap' and 'good value' systems. It goes without saying that it is absolutely key to shop around and compare not only prices and the components that could be used, but also the expertise and experience of the installers who are being considered to design and install it.
Solar Choice Commercial manages large-scale solar PV tenders for a range of commercial clients. Learn more about our commercial solar tender management procedure.
2) Australia's electricity prices have risen dramatically in the past few years, putting them among the most expensive in the world. Installing a solar PV system allows businesses to circumvent power utilities to a certain degree, generating a portion of their own power instead of purchasing it from the grid. In this way, going solar can save a business a significant amount of money on power bills.
Solar Choice Commercial has a team devoted to working out how solar PV can benefit our commercial clients. Read about what our Commercial Business Case and Design Team does.
3) Financing can be vital in ensuring that going solar works for a business.
Solar Choice Commercial offers a unique commercial solar PV financing package that enables the right customers to set up a solar farm or other large-scale installation with no capital expenditure, among other benefits. Learn more about Solar Choice's Commercial Finance Package.
4) Generally speaking, commercial-scale solar systems are installed to offset power bills. However, in certain cases, it may be possible to take advantage of a feed-in tariff incentive scheme or to negotiate a power purchase agreement (PPA) with a 3rd party.
Contact Solar Choice Commercial to learn more about your options.
Those considering a 100kW solar system (or any size system) may initiate a dialogue with the Solar Choice Commercial team by filling out the Quote Comparison Request form to the right of this page (click the 'Commercial' tab).
© 2016 Solar Choice Pty Ltd