Strata blocks are one of the final frontiers for rooftop solar, a ripe opportunity just waiting for the right solution. We regularly receive enquiries from apartment blocks and other strata title properties here at Solar Choice, and the same questions tend to arise in our conversations with strata clients.
This article is a roundup of almost everything you need to know about going solar if you're investigating solar for a strata apartment block.
Solar for strata is tricky: Here's why
If you're looking into solar for a strata block, it's important that you understand the challenges that you're up against – and the experiences that a lot of solar companies have in implementing solar for strata properties.
Strata blocks differ from most households in that there are multiple units under one roof (unless it's a strata block of townhouses). While this may seem obvious, the implications of this for going solar are more complex than you might initially realise. (So be patient if you're looking for quick answers!)
In a multi-unit block, each unit has its own electricity meter, and each meter has its own electricity account. In order to 'split up' the solar energy equitably, there needs to be a way to ensure that there's a way to track how much solar energy is being produced, and which units are using how much of it. In terms of both the system design and billing logistics, this can be a complicated issue to address.
In terms of building structure, strata blocks often have flat roofs, which can mean additional costs when it comes to ballasting and tilting the panels
Furthermore, if the building is tall there may be additional costs related extra-long cable runs, and additional labour and/or machinery hire costs for transporting the panels and other equipment to the roof
If there is excess solar energy flowing into the grid and accruing solar feed-in credits, how are those benefits split up among the various accounts?
In strata blocks there are more decision makers (the body corporate, who must vote in the majority) than in a single-family household. This means that the decision-making process can be long and the outcomes more uncertain than with solar for a household.
On top of this, there is often a mix of renters and owner-occupiers in a strata complex. The incentives for getting solar differ depending on which you happen to be. For example, why would an owner renting out their unit want to invest in solar energy for their tenant if they're not going to see any concrete benefit.
Request a Free Business Case Analysis & Solar Quote Comparison
Four options for solar on strata blocks
With these complications in mind, here are four potential solutions to the 'solar on strata blocks' problem – from most straightforward & simple to most technologically sophisticated & complex.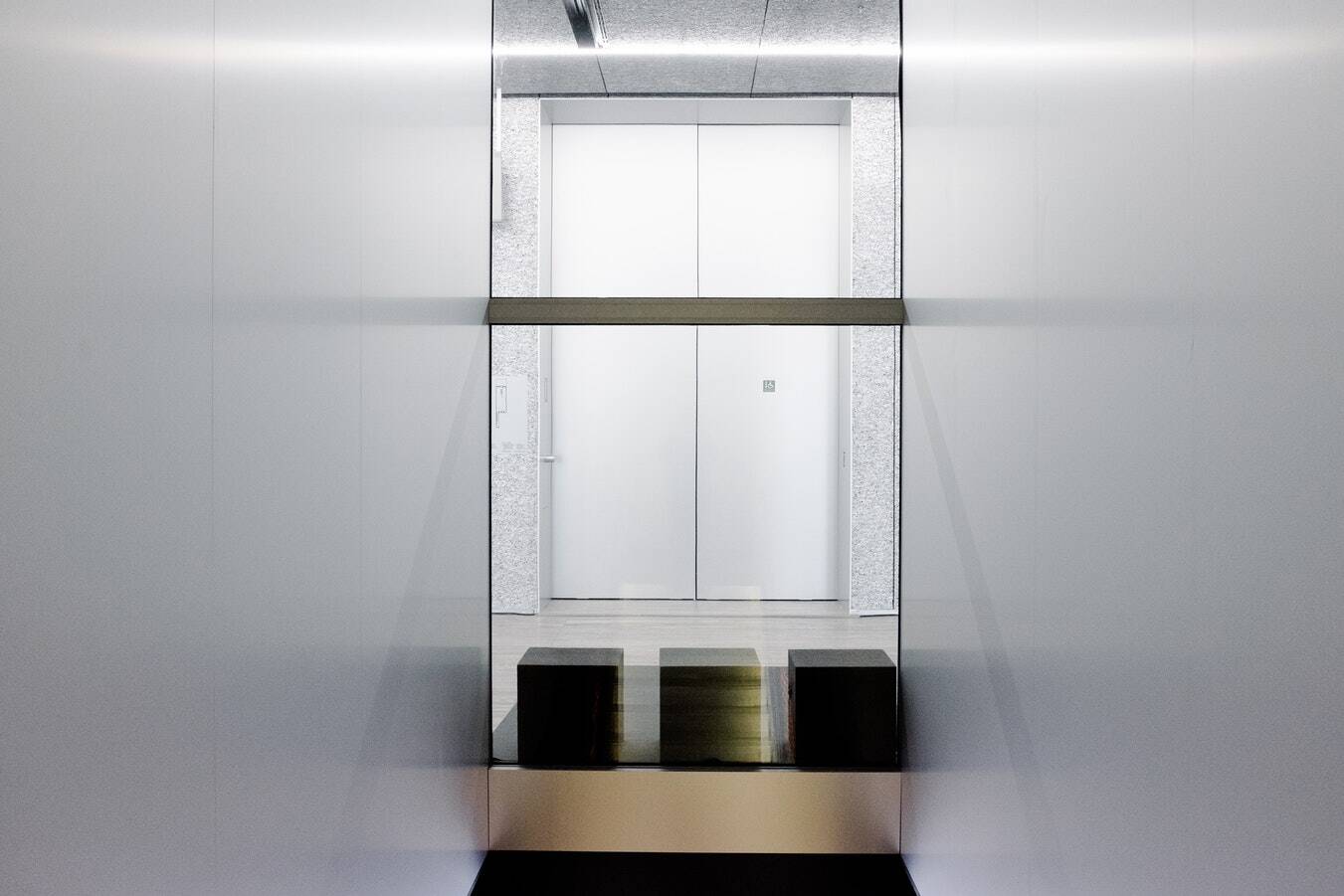 Solar for strata approach #1: Solar for the common areas
Each strata block has a dedicated meter for the common areas, where lights, lifts and other communal equipment run; the electricity bill associated with this meter is paid for out of strata levies. For very tall apartment blocks with limited roofspace this is usually the best option available as it is a communal cost and everyone will (or should) benefit equally from it in the form of reduced strata bills. Furthermore, the capital expenditure required to purchase such a system can be relatively small, especially if the block does not have any communal lifts, air conditioning, pools or other devices which use a large amount of electricity.
Main advantages:
Relative simplicity, with one solar PV system behind just the common area meter
All owners benefit equally through reduced common costs (usually covered by strata levies)
Main disadvantage:
No savings on electricity bills for individual occupants
Gallery: Strata title solar projects brokered by Solar Choice
Many solar companies have had first-hand experience quoting on solar for strata buildings – and unfortunately, because of the above complications, they are often more trouble than it's worth. This means that it will be much easier to get meaningful solar quotes after you've got all your ducks in a row and have a relatively clear idea how you'd like to proceed. (It also helps if all of the strata committee members are on in agreement about getting solar!)
Solar for strata approach #2: Each unit gets a separately-metered system
If the common area bills are already quite small, or if the unit owners are more interested in solar to benefit themselves or their tenants directly, then it may make sense to have a solar system installed for each unit. At this point, however, there is the question of roof allocation. This is a consideration that doesn't come to mind for most people when they purchase a unit, but one which is sure to arise if one individual owner asks to install a solar system for their unit (unless the units are townhouses).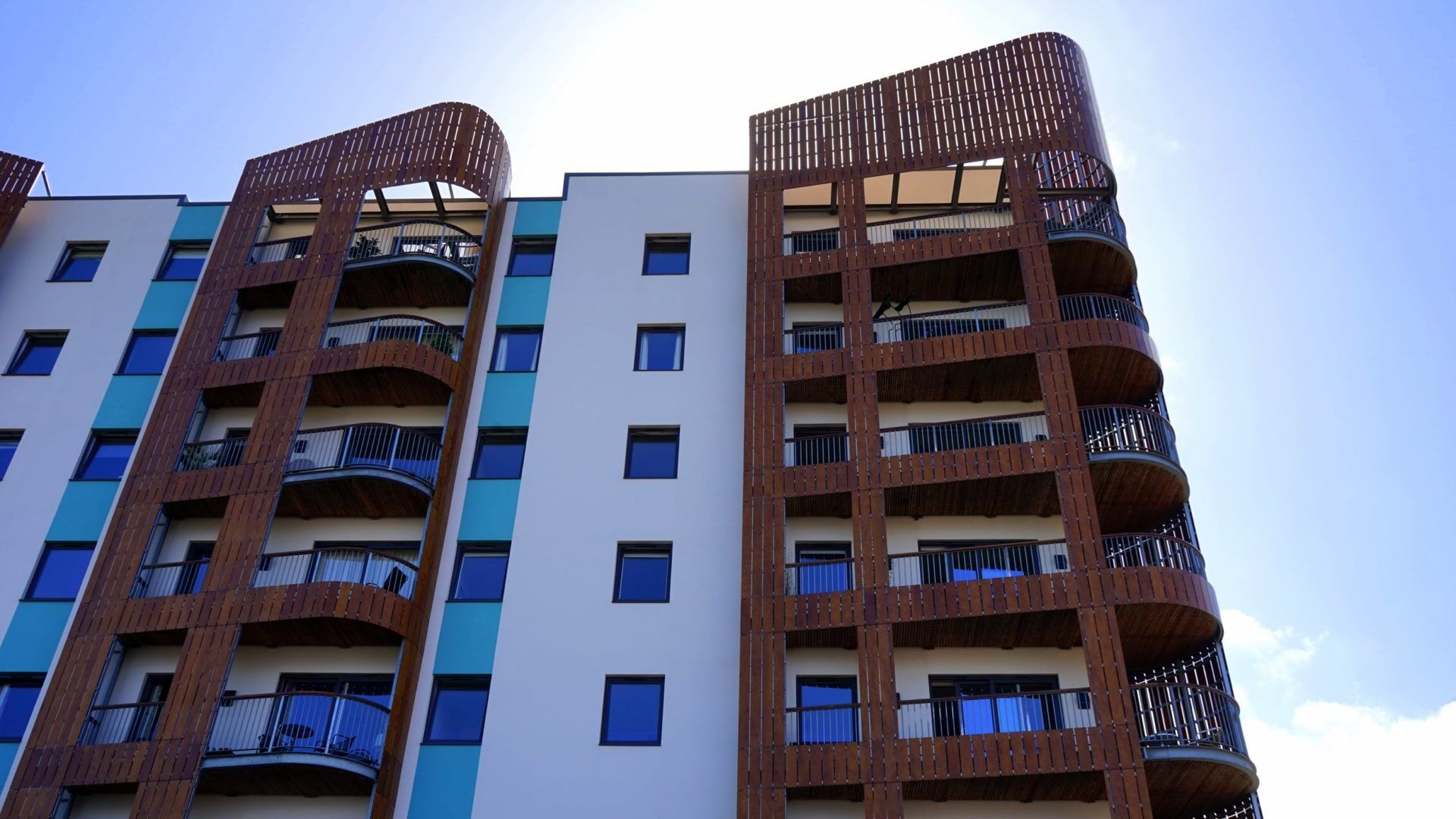 In this case, in the name of 'fair share', it makes sense for the solar-friendly (i.e. unshaded and north/west/east-facing) sections of roof to be pre-emptively divided up between all the owners. This could turn out to be complicated, especially if the roof is multi-faceted and has shading issues in more than one place. Assuming that the block has a section of roof with full and equal solar access, this challenge should be relatively clear-cut and easy to solve.
If your strata unit gets to this point, you'll then need to work out how much each section of roof area will translate into in terms of solar panel capacity. In the end, each system may be quite small (1.5kW–2kW), especially if the building is more than 2-3 stories tall and there's significantly more floor area than there is roof area. In either case, the most financially sensible approach may be to have all of the solar systems installed at the same time and by the same company, as smaller systems tend to be more expensive per watt of capacity than larger ones, and the way to bring down the overall cost would probably be a bulk buy.
Main advantages:
Provided there is ample viable roof space to go around, each unit has their own solar system, wired up to their own individual meter. This means that there's no question of whether the benefits of the solar are being shared around in an equitable way, as actual savings will come down to how individuals use energy throughout the day.
Each unit may have the option to own their solar PV system separately
Main disadvantages:
Question of how to fairly allocate available roof area between units
As the individual systems will be small and wired up individually, they may be expensive on a per watt basis compared to solar for stand-alone home, affecting their financial attractiveness
Mix of renters and owner-occupiers could mean that it's harder to get sign-off from body corporate; this is especially important in light of the fact that solar is likely to be less expensive for each individual if a greater number of units go ahead
Solar for strata approach #3: Power purchase agreement on single system, with solar benefits allocated individually
This is a relatively new approach, and currently there is only one company (that we are aware of) in Australia with the technology to deliver it: Allume Energy with their SolShare package. While other companies in the energy space have attempted to solve 'shared solar' or 'solar for renters' problem, none except Allume have so far come out with a commercialised product that specifically addresses all of the issues faced by strata blocks (as outlined at the top of this article).
Allume's approach is to install the system at no cost to the strata committee or occupants of the block. Instead, Allume finances and owns the system, obtaining a license from the body corporate to use the roof space for the purpose of the solar installation. The company that installs the system also installs Allume's patented technology (in a dedicated box) that allows Allume to measure and control how much solar energy is flowing to each unit in the block or into the grid.
Residents of the block who opt in to the SolShare package (participation is not mandatory) benefit from cheaper daytime electricity. In a nutshell, during the daylight hours when the sun is shining you have access to solar electricity, which is supplied at a discounted rate (Allume estimates 20-40% cheaper than normal rates). Allume's technology also incorporates energy monitoring software for each unit, so that you know how much electricity you're using in total – and so that you're aware when there's solar electricity available. This gives you the opportunity to shift the timing of your electricity consumption to save a bit of money on your electricity bills. (If you're not home during the day, you can use a timer, smart plugs or possibly even internet-connected appliances like dishwashers & washing machines.)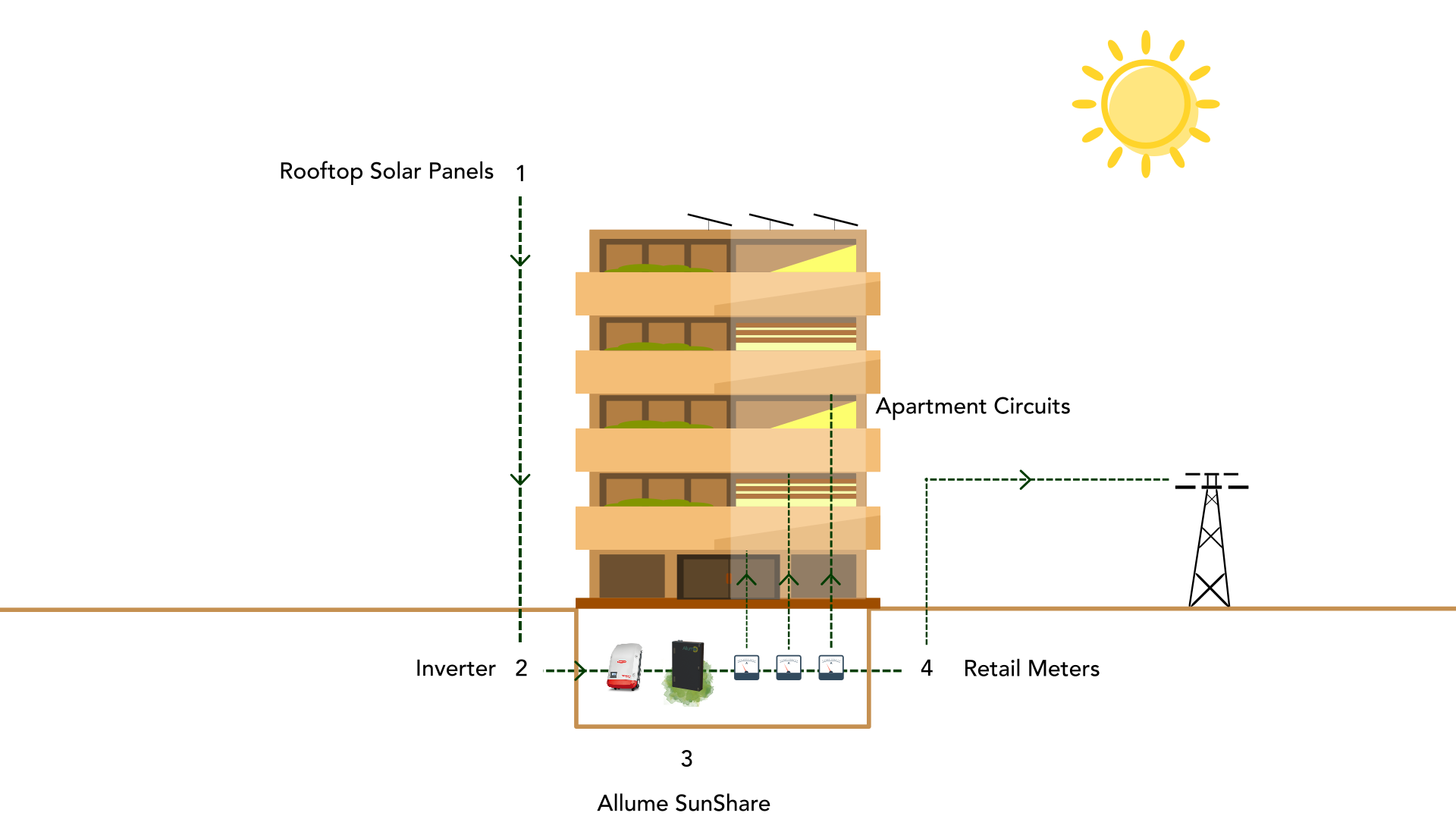 How the Allume Energy SolShare program works. (Image via Allume Energy.)
In order for the Allume program to be implemented, the body corporate must agree to a standard roof rental agreement with a term of 10 years, after which point there are three options:
The agreement can be renewed for another 10 years with similar but refreshed terms

*Note that no tenants are locked into any agreement with Allume during this period – it is only for the roof rental, and tenants are free to enter and leave the program as they please

The block may purchase the system at 50% of the original cost; or
They may pay Allume to remove the system.
What does Allume Energy get out of it? They make a small profit on each unit of solar energy delivered to the units (because solar energy is cheap, they can mark it up and still sell it at a lower rate than grid electricity), and they also get to claim all the feed-in tariff revenues from the systems.
Main advantages:
Solar installed at no capital cost to the strata committee or unit owners
Benefits of solar energy are shared equitably between units (everyone gets access to the same discounted daytime rates), regardless of whether they are renters or owner-occupiers

Eliminates the 'split incentive' problem for owners who rent out their units; under the Allume plan, tenants benefit from cheaper electricity (i.e. unit is more attractive as a rental) without the owner having to invest money in a system  

System is owned and maintained by Allume Energy; no ongoing maintenance costs
Participation is not mandatory; residents can choose to not 'opt in' to Allume plan for lower daytime rates
Free energy monitoring for participants (via Allume's web portal)
Main disadvantages:
Units do not benefit from any feed-in credits accrued by the system
Although they may pay less for their electricity usage in total, participants will receive two separate electricity bills – one from their normal electricity retailer and one from Allume Energy
This is a new model that has only been deployed in a relatively small number of situations, with Allume Energy being the only company supplying this type of solution in Australia
Solar for strata approach #4: Single system with embedded network
This approach is the most complex, difficult and potentially costly of all the options listed here. An embedded network is basically a private 'microgrid' inside an apartment block. Every unit is metered separately behind a 'master' meter that connects the block to the grid. Individual units in an embedded network are generally promised cheaper rates for their electricity, regardless of whether there is solar or not.
In instances where solar is installed on an embedded network, the energy produced can theoretically be 'split up' equitably among units and supplied at an even lower rate than under a PPA (or possibly at no cost). Even feed-in credits could be split up among different units. Legally, residents of individual units would still have their choice of electricity retailer (if they live somewhere with a competitive market).
While the embedded network solution is the most 'thorough' of those listed here, it is also the most fraught with complications and the most difficult to implement – especially for existing blocks where an embedded network would need to be retrofitted. The first hurdle is getting agreement would be the strata committee, where a unanimous vote would be required in order to take any action. Given the potentially large costs and broad variety of approaches, there's a considerable chance that the project would never get past initial committee discussions without some serious dedication on the part of its members.
Another important challenge that  is the requirement to get approval from the Embedded Network Manager (ENM). In the National Electricity Market (NEM), every embedded network needs to have a registered manager, due to Power of Choice regulations. The ENM is not incentivised to allow the Body Corporate to install solar as it means they are drawing less power through their gate meter and selling less power to the residents. Solar would also mean a change in the ENM's billing system which would be difficult to negotiate.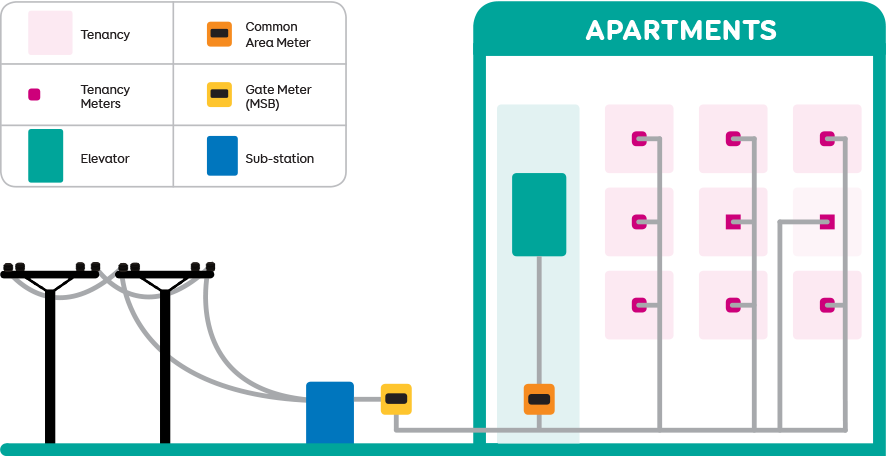 Diagram of an embedded network. (Image via MyComm Energy.)
Main advantages:
Potentially the most equitable way to supply solar energy to units in a block that also helps to deliver the full potential value of solar energy (i.e. 'free' solar energy to be consumed during the day, plus solar feed-in credits)
Depending on the arrangement, a single electricity bill for each unit with appropriate charges & credits
Main disadvantages:
Could be prohibitively costly to implement – especially if applied as a retrofit solution instead of as part of a brand new development
A wide range of suppliers and specific approaches could make it difficult or time-consuming for strata committees to decide on the one that best suits their situation and needs, or to get unanimous agreement about the best approach among committee members
Additional red tape associated with Power of Choice regulations governing the establishment of embedded networks
Possibly a number of questions to ask and answer about exactly how solar energy will be divvied up among residents
Investigating solar for your strata block: Next steps
Now that you know your options, there is the question of which one is most appropriate for your situation. Solar Choice manages tenders for a wide range of solar projects – including apartment blocks – and are happy to have a no-obligation chat. Get in touch today to learn more about receiving a free Business Case Analysis & indicative Quote Comparison of leading solar installation companies in your area.
Free, impartial analysis of potential benefits of solar for your strata block
Give us a ring on the number below to discuss your project with our team:
Or request a free Business Case Analysis & indicative Quote Comparison: