Commercial solar prices: Current averages by capital city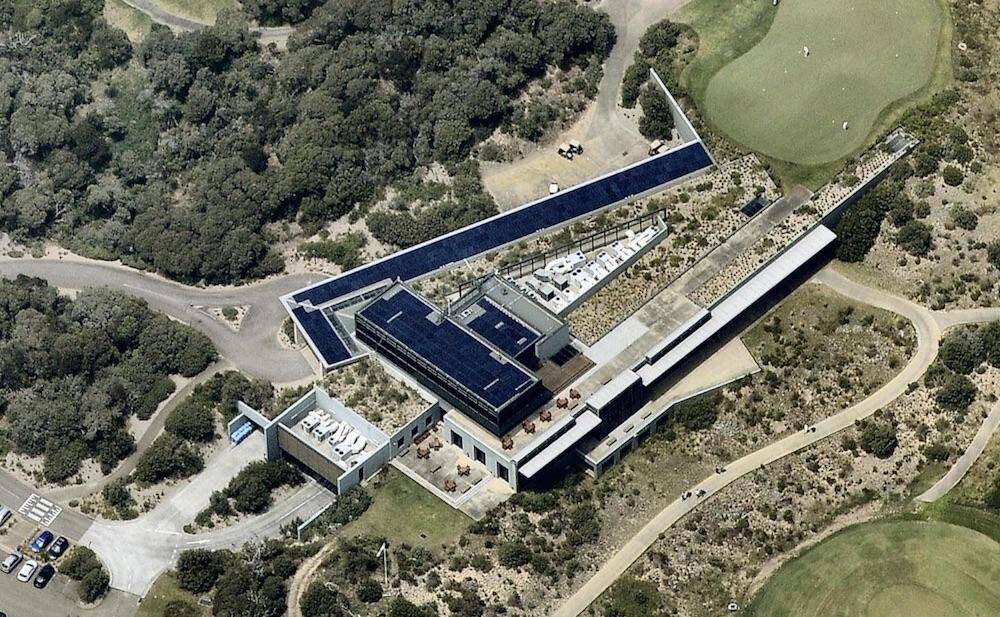 Since May 2014, Solar Choice has been publishing commercial-scale solar PV system prices for each of Australia's capital cities across a range of popular system sizes. The data we use comes from our installer network database, which consists of about 100 prominent solar installation companies around the country. Companies in our network upload their pricing & product information for us to present to our commercial clients in our free & impartial quote comparisons, so that the client can make an informed decision about who to pursue further discussion with.
Our Commercial Solar PV Price Index is published monthly, providing reliable ballpark figures on the going cost of solar in Adelaide, Brisbane, Canberra, Hobart, Melbourne, Perth and Sydney.
Solar Choice manages tenders for a wide range of commercial solar projects around Australia. The figures in the tables below are based on data from our extensive network of solar installers, many of which specialise solely in commercial-scale solar projects.
All prices in the tables below include incentives available through the federal Renewable Energy Target (i.e. STCs) as well as GST, but do not incorporate meter installation fees or additional costs such as ground-mounting, grid protection or grid connection studies.
What about prices for smaller systems?
Our Residential Solar PV Price Index has been in monthly publication since August 2012; it covers pricing for 1.5kW, 2kW, 3kW, 4kW, 5kW, 7kW and 10kW solar systems. See our Residential Solar PV Price Index here.
Request a Free Business Case Analysis & Solar Quote Comparison
Or give us a call to speak with our team via the number below:
Commercial solar power system prices – May 2018
Table 3: Average commercial system prices by city & size (May 2018)
| | 10kW | 30kW | 50kW | 70kW | 100kW |
| --- | --- | --- | --- | --- | --- |
| All | $12,980 | $35,470 | $59,200 | $80,070 | $108,380 |
| Adelaide, SA | $11,990 | $33,620 | $57,500 | $79,600 | $107,580 |
| Brisbane, QLD | $12,160 | $37,010 | $61,410 | $81,900 | $111,960 |
| Canberra, ACT | $12,780 | $34,380 | $53,610 | $73,800 | $98,320 |
| Melbourne, VIC | $14,940 | $34,980 | $62,290 | $84,000 | $112,650 |
| Hobart, TAS | $13,490 | $38,140 | $60,760 | $82,020 | $111,460 |
| Sydney, NSW | $12,080 | $35,440 | $57,420 | $77,190 | $107,000 |
| Perth, WA | $13,400 | $34,730 | $61,410 | $81,980 | $109,680 |
Table 4: Average commercial solar system prices per watt (May 2018)
| | Average | 10kW | 30kW | 50kW | 70kW | 100kW |
| --- | --- | --- | --- | --- | --- | --- |
| Average | $1.16 | $1.27 | $1.17 | $1.18 | $1.11 | $1.09 |
| Adelaide, SA | $1.13 | $1.17 | $1.11 | $1.15 | $1.13 | $1.08 |
| Brisbane, QLD | $1.18 | $1.18 | $1.21 | $1.22 | $1.16 | $1.13 |
| Canberra, ACT | $1.10 | $1.25 | $1.15 | $1.07 | $1.05 | $0.99 |
| Hobart, TAS | $1.20 | $1.48 | $1.16 | $1.25 | $0.98 | $1.13 |
| Melbourne, VIC | $1.21 | $1.33 | $1.25 | $1.21 | $1.16 | $1.12 |
| Sydney, NSW | $1.13 | $1.19 | $1.17 | $1.14 | $1.09 | $1.07 |
| Perth, WA | $1.19 | $1.32 | $1.15 | $1.23 | $1.17 | $1.10 |
Historic average commercial system prices (August 2012 – May 2018)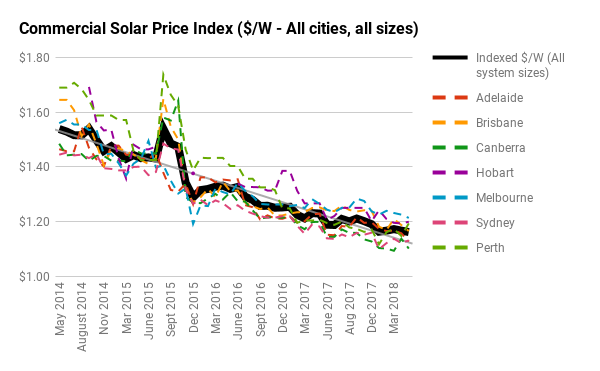 Gallery: Historic commercial solar system prices by system size & city
Average commercial solar payback periods by state
Request a Free Business Case Analysis & Solar Quote Comparison
© 2018 Solar Choice Pty Ltd