Background on Sonnen – Company History
Founded by Christoph Ostermann and Torsten Stiefenhofer during 2010 in the German village Wildpoldsried. The intelligent energy storage system producer sonnen has the goal to emancipate the world from the reliance on fossil fuel, promoting the utilisation of decentralised clean energy. This has been achieved on a small scale by sonnen in Wildpoldsried, as the village runs on only renewable energy. Shell acquired 100% ownership of sonnen in 2019.
The hybrid 9.53 is the most recent sonnenBatterie to hit the market. The battery acts an intelligent storage system, it is similar in nature to the Tesla Powerwall 2 by the fact it automatically distributes power when necessary. In collaboration with solar panels, the sonnenBatterie hybrid 9.53 can potentially enable household energy independence.
Sonnen Manufactures Batteries in Australia

In November of 2018 sonnen opened their manufacturing plant in Elizabeth, South Australia. The sonnenBatterie hybrid 9.53 met the Australian Consumer Law and the Australian Made, Australian Grown (AMAG) Code of Practice. Meaning, that it is Certified Australian Made.
How Much Does a sonnenBatterie hybrid 9.53 Cost?
The sonnenBatterie hybrid 9.53 isn't able to be bought directly from sonnen. However, it is available to purchase through accredited installers across Australia. As the sonnenBatterie hybrid 9.53 is the premium battery on the market, it comes at a premium price. The typical household would go for a system size in the range of 5kWh to 10kWh. The prices listed below do not include installation costs, which you can assess by using Solar Choice's comparison tool. However, if you live in NSW, SA or VIC these states have a home battery incentive schemes in place.
sonnenBatterie hybrid 9.53 indicative costs
System Size
7.5kWh
10kWh
Sonnen Battery Price
$12,000
$14,000
Compare quotes from up to 7 installers in your area now.
A Fixed Electricity Bill From Sonnen Batteries
Sonnen offer their customers a unique solution which essentially provides a fixed monthly cost for the power called sonnenFlat. SonnenFlat is essentially a flat rate retail electricity plan package, available to those with a solar system size of at least 3kW and a sonnenBatterie of at least 4kWh in nominal capacity. Pricing for the different states from available providers can be found on sonnen's website.
Read Solar Choice's detailed review on whether sonnenFlat is worth it!
How Does it Work?
The sonnenBatterie hybrid 9.53 is a hybrid battery system, this means it integrates the components of energy storage into one system. The hybrid battery system contains a solar inverter, charger and battery. Solar energy storage systems can be AC or DC coupled, the hybrid 9.53 is DC coupled. This means it is connected at the grid, eliminating the need for an additional inverter. As the DC coupled hybrid 9.53 converts solar energy to AC electricity, which is used to power homes or be fed into the grid. And stores it as DC electricity in the battery.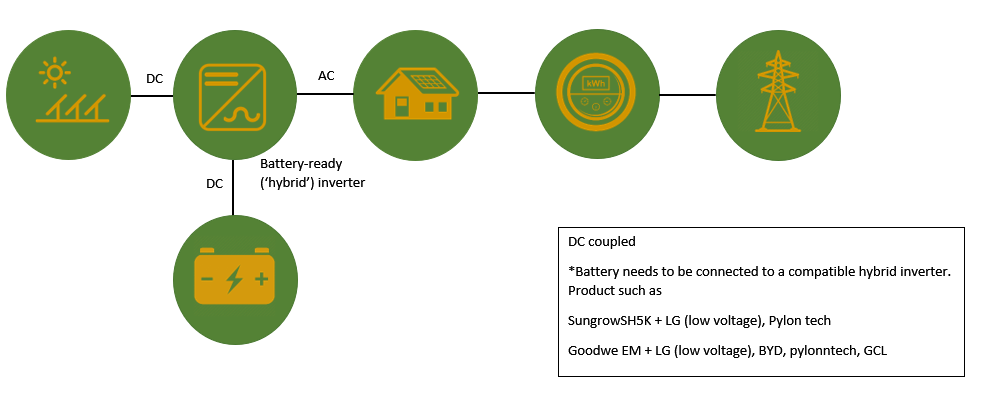 The sonnenBatterie hybrid 9.53 Can Provide Power in a Blackout
The latest emergency power unit produced by sonnen is the sonnenProtect 2500. It is an additional unit that is used to complement the sonnenBatterie hybrid 9.53 system. It achieves this by serving as a single-phase power supply in the event of a power failure. With a nominal output of 2.5kW, the sonnenProtect 2500 provides an excellent backup power source for homes.
The Chemistry Behind a sonnenBatterie hybrid 9.53
The sonnenBatterie hybrid 9.53 is a rechargeable lithium iron battery, a newer variant within the lithium battery family. This lithium iron battery consists of lithium iron phosphate (LiFePO4), as the cathode material. And like other lithium batteries, its anodes are carbon. For an explanation of how batteries work in general, click here.
The lithium iron phosphate battery differs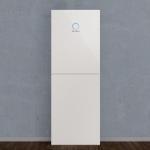 from the common lithium ion battery in a number of ways. Lithium iron phosphate batteries are safer due to the lithium phosphate holding a greater chemical and thermal stability. They are non-flammable meaning they last longer, as they can handle higher temperatures from a short-circuit or overcharge. This makes them a more economically sound battery choice, as the lithium iron phosphate has a longer life cycle compared to lithium ion. The sonnenBatterie hybrid 9.53 has an industry leading 10 year/10,000 cycle battery warranty.
sonnenBatterie hybrid 9.53 Cabinet Option 3 Specifications
Nominal Capacity
2.5kWh
5kWh
7.5kWh
10kWh
12.5kWh
15kWh
Usable Capacity
2.25kWh
4.5kWh
6.75kWh
9.0kWh
11.25kWh
13.5kWh
System Nominal Voltage (AC)

230V

System Nominal Power (AC)

4,600W

 

Charging/Discharging Power
1.1kWh
2.5kWh
3.3kWh
Depth of Discharge

90%

Min Photovoltaic Input Voltage

75V

Max Photovoltaic Input Voltage

750V

Max PV to Grid Efficiency

97.5%

Battery Cell Technology

Lithium Iron Phosphate (LiFePO4)

 

Battery Nominal Voltage (DC)

48V

Max Battery Efficiency

98%

Max Battery to Grid Efficiency

95%

Dimensions (H x W x D)

186cm x 67cm x 23cm

Weight
85kg
108kg
131kg
154kg
177kg
200kg
Operating Temperature Range

-5 °C to 45 °C

Outdoor/Indoor

Indoors/Outdoors (With Enclosure)

Wall Mountable

5kWh Cabinet Unit Only

Warranty

10 Years or 10,000 Cycles (whichever occurs first)
Screenshots From Sonnen's mobile App
Sonnen provides the sonnen mobile app, which is available for android and iPhone. The app enables the user to check their system status, history, forecast and control white goods if utilising radio controlled sonnenSmart-Plugs.
The following images are screenshots from the app in demo mode on an iPhone.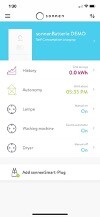 How Do I Calculate the Cost for a Sonnen Battery in Australia?
To determine whether the sonnenBatterie hybrid 9.53 is a cost-effective battery for your system, will depend on a closer examination of your electricity needs. To see if home solar battery storage is worth it, enter your system details into our detailed Solar Battery Sizing and Payback calculator to see the financials for your system.
Read About Home Battery Government Schemes Across Australia
South Australia, New South Wales, Victoria, and Australian Capital Territory all currently have a home battery scheme in place.
The South Australian Home Battery Scheme enables eligible South Australian residents to receive up to $4,000 per installed battery.
The New South Wales Home Battery Scheme offers an interest-free loan up to $9000 for eligible households looking to install a solar battery.
The Victorian Government under the Solar Homes Program provides to those eligible, a maximum discount of $4,174 off the battery sale price. The next release of battery rebates is on the 2nd of September 2020.
The Australian Capital Territory Government under the Next Generation Energy Storage program provides a rebate of $825 per kilowatt (kW). An average household with a 5kW system would be eligible for approximately $4,000.
Read more product reviews from Solar Choice
Compare quotes from up to 7 pre-vetted installers in your area now.
Since 2008 our knowledge and sophisticated software has allowed over 300,000 Australian households and businesses to make a well-informed choice on their solar & battery installer.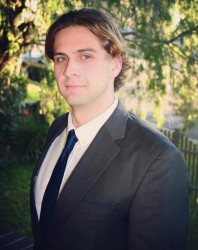 Latest posts by Jack Boutchard
(see all)