Background on AlphaESS – Company History
AlphaESS is a Chinese manufacturer of energy storage systems focused on residential and commercial markets around the world. ESS stands for Energy Storage System. The company was founded in 2012 and have just moved their headquarters to Suzhou, China – around an hour west of Shanghai. AlphaESS now has over 10 local subsidiaries which provide services to over 50 countries.
After first establishing an office in Australia in 2015, AlphaESS was one of the first companies to jump on board the South Australia home battery scheme when it launched in 2018. They have since opened an AlphaESS battery production facility in Lonsdale, just south of Adelaide where they claim they can produce 1,000 batteries a month.
AlphaESS produce a SMILE series which is directed at the residential energy storage market, a STORION series going up to 100KW in capacity designed for the commercial market and an industrial-scale battery that is manufactured within a shipping container.
AlphaESS Battery System – How It Works
The AlphaESS SMILE and STORION series provide an all-in-one solution which includes a hybrid inverter, a battery management system and a storage unit in which 'modules' of battery capacity can be added. The hybrid inverter enables solar power to used directly in the household at the time of creation or to charge the battery and enables battery power to be converter to usable AC power. The battery modules are purchased separately but fit into one aesthetically attractive unit.
The storage units can be filled with different battery modules meaning the AlphaESS is one of the more flexible solutions in terms of the storage capacity. For example the SMILE5 series comes with a 5kW hybrid inverter and can be filled with 4 different capacity batteries ranging from 2.9kWh to 13.3kWh, expandable to 80kWh.
The AlphaESS solution is capable of providing green power to a home or business during a black out. Importantly the technology is built in so there is no additional costs or extra components required for this capability as is the case with some other batteries.
If you already have a solar panels and an inverter, the battery can be AC-coupled to work harmoniously with your current system. More on this below.
Compare quotes from up to 7 installers in your area now.
The Alpha ESS Can be 'DC Coupled' or 'AC Coupled'
If you already have a solar system in place, AC coupling an AlphaESS system is the logical choice. This means that the AlphaESS battery system plugs in to your switchboard like any other appliance and converts AC energy back to DC energy to store in the battery and converts it back from DC to AC when it is time to be used. There is some small (3-4%) inefficiency here as power is lost through the extra conversions.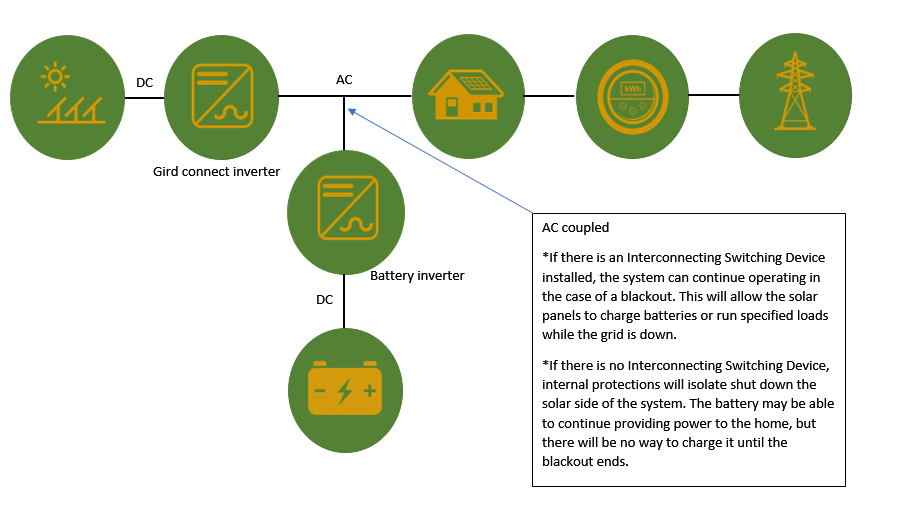 If you were starting from scratch and installing a new system, a DC coupled AlphaESS battery would make the most sense. This is because there would be no need to purchase an additional grid-connected inverter as the AlphaESS unit can do it all for you. It also only converts DC energy to AC energy once when the house is drawing down power from battery – meaning its a more efficient solution.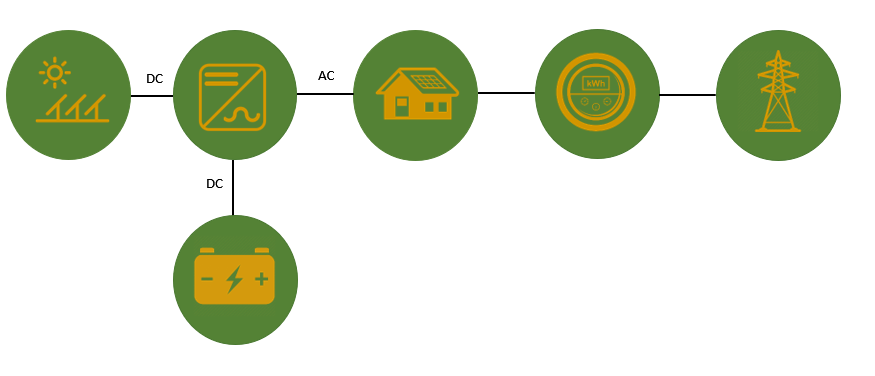 To read our full explanation on DC coupling and AC coupling – click here.
How Much do AlphaESS Batteries Cost?
One of AlphaESS's most popular residential battery systems is the SMILE5 series. See the below table which provide an indicative guide based on data from Solar Choice's Battery Price Index on the cost of installing a AlphaESS SMILE5 with different battery capacity:
| | |
| --- | --- |
| Alpha ESS Product | Indicative Price Range ($AUD) |
| Alpha ESS SMILE5 5.5kWh | $8,500 to $9,000 |
| Alpha ESS SMILE5 11kWh | $12,000 to $13,000 |
| Alpha ESS SMILE5 16.5kWh | $15,000 to $17,500 |
Please note
Prices are an estimate of a full turnkey price for end-consumers including all products, labour and GST
Price estimates does not include any state-based incentives
To give this cost context it is important to balance the cost of a battery against the return of a cheaper power bill. Solar Choice's solar and battery calculator is a comprehensive tool to understand the financial viability – although be warned, we looked at 48 scenarios and couldn't find anything that made financial sense.
Compare quotes from up to 7 installers in your area now.
AlphaESS Independently Tested by ITP Renewables
ITP Renewables is and independent organisation which has received funding from the Australian Renewable Agency (ARENA) and publish live performances of the batteries they test along with 6 monthly reports. The accelerated testing procedure involves cycling batteries 3 times a day to effectively achieve 9 years worth of lifetime in 3 years.
The AlphaESS M48100 (9.6kWh) battery was deployed into testing in 2017 and identified abnormal behaviour 2 years (equivalent of 6 years of traditional use) into testing as the charge/discharge rate was being constrained. After AlphaESS analysed the battery they stated that the battery had experience over-temperature alarms and discontinued the testing.
AlphaESS have advised Solar Choice that the battery tested was the first battery model they manufactured over 7 years ago and significant improvements have been made since.
AlphaESS's Warranty Terms
The warranty for the inverter and everything that isn't a battery module is 5 years. The warranty for the batteries is better and promises they will retain a minimum of 80% of their original capacity after 10 years, but only if certain conditions are met:
The system has an internet connection.
The batteries are used for "self-consumption" only.
If the system isn't connected to the internet, then the battery warranty will only be for 3 years and AlphaESS says if you want to make a claim either you or the installer will have to arrange an inspection of the system at your own cost. But under Australian Consumer Guarantees it is possible to claim for reasonably foreseeable damage and loss and this would include the cost of having a system that fails to operate correctly inspected. You can download the warranty from this page.
The Chemistry Behind AlphaESS Batteries
This AlphaESS battery consists of lithium iron phosphate (LiFePO4), as the cathode material and its anodes are carbon. This is different to Lithium Ion batteries such as the Tesla Powerwall 2.
Lithium iron phosphate batteries are considered a safer option to Lithium Ion, due to the lithium phosphate holding a high chemical and thermal stability. They are non-flammable meaning they can handle higher temperatures from a short-circuit or overcharge. This makes them an economically sound battery choice, as the lithium iron phosphate has a longer life cycle compared to lithium ion.

Read About Home Battery Government Schemes Across Australia
South Australia, New South Wales, Victoria, and Australian Capital Territory all currently have a home battery scheme in place.
The South Australian Home Battery Scheme enables eligible South Australian residents to receive up to $4,000 per installed battery.
The New South Wales Home Battery Scheme offers an interest-free loan up to $9000 for eligible households looking to install a solar battery.
The Victorian Government under the Solar Homes Program provides to those eligible, a maximum discount of $4,174 off the battery sale price. The next release of battery rebates is on the 2nd of September 2020.
The Australian Capital Territory Government under the Next Generation Energy Storage program provides a rebate of $825 per kilowatt (kW). An average household with a 5kW system would be eligible for approximately $4,000.
Read more product reviews from Solar Choice
Compare quotes from up to 7 pre-vetted installers in your area now.
Since 2008 our knowledge and sophisticated software has allowed over 300,000 Australian households and businesses to make a well-informed choice on their solar & battery installer.
Reviews from Australians who have installed Alpha ESS Batteries
Rated 4.45 from 11 reviews
21st August 2023
Ada
-
6kW system
13th August 2023
Mike
NSW - 2785
6kW system
Operating as advertised. Satisfied with system.
6th August 2023
Dax
NSW - 2102
6kW system
1st August 2023
Ben
VIC - 3805
6kW system
No problem with battery. With mild use use the 5kw from full charge seems to last from 4pm until about 8am when there is no solar generation. That is not using high powered devices such as electric oven or multiple things such as heater computer and tv for long periods. The app that goes with it is good and easy to use. 5 stars for the first month of use
18th June 2023
Wayne
VIC - 3675
6kW system
Only new as of yet but it will be great a think.
13th March 2023
Adrian
-
6kW system
24th January 2023
Michael
QLD - 4300
5kW system
Price was good. Software easily used and understood. Installer was a local who gave good service.
23rd January 2023
Christopher
NSW - 2478
5kW system
Performing well in the 6 weeks it has been in. But it is summer and it is charging quickly. The software is great and lets you optimise use. For example, adjusting the timer on the hot water heater (a big user) so it does not run at the same time as the pool pump.
23rd December 2022
Kevin
SA - 5162
10-15kW system
Chose this brand as I have 3 phase and most batteries only do single phase.
16th November 2022
Chris
-
6kW system
Don't know, system is showing fault, has yet to pass inspection and be commissioned properly due to incompetent installation company
7th September 2022
Kelly
VIC - 3429
10-15kW system
The 10KW battery is very compact, unobtrusive & looks good. The house uses the power from the battery all night & starts recharging at this time of year around 8am.