Get a free independent assessment your commercial solar power options
Over the last 12 years Solar Choice has performed due diligence on 1000s of solar companies and developed a pre-vetted network of Australia's leading commercial solar installers. We can help you access the best value in the market utilising Solar Choice's tender management platform with live pricing across over 200 installers for projects from 10kW to 10MW.
Like a broker, Solar Choice's fees are paid for by the installers in our network, meaning we can deliver our services to clients at no cost. Importantly, all Solar Choice's partners are are the same terms so we have no bias towards which installer is selected or what product brands are used.
Whether the focus of the project is offsetting carbon emissions, reducing energy bills or investing in large scale solar farms, our team works with clients to develop commercial solar power systems that reflect their energy usage and budget.
Talk to an expert solar consultant at Solar Choice
Why engage Solar Choice?
Our service starts with a free, no-obligation Business Case Analysis – our commercial team

will analyse your electricity bills and make a recommendation on the size of solar system most appropriate for your circumstances

Solar Choice is agnostic to all products, installers and financial arrangements
We broker the best value offers on commercial solar energy systems, facilitating "apples with apples" comparisons, so that our clients make an educated decision based on real choice rather than irrelevant variations and disparity
Our network includes Australia's most proficient, prominent and competitive solar companies with sufficient resources and experience to meet any large-scale commercial solar energy installation
Solar Choice has developed its own Tender Management Platform to streamline the handling of commercial tenders and a central point of information
Solar Choice's commercial team is comprised of highly experienced consultants with diverse backgrounds in renewable energy, engineering, environmental science, finance, law and architecture
We remain on hand for our clients during and after installation, acting as their third party advocate and information provider
 Commercial Solar Quotes & Analysis
Other resources about commercial solar power:
The Index includes median prices by capital city across popular commercial system sizes. You can view the most recent one here.
Based on data from nearly 300 indicative business cases that Solar Choice has undertaken for clients.
A tool developed by Solar Choice to help businesses get a rough idea of what system size would provide the best returns for their circumstances.
---
Portfolio of solar tenders managed – or projects developed – by Solar Choice Commercial
3.2MW Solar PV System for Primo Hans in Wacol, Brisbane
COMMERCIAL & INDUSTRIAL SOLAR TENDER MANAGEMENT
IMPARTIAL BUSINESS CASE DEVELOPMENT & INFORMATIVE FREE QUOTE COMPARISONS
3.2MW solar array for Primo Smallgoods in Wacol QLD
-Since 2008 we've delivered optimal value for many of Australia's largest corporates and the nation's most iconic solar rooftop projects
-We've impartially guided many thousands of small to medium size businesses in their solar investment decision making
Image: 600kW at Amaroo School in Canberra, developed by Solar Choice
---
2.3MW Mount Majura Solar Farm, ACT
co-developed by Solar Choice & Solar Fields
2.3MW Mount Majura Solar Farm, ACT
co-developed by Solar Choice & Solar Fields
2.3MW Mount Majura Solar Farm, ACT
co-developed by Solar Choice & Solar Fields
COMMERCIAL & INDUSTRIAL SOLAR TENDER MANAGEMENT
IMPARTIAL BUSINESS CASE DEVELOPMENT & INFORMATIVE FREE QUOTE COMPARISONS
2.3MW Mount Majura Solar Farm, ACT - Co-developed by Solar Choice & Solar Fields
-Since 2008 we've delivered optimal value for many of Australia's largest corporates and the nation's most iconic solar rooftop projects
-We've impartially guided many thousands of small to medium size businesses in their solar investment decision making
Image: 600kW at Amaroo School in Canberra, developed by Solar Choice
---
1.77MW across multiple roofs for Charles Sturt University campus in Wagga Wagga NSW
COMMERCIAL & INDUSTRIAL SOLAR TENDER MANAGEMENT
IMPARTIAL BUSINESS CASE DEVELOPMENT & INFORMATIVE FREE QUOTE COMPARISONS
-Since 2008 we've delivered optimal value for many of Australia's largest corporates and the nation's most iconic solar rooftop projects
-We've impartially guided many thousands of small to medium size businesses in their solar investment decision making
Image: 600kW at Amaroo School in Canberra, developed by Solar Choice
1.77MW across multiple roofs for Charles Sturt University campus in Wagga Wagga NSW
---
1.24MW solar array for Brisbane Markets in Brisbane, QLD
COMMERCIAL & INDUSTRIAL SOLAR TENDER MANAGEMENT
IMPARTIAL BUSINESS CASE DEVELOPMENT & INFORMATIVE FREE QUOTE COMPARISONS
1.24MW solar array for Brisbane Markets in Brisbane QLD
-Since 2008 we've delivered optimal value for many of Australia's largest corporates and the nation's most iconic solar rooftop projects
-We've impartially guided many thousands of small to medium size businesses in their solar investment decision making
Image: 600kW at Amaroo School in Canberra, developed by Solar Choice
---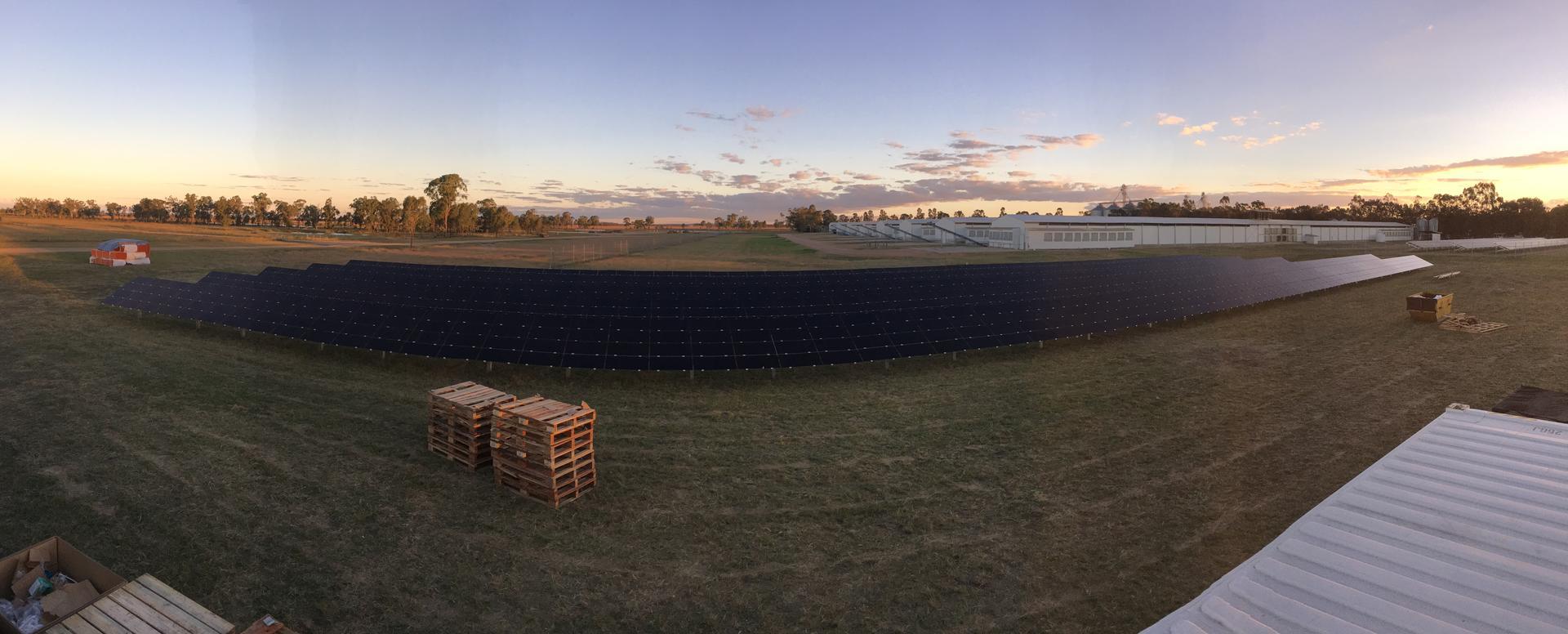 1.1MW solar installation for Doug Hall Poultry in Millmerran, QLD
Sections of 1MW solar array using First Solar modules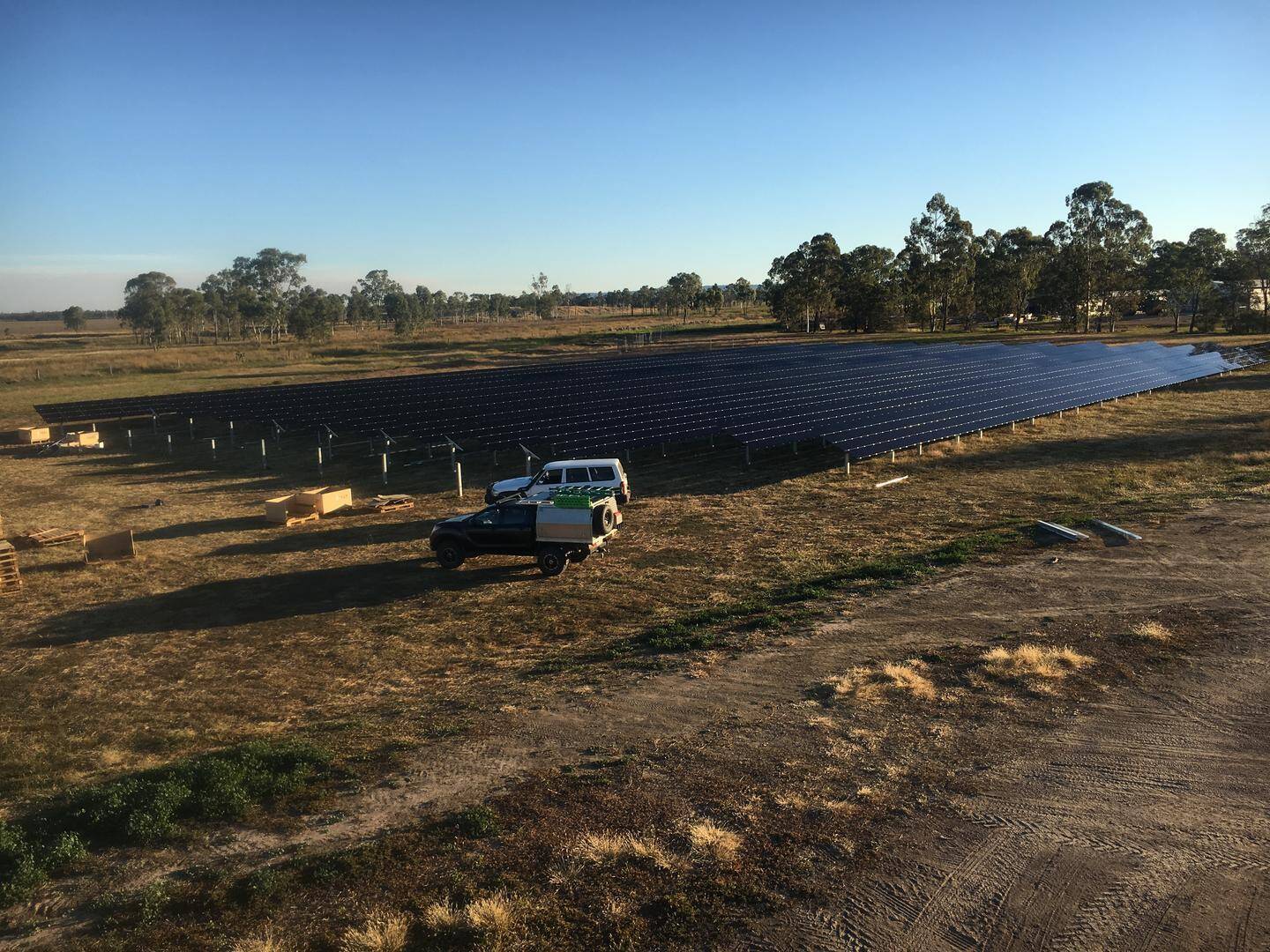 1.1MW solar installation for Doug Hall Poultry in Millmerran, QLD
Sections of 1MW solar array using First Solar modules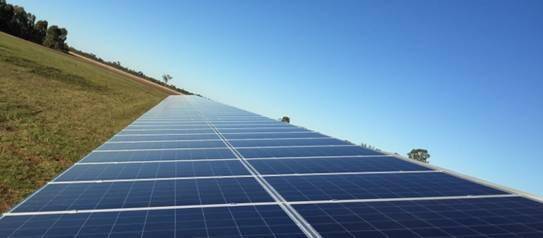 1.1MW solar installation for Doug Hall Poultry in Millmerran, QLD
Initial 100kW solar array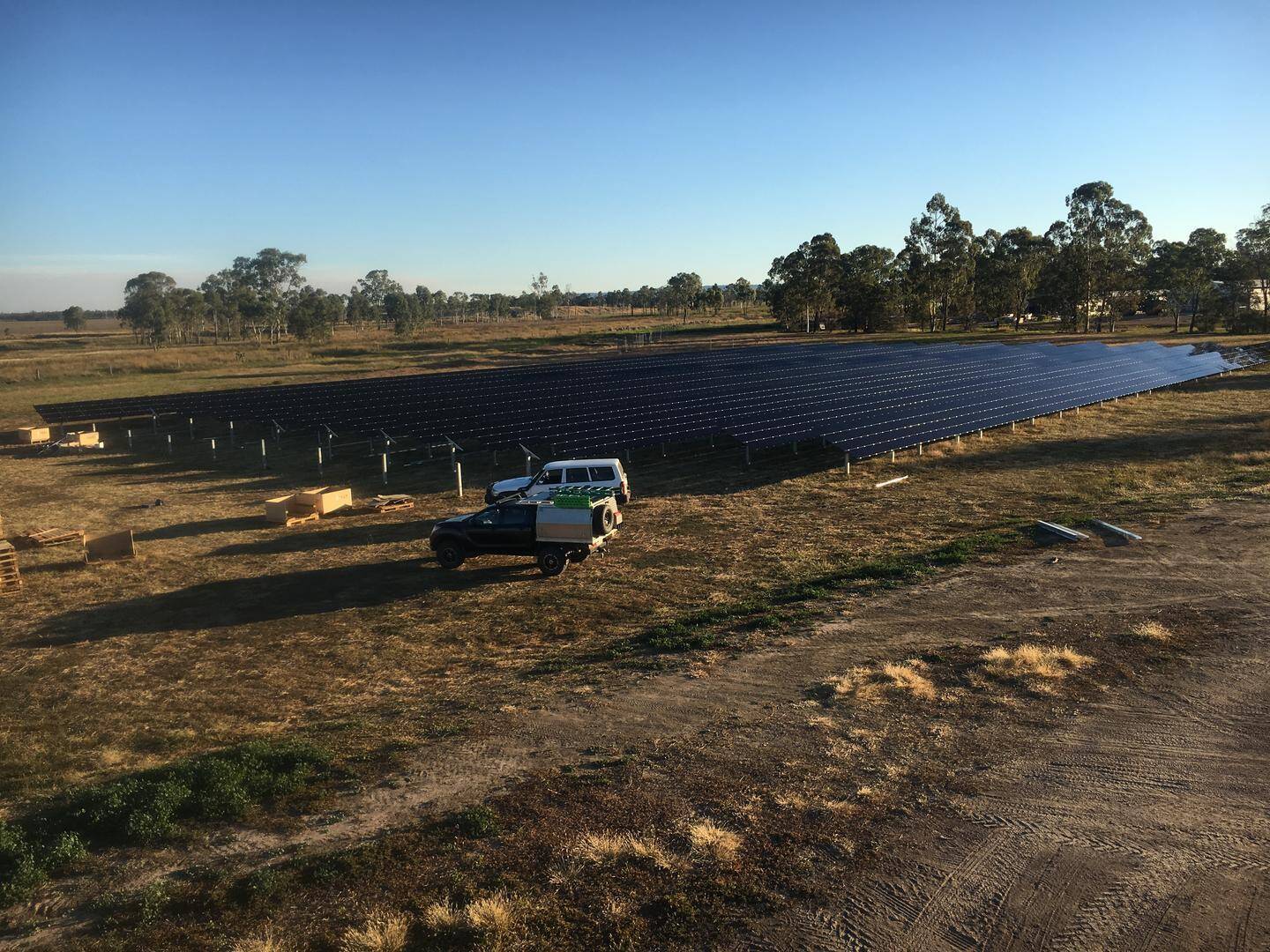 COMMERCIAL & INDUSTRIAL SOLAR TENDER MANAGEMENT
IMPARTIAL BUSINESS CASE DEVELOPMENT & INFORMATIVE FREE QUOTE COMPARISONS
1.1MW solar installation for Doug Hall Poultry in Millmerran, QLD
-Since 2008 we've delivered optimal value for many of Australia's largest corporates and the nation's most iconic solar rooftop projects
-We've impartially guided many thousands of small to medium size businesses in their solar investment decision making
Image: 600kW at Amaroo School in Canberra, developed by Solar Choice
---
600kW solar array at Amaroo School in the ACT, developed by SolarChoice
(Largest installation for a school in Australia)
600kW solar array at Amaroo School in the ACT, developed by SolarChoice
(Largest installation for a school in Australia)
600kW solar array at Amaroo School in the ACT, developed by SolarChoice
(Largest installation for a school in Australia)
COMMERCIAL & INDUSTRIAL SOLAR TENDER MANAGEMENT
IMPARTIAL BUSINESS CASE DEVELOPMENT & INFORMATIVE FREE QUOTE COMPARISONS
600kW solar array at Amaroo School in the ACT, developed by SolarChoice
(Largest installation for a school in Australia)
-Since 2008 we've delivered optimal value for many of Australia's largest corporates and the nation's most iconic solar rooftop projects
-We've impartially guided many thousands of small to medium size businesses in their solar investment decision making
Image: 600kW at Amaroo School in Canberra, developed by Solar Choice
---
Multi-megawatt Commercial Solar Energy installations for ING retirement villages: Nation-wide rollout
COMMERCIAL & INDUSTRIAL SOLAR TENDER MANAGEMENT
IMPARTIAL BUSINESS CASE DEVELOPMENT & INFORMATIVE FREE QUOTE COMPARISONS
Multi-megawatt Commercial Solar Energy installations for ING retirement villages: Nation-wide rollout
-Since 2008 we've delivered optimal value for many of Australia's largest corporates and the nation's most iconic solar rooftop projects
-We've impartially guided many thousands of small to medium size businesses in their solar investment decision making
Image: 600kW at Amaroo School in Canberra, developed by Solar Choice
---
Solar arrays across 195 residential and commercial buildings at BHP Nickel West Kalgoorlie mining facility in Leinster, WA
COMMERCIAL & INDUSTRIAL SOLAR TENDER MANAGEMENT
IMPARTIAL BUSINESS CASE DEVELOPMENT & INFORMATIVE FREE QUOTE COMPARISONS
Solar arrays across 195 residential and commercial buildings at BHP Nickel West Kalgoorlie mining facility in Leinster, WA
-Since 2008 we've delivered optimal value for many of Australia's largest corporates and the nation's most iconic solar rooftop projects
-We've impartially guided many thousands of small to medium size businesses in their solar investment decision making
Image: 600kW at Amaroo School in Canberra, developed by Solar Choice
---
300kW solar array for West Gippsland Hospital in Gippsland, Victoria
COMMERCIAL & INDUSTRIAL SOLAR TENDER MANAGEMENT
IMPARTIAL BUSINESS CASE DEVELOPMENT & INFORMATIVE FREE QUOTE COMPARISONS
300kW solar array for West Gippsland Hospital in Gippsland, Victoria
-Since 2008 we've delivered optimal value for many of Australia's largest corporates and the nation's most iconic solar rooftop projects
-We've impartially guided many thousands of small to medium size businesses in their solar investment decision making
Image: 600kW at Amaroo School in Canberra, developed by Solar Choice
---
280kW solar array for Mclean Farms in Pittsworth, QLD
280kW solar array for Mclean Farms in Pittsworth, QLD
280kW solar array for Mclean Farms in Pittsworth, QLD
COMMERCIAL & INDUSTRIAL SOLAR TENDER MANAGEMENT
IMPARTIAL BUSINESS CASE DEVELOPMENT & INFORMATIVE FREE QUOTE COMPARISONS
280kW solar array for Mclean Farms in Pittsworth, QLD
-Since 2008 we've delivered optimal value for many of Australia's largest corporates and the nation's most iconic solar rooftop projects
-We've impartially guided many thousands of small to medium size businesses in their solar investment decision making
Image: 600kW at Amaroo School in Canberra, developed by Solar Choice
---
150kW installation at Southern Cross Care at Broken Hill, NSW
150kW installation at Southern Cross Care at Broken Hill, NSW
COMMERCIAL & INDUSTRIAL SOLAR TENDER MANAGEMENT
IMPARTIAL BUSINESS CASE DEVELOPMENT & INFORMATIVE FREE QUOTE COMPARISONS
150kW installation at Southern Cross Care at Broken Hill, NSW
-Since 2008 we've delivered optimal value for many of Australia's largest corporates and the nation's most iconic solar rooftop projects
-We've impartially guided many thousands of small to medium size businesses in their solar investment decision making
Image: 600kW at Amaroo School in Canberra, developed by Solar Choice
---
150kW solar array for Mater Dei College in Camden, NSW
150kW solar array for Mater Dei College in Camden, NSW
150kW solar array for Mater Dei College in Camden, NSW
COMMERCIAL & INDUSTRIAL SOLAR TENDER MANAGEMENT
IMPARTIAL BUSINESS CASE DEVELOPMENT & INFORMATIVE FREE QUOTE COMPARISONS
-Since 2008 we've delivered optimal value for many of Australia's largest corporates and the nation's most iconic solar rooftop projects
-We've impartially guided many thousands of small to medium size businesses in their solar investment decision making
Image: 600kW at Amaroo School in Canberra, developed by Solar Choice
---
120kW thin-film amorphous silicon solar panel installation at regional airport in Newman, Western Australia
COMMERCIAL & INDUSTRIAL SOLAR TENDER MANAGEMENT
IMPARTIAL BUSINESS CASE DEVELOPMENT & INFORMATIVE FREE QUOTE COMPARISONS
120kW thin-film amorphous silicon solar panel installation at regional airport in Newman, Western Australia
-Since 2008 we've delivered optimal value for many of Australia's largest corporates and the nation's most iconic solar rooftop projects
-We've impartially guided many thousands of small to medium size businesses in their solar investment decision making
Image: 600kW at Amaroo School in Canberra, developed by Solar Choice
---
Aesthetic 100kW solar power system for National Golf Club in Mornington Peninsula, Victoria
Aesthetic 100kW solar power system for National Golf Club in Mornington Peninsula, Victoria
Aesthetic 100kW solar power system for National Golf Club in Mornington Peninsula, Victoria
COMMERCIAL & INDUSTRIAL SOLAR TENDER MANAGEMENT
IMPARTIAL BUSINESS CASE DEVELOPMENT & INFORMATIVE FREE QUOTE COMPARISONS
Aesthetic 100kW solar power system for National Golf Club in Mornington Peninsula, Victoria
-Since 2008 we've delivered optimal value for many of Australia's largest corporates and the nation's most iconic solar rooftop projects
-We've impartially guided many thousands of small to medium size businesses in their solar investment decision making
Image: 600kW at Amaroo School in Canberra, developed by Solar Choice
---
100kW solar array for Brisbane Powerhouse in Brisbane, QLD
100kW solar array for Brisbane Powerhouse in Brisbane, QLD
COMMERCIAL & INDUSTRIAL SOLAR TENDER MANAGEMENT
IMPARTIAL BUSINESS CASE DEVELOPMENT & INFORMATIVE FREE QUOTE COMPARISONS
100kW solar array for Brisbane Powerhouse in Brisbane, QLD
-Since 2008 we've delivered optimal value for many of Australia's largest corporates and the nation's most iconic solar rooftop projects
-We've impartially guided many thousands of small to medium size businesses in their solar investment decision making
Image: 600kW at Amaroo School in Canberra, developed by Solar Choice
---