Welcome to Solar Choice's Commercial Solar Payback Calculator tool. Solar Choice has put this tool together to help businesses (and anyone else who is interested) to work out approximate payback periods and return on investment (ROI – or IRR in our case) for commercial solar power; the tool also makes indicative solar system size recommendations based on the pricing & consumption details that you enter.
Does solar make sense for your business? Solar Choice can help you find out
With electricity rates across Australia skyrocketing in recent years, commercial solar power makes more sense than ever, with payback periods for commercial solar systems easily in the 3-5 year mark for most small to medium enterprises (SMEs). As businesses catch on to these potential benefits, they are looking to get educated about how it all works – and how much it costs.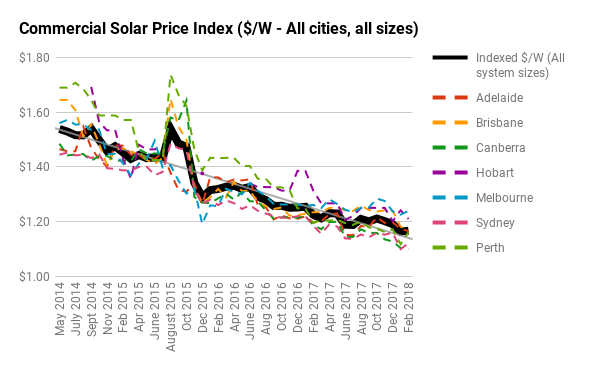 Average commercial solar system prices, by capital city, from August 2012 to early 2018. (Source: Solar Choice Commercial Solar PV Price Index.)
The Commercial Solar Payback Calculator below is a streamlined and simplified (but still fairly sophisticated) version of the engine used by our in-house engineer to generate Indicative Business Case Analysis for our commercial clients. Solar Choice provides this analysis – alongside commercial solar quote comparisons from leading installers around the country – for free as part of our commercial tender management service. Please get in touch today to learn more about how we can assist.
Free, impartial analysis of potential benefits of solar for your business
Request a Free Business Case Analysis & Solar Quote Comparison
Or give us a ring on the number below to discuss your project with one of our team.
How to access the Commercial Solar Payback calculator
To access the full calculator, please fill out the form below so we get an idea of who's interested in using it and why.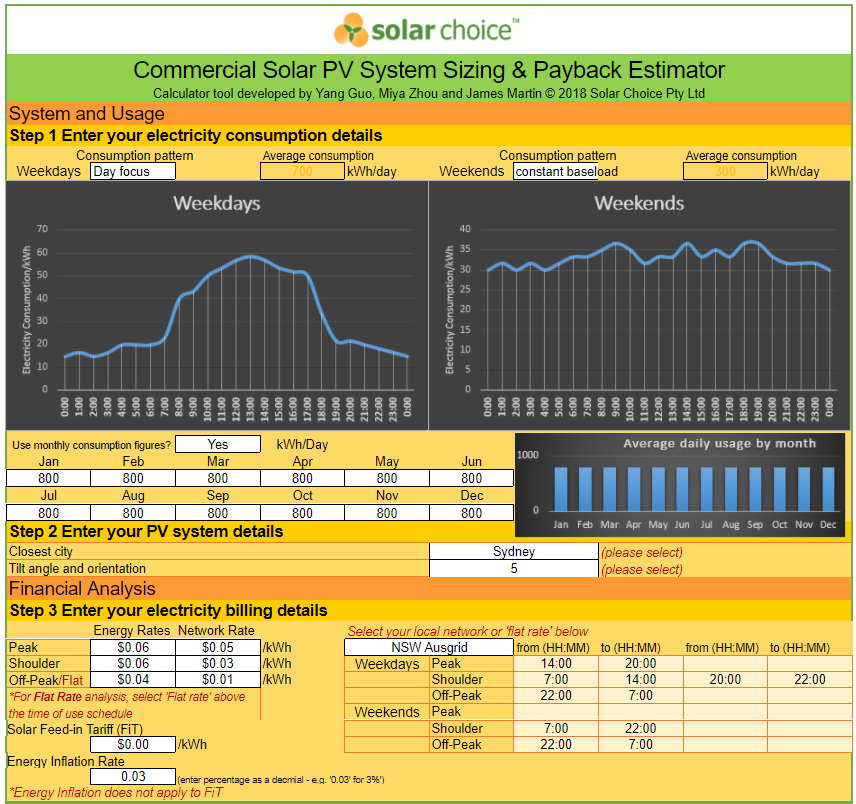 Solar Choice's Commercial Solar Payback & ROI Estimator
Thanks for your interest. To access the calculator, please tell us a bit about yourself.
Please note that all results from this calculator are indicative only, and should not take the place of a full assessment based on your electricity bills and interval consumption data.