It may come as a surprise to some that an up-front cash payment for a commercial solar system may not deliver the best possible financial outcome for a tax-paying business. In fact, in many instances it may be the least attractive choice. So what are the alternatives?
When it comes to paying for a solar PV system for a business, there are a range of options available. The most common ones that come to mind are cash payments and loans, followed by power purchase agreements (PPAs), and an then operational leases – the least familiar of all.
In this article – written with insights from renewable energy finance specialists ASM Money – we provide a roundup of these different types of commercial solar financing, with a list of the main advantages and disadvantages of each.
Important: We note that none of this should be taken as financial advice, but rather as an introduction each of the finance options available for commercial solar power. Please consult with your accountant or tax advisor before making a decision.
Request a Free Business Case Analysis & Solar Quote Comparison
Paying cash for a commercial solar system
Paying cash is often seen as the best possible option for purchasing a solar system if you have the funds available. However, if you are a tax-paying entity, there is a good chance that this is not the best solution available to you. This is mainly because renewable energy systems (such as rooftop solar) are not rapidly depreciating assets, with a standard life of 20-30 years.
Pros:
Ownership of the system, with no ongoing payments or interest after purchase
Easy to understand, with no third party financier
GST on purchase claimed in next business activity statement
Tax depreciation of 5% per annum for 20 years (as per ATO guidelines)
Cons:
Potentially large capital expenditure can be problematic where having a cash reserve is more important than promised future savings
Improved profitability thanks to energy bill savings may lead to higher overall tax liability
Typical payback period of 3-5 years; the cash flow of the solar PV system does not become positive until that point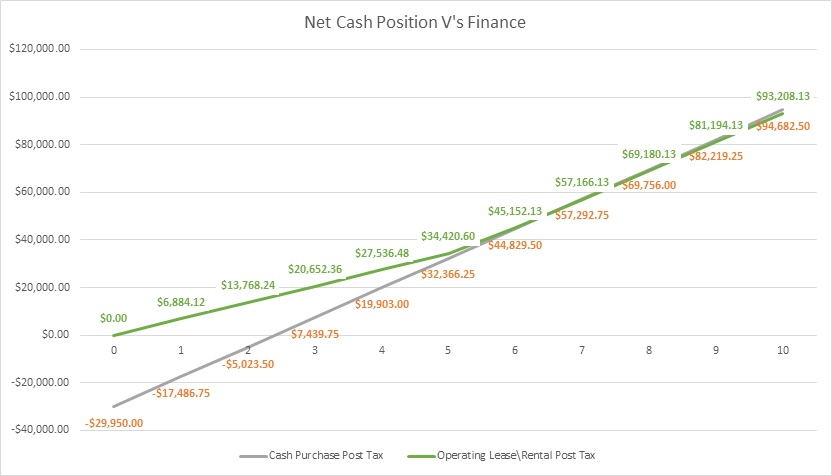 Example cash flow chart – Cash purchase (orange) vs operating lease (green). Note that while the end position is virtually the same after all factors (including tax deductions) are taken into account, working capital is conserved in the early years under the operating lease.
Conventional business loans & chattel mortgages
The most commonplace (but expensive) way for a company to secure financing for an item is a business loan. When the loan is for an item that is secured against itself (such as a solar PV system) this is technically known as a chattel mortgage.
Primarily because of the tax implications, the main organisations who use loans & chattel mortgages for renewable energy projects tend to be 'not for profit' and community organisations who cannot benefit from the tax breaks.
Pros:
Ownership of the system
Conserve working capital
GST on purchase claimed in next business activity statement
Fairly easy to secure provided the business has good financial track record
Large number of providers means ample choice on rates & packages
Ability to make additional payments can save on interest costs
Cons:
Ongoing payments, with interest
Monthly payments may not be fixed
Loss of tax deductions associated with current electricity bill (potentially increasing company tax)
Payments are not tax deductible (only interest & depreciation)
Payments based on full invoice price including GST
Asset and borrowings appear on balance sheet, reducing capacity to borrow
Solar power purchase agreements (PPAs)
Power purchase agreements (PPAs) are arrangements in which an organisation benefits from lower (solar) electricity rates without having to purchase a system. Instead, another company (often the solar installer themselves) pays for and owns the solar system, selling the energy it produces to the business directly at an agreed-upon rate that is lower than energy from the grid.
PPAs were once reserved for large-scale energy consumers, and agreements were historically struck for off-site generation plants. The modularity and scalability of solar PV, however, has made it possible for generators to be located on-site (usually on the roof of a property), directly feeding electricity into the property in question. Because the solar energy produced is consumed on site 'behind the meter', it does network usage charges do not apply, resulting in lower overall electricity rates.
A solar PPA is not technically a finance solution, as the solar system itself is not owned by the organisation that benefits from the energy it produces. That being said, a PPA is often viewed as being in the same basket as other finance options because there is usually no up-front payment to have the system installed. Additionally, some PPA contracts allow for a transfer to ownership after the term of the PPA is up (typically 10, 15 or 20 years).
The main organisations who benefit from a solar PPA are those who pay company tax or organisations not allowed to borrow money or pay interest.
Pros:
No up-front costs, as system is owned by a third party
Instant energy bill savings from time of installation
Energy costs remain an operational expense to the business, with associated tax benefits (i.e. 100% tax deductible)
All maintenance costs are the responsibility of the system owner
Ownership may be transferred when the PPA term ends
Cons:
No ownership (at least for term of PPA)
Possibility of two separate electricity bills (one from electricity retailer, and other from PPA provider)
Depending on contract terms, business may be required to pay for solar energy that is not used (e.g. on weekends)
Contracts for PPAs are typically significantly longer than other types of finance – generally from 10 to 20 years
Long-term contracts may be problematic for companies unable to confidently plan ahead long-term (e.g. the building is leased, they may expand or move premises, or their electricity demand may change)
PPA rates may fluctuate throughout the duration of the contract
Long-term savings typically not as great as other finance options
If the PPA provider (typically not a bank) is liquidated, the system may be switched off
Operating lease / 'Rent to own' solar
An operating lease is a contract that allows for use of an asset (e.g. a rooftop solar system) but does not convey the right of ownership to that asset. With an operating lease, the leased asset and associated liabilities of future rent payments are not included on the balance sheet of the company (subject to accounting standards being introduced).
The main organisations who benefit from an operating lease or rental are those who pay company tax or organisations not allowed to borrow money or pay interest.
Pros:
Energy costs remain a fixed, operational expense to the business, with associated tax benefits (i.e. payments are 100% tax deductible)
GST on each payment claimable on business activity statement
Payments based on ex-GST invoice price so typically lower
Fixed monthly rental expense for the term of the lease/rental
Once initial rental period concludes, client has option to take over ownership of asset ('rent to own')
Even greater savings once ownership has been transferred
Rental cost is almost always lower than energy savings, which means an immediate savings on power expenses from the first month
Suitable for leased properties
Rental terms and payment terms are usually flexible and catered to fit the business
Rental agreement can be transferred to a new businesses if the original client changes premises (financier approval required)
Straightforward application process; financials not ordinarily required
Most common finance method for on-site solar & other renewables
Cons:
No ownership until rental period/payments & terms have been met
Transfer of ownership at end of lease can be uncertain (must be confirmed with finance provider)
Not all solar companies approved to provide this option to clients
Some examples
The two examples below are based on modelling by ASM Money, taking into account the net cost of the system after any tax benefits. The first example highlights the lower finance costs associated with short-term lending (2 years), while the second uses higher interest and cost of capital rates common in finance plans with terms longer than 5 years.
Note: these are finance calculations only and do NOT take into your significant saving account savings in electricity.
A $40,000 project over 48 months (2 years) should result in the following cash-flow for a tax paying organisation:
| | | | | |
| --- | --- | --- | --- | --- |
| |  Operating lease | Chattel Mortgage | Bank Loan  | Cash  |
| $40,000 project – Cash over 48 months  |  $33,752 | $47,796 | $43,161 | $37,818 |
A $150,000 project over 84 months (7 years) should result in the following cash-flow for a tax paying organisation:
| | | | | |
| --- | --- | --- | --- | --- |
| |  Operating lease | Chattel Mortgage | Bank Loan  | Cash  |
| $150,000 project – Cash over 84 months  |  $142,250 | $202,318 | $167,076 | $135,682 |
Even over 84 months the cost of an operating lease is only marginally higher than cash.
Which option is best for you? We can help you find out.
Where available, the operating lease ('rent to own') option is the most popular among tax-liable entities for its broad applicability and for blending the benefits of rental and ownership. When it comes to financing a solar PV system, however, the best option really comes down circumstances and goals of the organisation in question.
Solar Choice manages tenders for wide range of commercial clients around Australia. To discuss your needs in detail, and for a free business case analysis and indicative quote comparison (including system size recommendation/estimation and indicative payback period), we encourage you to get in touch via the details below.
Compare solar quotes for your business
Request a Free Business Case Analysis & Solar Quote Comparison
Or call the number below to reach our commercial team directly
Are you a solar company interested in becoming finance approved?
ASM Money – who helped Solar Choice to compose this article – specialises in financing for renewable energy projects. Solar companies looking for a finance option to present to clients are encouraged to get in touch to learn more.