Fyshwick, ACT is an industrial area whose high concentration of flat, solar-ready roof space makes it a great spot for businesses interested in commercial-scale solar power. This article provides an overview of the benefits that a commercial solar system could afford Fyshwick businesses, covering the basics of what a company needs to know about installing solar panels–including pricing, system sizing & power output. It also details the ways in which Solar Choice Commercial can facilitate businesses in selecting a system & installer that is best-suited for their budget & electricity needs.
What are the benefits of commercial solar power in Fyshwick, ACT?
The number of businesses turning to solar power has grown tremendously across Australia in the past few years. This nationwide trend, to which Fyshwick and the rest of the ACT are no exception, has emerged thanks mainly to the convergence of the rising cost of utility electricity and the falling cost of solar power. In short, this convergence means that solar electricity is in most cases cost-competitive with or less expensive than grid electricity. Furthermore, because it requires no fuel and little maintenance, and is not subject to the sort of price inflation that utility electricity is, solar power is a safe and attractive investment.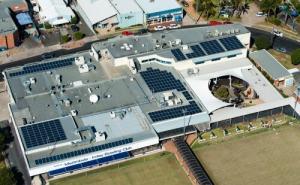 Club Sapphire in Merimbula, NSW is one example of an organisation switching to solar–with 95kW system on its flat roof.
Going solar can save Fyshwick businesses money on power bills: How?
As mentioned above, solar electricity is now less expensive than grid electricity in most parts of Australia; this is the main driver for the surge in uptake across the country. Generating electricity when the business needs it most means a reduced need to purchase power from the grid, as electricity from the solar panels will flow automatically into the building, and only excess will be 'exported'. An investment in a solar PV system therefore makes particularly good sense for industries and businesses that have high energy demand during daylight hours.
Solar power self-consumption vs export
It may be possible for the business in question to negotiate a set 'solar buyback' rate with their utility for the solar power that they export, which will be applied in the form of credits to their monthly or quarterly power bill. Generally speaking, however, this rate will be significantly lower than the offset value of the solar power when it is self-consumed by the business. As a rough example (details will vary by case), the offset value of 1 kilowatt-hour (kWh) of solar power might be worth 23c, while allowing 1kWh of solar power to the grid would net only an 8c credit. In such a case, a solar business that uses 50kWh of electricity per day would save $11.50/day by self-consuming their solar power, whereas they would receive only $4 credit on their bill for exporting it.
Why has solar power become so affordable?
A number of factors contribute to solar power's relatively newfound investment-worthiness. Some of the major factors are outlined below.
Federal government incentives for solar power: The Renewable Energy Target
The federal government, through the Renewable Energy Target (RET), allows the up-front creation of small-scale technology certificates (STCs) for solar projects up to 100 kilowatts (kW) in capacity. If sold immediately or handled by the installer who instead of by the end client, STCs can contribute substantially to the cost of the system. In Fyshwick, ACT, this discount will work out to approximately 65-70c per watt (c/W).
Systems over 100kW in capacity are generally not eligible to create STCs, but once commissioned they can be certified to create large-scale generation certificates (LGCs) on an ongoing basis. LGCs effectively form a continuous revenue stream for the solar system owner that complements the power bill savings that owning a solar system makes possible.
Solar technology prices have fallen dramatically
The global solar market has exploded in recent years. Ramped-up solar technology production in China has driven unprecedented competition, resulting in record-low solar prices, making solar panels more accessible than ever before. By some accounts, solar PV system installation costs are now about 70% lower than what they were just 4 or 5 years ago.
Solar power is a low-maintenance investment
Fixed-mount solar PV systems generally require very little in the way of ongoing maintenance over their 25+ year lifespans besides regular cleaning and periodic inverter replacement (approximately every 10 years). Systems that utilise solar tracking technologies, which employ more moving parts than fixed mounting structures, may require more regular inspection and care, but are still fuel-free.
Companies that go solar may be eligible for tax benefits
ABN holders may be able to claim depreciation and GST credit on system production.
Typical commercial solar system sizes, price ranges & power output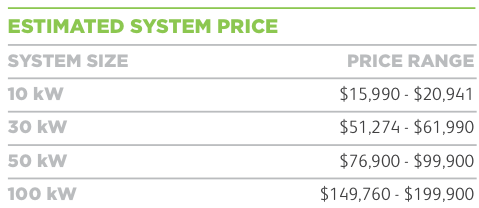 The chart to the right (from the CEC's Commercial Solar PV Guide (PDF)) contains prices for some of the most common solar PV system sizes ordinarily deployed on commercial rooftops. Prices are based on data available through Solar Choice Commercial's online Tender Management Platform (see below), and were current as of 6 September 2013. Please note, however, that as system prices are constantly fluctuating with the market, the ranges to the right should be seen as indicative only.
The appropriate solar system size for a given Fyshwick business will depend primarily on daytime electricity usage and how much of that the business would like to come from their solar system. Because self-consumption is the rule, systems should generally be sized such that they do not produce more power than the business can consume on an average day.
Below are some of the most common commercial solar PV system sizes and the average daily power output that can be expected from them if installed in Fyshwick, ACT. Output figures will of course be higher than the average in the summer and lower than the average in winter.
10kW solar system: 42kWh/day
20kW solar system: 84kWh/day
30kW solar system: 126kWh/day
50kW solar system: 210kWh/day
100kW solar system: 420kWh/day
Interested in solar power for your business in Fyshwick?
Solar Choice Commercial has managed tenders for hundreds of medium- to large-scale solar projects since 2009, and is well-positioned to find the best-value solar PV systems for commercial clients in Fyshwick.

Among the benefits of choosing Solar Choice Commercial to run your commercial solar project tender are:
-Access to Solar Choice's online Tender Management Platform, which provides instant market transparency for 95% of the leading commercial installers in Australia
-In-house business case analysis based on historic electricity bills (read more about the Solar Choice Business Case & Design team)
-Advice based on the extensive knowledge & experience of the Solar Choice Commercial team
-For eligible clients, a unique commercial solar financing package available exclusively through Solar Choice. The benefits of this package include: No capital expenditure & instant parity with commercial electricity tariffs. Learn more about the Solar Choice Commercial Solar Financing Package.
Contact managing director Angus Gemmell (angus@solarchoice.net.au) or fill out the Commercial Solar Quote Comparison form to the right of this page to get started.

© 2013 Solar Choice Pty Ltd