Diamond Energy, was recently crowned number one energy retailer by the Australian Conservation Foundation (ACF) for supporting the Renewable Energy Target 2013. The 'Green Electricity Watch' Report, written by the ACF, was published in early January and establishes how power companies, who claim to support a clean energy economy, actually perform when 'walking the talk'. Diamond Energy scored highly in general, and especially when compared to other energy retailers. Tony Mohr, Climate Change program manager at ACF, stated:
"It's at this time of year that a great many people are resolving to be greener, and where you get your electricity from is an important factor in going greener. At the top of the list is Diamond Energy, who fully support increasing the target and setting an ambitious, long-term target beyond 2020."
It is likely that Diamond Energy's status is as a result of their commitment to clean energy through owning and supporting renewable projects, at both residential and commercial scales. This includes owning and operating bio-gas to renewable energy plants in Tatura and Shepparton, Victoria.
To celebrate their achievement, Diamond Energy launched an exciting new incentive for residential solar PV owners in Victoria on Friday 25 January 2013. The new deal will fix new customer's energy bills at 2012 prices for 12 months, as well as allowing customers to add 8¢ per kWh to their current regulated Premium (PFiT) or Transitional Feed-in Tariff (TFiT) payments. Diamond Energy has announced a number of deals for solar owners in Victoria over the past 12 months and, thanks to investment from solar PV manufacturer SunPower, can now offer even better deals for those feeding back into the grid.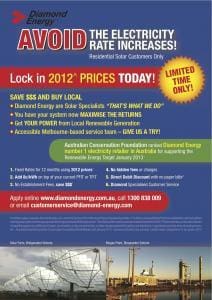 Diamond Energy's Fixed Price Offer
The Fixed Rate Offer is available to customers in Victoria, who already have a solar PV system installed and operational, who are not currently signed with Diamond Energy. Customers who are looking to install a system in the future can still take advantage of Diamond Energy's current deals, which are often better than signing with some of the larger energy providers. Diamond Energy works in partnership with several installers on the Solar Choice network, many other installers within Solar Choice's network offer a variety of alternative incentives for our customers.
Customers in Victoria with operational systems are encouraged to act quickly, as the offer will close at the end of February at the latest, but may close earlier without notice.
About Diamond Energy
Diamond Energy is a Victoria-based national electricity retailer focusing on serving customers who have solar panels, they aim to ensure that the process of grid connection and ongoing service afterwards is as smooth and efficient as possible. The company has been providing electricity from renewable sources to their customers since 2007.
Diamond Energy strives to create differentiated products to provide fundamental value for customers in terms of maximising the value of their solar investment, ensuring a smooth and effortless transition to solar and providing superior customer service.
© 2013 Solar Choice Pty Ltd

Latest posts by Rebecca Boyle
(see all)