The Australian Energy Market Commission (AEMC) has released a comprehensive review of the future of electricity prices across Australia. This report lends substance to speculation about the topic of energy prices the media. Factoring in the Federal government's recently introduced Carbon Price (set to take effect from April 2012), the average price of retail electricity in Australia is expected to rise by 37.2% (22% in real terms) by 2014.
Despite media sensationalism, solar not a major cause of increases
Solar is often painted in the media as having a major impact on the price of retail electricity. Although solar feed-in tariff schemes (the cost of which is in many cases distributed over and paid for by an electricity retailer's customer base) are expected to contribute to the price rises, their effect is expected to be relatively insignificant: 2.8% nationally. Even South Australia, which will see the biggest increase due to a solar feed-in tariff anywhere in the country, only 6.6% of the rises will be attributable to the state's feed-in tariff incentive scheme.
Percentage of price increases due to solar feed-in tariff schemes by state:
National: 2.8%
ACT: 3.9%
VIC: 0.7%
SA: 6.6%
WA: 0%
QLD: 0.2%
NSW: 6.1%
TAS: 0%
NT: 0%
Electricity price increases come mainly from rising wholesale energy and distribution costs
Rising electricity costs have been a cause for concern across the nation–most notably in NSW and Victoria, where disconnection complaints have reached record levels. Contrary to the perception that solar feed-in tariffs are a major factor in the growing cost of electricity, the bulk of the price rises are expected to come from two sources: the rising price of wholesale electricity (which includes the effects of the Carbon Price)–40% nationally, and the cost of distribution–33.6% nationally.
The other factors influencing electricity price are:
–Transmission (6% contribution nationally): "Driven by increasing investment to meet growing maximum demand, and higher commodity prices."
–Retail (12.1%): Calculated as a "percentage of the total cost to supply residential customers", expected to grow as the price of other components rise.
–Large-scale Renewable Energy Target (3.8%)
–Small-scale Renewable Energy Target (-0.8%): This is the mechanism through which Solar Rebates/Credits in the form of Small-scale Technology Certificates (STCs) are created. STCs provide an up-front rebate on the cost of a solar PV system.
–Energy efficiency and demand management schemes (2.5%).
–Other state-based schemes (only in Western Australia: -0.2%).
What implications does this have for the solar industry?
For those who install grid-connect solar–even in states with no feed-in tariff such as NSW–considerable savings await households that time electricity usage to coincide with PV system generation periods. The steady rise of the price of electricity means that small-scale solar PV systems will become an increasingly worthwhile investment–especially considering that their price is already at an all-time low in Australia.
Solar Choice, as an impartial brokering service with a bird's eye view of the residential and solar PV markets, has seen prices drop as much as 50% (to as low as 66c per Watt) for all sizes of solar PV systems over the past year. The low prices are attributable to a glut of solar system components on the market and fierce competition between installers working hard to find customers after the collapse of generous state incentive schemes. As a result, the low cost of solar is not expected to last forever. In the meantime, however, going solar is a smart financial investment for those who want to protect themselves against rising electricity bills.
How much will electricity prices rise in each state, and why?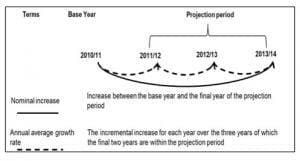 Electricity Price Increases in Australia to 2014 (AEMC)
The reasons for price rises in each state vary, but it is safe to say that network costs and wholesale prices comprise 70-80% of the electricity price rises in each state. Click the links below to see the details for each state, including the actual expected price of electricity in the years to come.
It is important to note, as the AEMC does, that the figures below are projections only, based on assumptions that may or may not be correct. As a result, the actual increases may vary as time goes on. It seems clear, however, that the general trend of rising retail costs due to rising wholesale and distribution costs are set to continue.
All Australia – ACT – VIC – SA – WA– QLD –NSW– TAS – NT

All Australia
Total Price Comparison:

2010/11 Price (c/kWh)
22.41
2013/14 price (c/kWh)
30.75
Total c/kWh increase
8.34
Total % Increase (2010/11 to 2013/14)
37.20%

Increase by component:

Transmission

6.00%

Distribution

33.60%

Wholesale

40.20%

Retail

12.10%

Feed-in Tariff

2.80%

LRET

3.80%

SRES

-0.80%

Energy efficiency and demand management




schemes

2.50%

Other state-based Schemes

-0.20%

Carbon Price impact (c/kWh)

2012/13

1.65

2013/14

1.76
Australian Capital Territory
Total Price Comparison:

2010/11 Price (c/kWh)

16.19

2013/14 price (c/kWh)

22.93

Total c/kWh increase

6.74

Total % Increase (2010/11 to 2013/14)

41.60%

Increase by component:

Transmission

6.10%

Distribution

14.20%

Wholesale

68.50%

Retail

7.10%

Feed-in Tariff

3.90%

LRET

2.70%

SRES

-2.30%

Energy efficiency and demand management




schemes

-0.20%

Other state-based Schemes

0.00%

Carbon Price impact (c/kWh)

2012/13

2.41

2013/14

2.47
Victoria
Total Price Comparison:

2010/11 Price (c/kWh)

22.86

2013/14 price (c/kWh)

30.32

Total c/kWh increase

7.46

Total % Increase (2010/11 to 2013/14)

32.70%

Increase by component:

Transmission

0.10%

Distribution

15.30%

Wholesale

40.40%

Retail

31.50%

Feed-in Tariff

0.70%

LRET

3.80%

SRES

-2.00%

Energy efficiency and demand management




schemes

10.20%

Other state-based Schemes

0.00%

Carbon Price impact (c/kWh)

2012/13

1.43%

2013/14

1.45%
South Australia
Total Price Comparison:

2010/11 Price (c/kWh)

23.99

2013/14 price (c/kWh)

32.67

Total c/kWh increase

8.68

Total % Increase (2010/11 to 2013/14)

36.20%

Increase by component:

Transmission

10.70%

Distribution

39.90%

Wholesale

34.80%

Retail

2.70%

Feed-in Tariff

6.60%

LRET

5.10%

SRES

-1.80%

Energy efficiency and demand management




schemes

2.00%

Other state-based Schemes

0.00%

Carbon Price impact (c/kWh)

2012/13

1.18

2013/14

1.21
Western Australia
Total Price Comparison:

2010/11 Price (c/kWh)

23.99

2013/14 price (c/kWh)

31.26

Total c/kWh increase

7.26

Total % Increase (2010/11 to 2013/14)

30.30%

Increase by component:

Transmission

13.20%

Distribution

43.50%

Wholesale

36.70%

Retail

5.90%

Feed-in Tariff

0.00%

LRET

4.90%

SRES

-2.10%

Energy efficiency and demand management




schemes

0.00%

Other state-based Schemes

-2.20%

Carbon Price impact (c/kWh)

2012/13

1.43

2013/14

1.83
Queensland
Total Price Comparison:

2010/11 Price (c/kWh)

20.69

2013/14 price (c/kWh)

29.28

Total c/kWh increase

8.59

Total % Increase (2010/11 to 2013/14)

41.50%

Increase by component:

Transmission

6.00%

Distribution

40.20%

Wholesale

44.30%

Retail

8.40%

Feed-in Tariff

0.20%

LRET

3.10%

SRES

-1.60%

Energy efficiency and demand management




schemes

-0.60%

Other state-based Schemes

0.00%

Carbon Price impact (c/kWh)

2012/13

1.84

2013/14

1.93
New South Wales
Total Price Comparison:

2010/11 Price (c/kWh)

22.75

2013/14 price (c/kWh)

32.27

Total c/kWh increase

9.51

Total % Increase (2010/11 to 2013/14)

41.80%

Increase by component:

Transmission

6.20%

Distribution

36.10%

Wholesale

38.30%

Retail

7.10%

Feed-in Tariff

6.10%

LRET

3.70%

SRES

1.60%

Energy efficiency and demand management




schemes

0.80%

Other state-based Schemes

0.00%

Carbon Price impact (c/kWh)

2012/13

1.94

2013/14

2.03
Tasmania
Total Price Comparison:

2010/11 Price (c/kWh)

20.75

2013/14 price (c/kWh)

25.95

Total c/kWh increase

5.19

Total % Increase (2010/11 to 2013/14)

25.00%

Increase by component:

Transmission

15.40%

Distribution

22.50%

Wholesale

50.50%

Retail

11.90%

Feed-in Tariff

0.00%

LRET

2.50%

SRES

-2.90%

Energy efficiency and demand management




schemes

0.00%

Other state-based Schemes

0.00%

Carbon Price impact (c/kWh)

2012/13

1.13

2013/14

1.12
Northern Territory
Total Price Comparison:

2010/11 Price (c/kWh)

23.76

2013/14 price (c/kWh)

27.65

Total c/kWh increase

3.89

Total % Increase (2010/11 to 2013/14)

16.40%

Increase by component:

Transmission

0.00%

Distribution

22.00%

Wholesale

68%

Retail

1.60%

Feed-in Tariff

0.00%

LRET

12.40%

SRES

-4.00%

Energy efficiency and demand management




schemes

0.00%

Other state-based Schemes

0.00%

Carbon Price impact (c/kWh)

2012/13

1.53

2013/14

1.53
© 2011 Solar Choice Pty Ltd
Resources and links:
Australian Energy Market Commission: Retail Electricity Price Estimates – Overview (pdf)

Latest posts by James Martin II
(see all)