Australia's installed solar power capacity has grown 35 times what it was in 2008, according to a report (pdf) recently released by the Clean Energy Council of Australia. The report covers the growth of renewable energy generation across Australia (currently standing at 9.64% of all generation) in the 2010-2011 financial year. The approximately 1 million solar photovoltaics (PV) systems installed throughout the country produced 2.3% (at 680 gigawatt-hours (GWh)) of Australia's renewable energy.
Australian renewables on track to reach 20% by 2020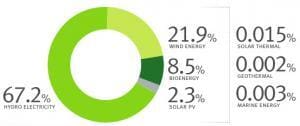 Renewable Energy in Australia–Breakdown of components. (Source: Clean Energy Council)
According to the report, Australia is on track to reach but not greatly exceed its commitment under the Federal government's Enhanced Renewable Energy Target (eRET) of 20% of all electricity production being sourced from renewables by the year 2020. At the moment, the majority of renewable energy is sourced from hydropower, followed by wind, then bioenergy. Solar PV, for all the media attention poured upon it, comprises only a small part of Australia's renewables portfolio.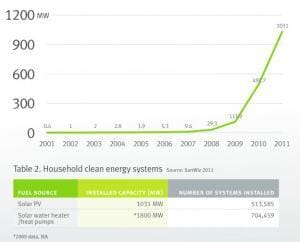 Small-scale solar PV cumulative installed capacity by year in Australia. (Source: Clean Energy Council)
Solar PV installations on the rise
Solar PV has nonetheless seen significant growth since the 2008, when the country had a mere 29 megawatts (MW) of solar PV capacity installed. Australia now has a total installed capacity of 1031MW (1.031GW–about 0.04kW per capita). This increase is in line with the global trend for solar power, which has seen enormous growth in the last 5 years. By comparison, the world leader in installed solar PV, Germany, has more than 17GW (17,000MW–about 0.2kW per capita) of installed capacity. Despite the speed of the Australian solar industry's expansion, Australia still did not make the list of top 10 "solar countries" for 2010. (See infographic at bottom of page. N.B. Keep in mind that the PV industry is growing at breakneck speed, and figures of cumulative capacity quickly become out of date, with record-keeping inherently incapable of tracking installs in realtime.)
Uptake of small-scale PV in Australia was driven by generous state-level solar feed-in tariff incentives (many of which have since been withdrawn), as well as the federal incentives such as the Solar Credits rebate scheme. Increased demand in combination with the strong Australian dollar and a glut of supply of solar system components has seen the price of systems drop to an all-time low, with Solar Choice witnessing some system prices coming in as low as an unprecedented 66c per watt. (Request a free Solar Quote Comparison of solar installers in your area.)
Solar PV and financial benefits for individuals
PV systems cannot be installed on all buildings. However, according to the report, of those that are PV-suitable, approximately 8% have already had a system installed. This is an impressive level of PV saturation for such a short period of industry growth. What sets solar PV apart is that from other forms of renewable energy is that it is one of the only sources that can be deployed on a building level and provides a direct financial benefit to homes and businesses.
Solar PV systems, in states with a feed-in tariff, offer the double benefit of both electricity bill credits acquirable from the power that a system feeds into the grid, plus electricity bill 'offsetting'–avoiding electricity bill costs by using power direct from the system (as opposed to purchasing it from the grid). Even in states with no feed-in tariff in place (such as NSW), with electricity prices on the rise, solar systems are becoming increasingly attractive investments. In the bigger picture, the decentralised nature of PV systems also means that grid-connected solar households have the ability to time and control electricity consumption, thereby potentially mitigating the need for electricity distributors to build additional conventional (i.e. coal-fired) power stations to meet peak demand.
© 2011 Solar Choice Pty Ltd

Top 10 Solar Countries for 2010. Figures may not accurately reflect 2011 installed capacity. (Click to enlarge. Source: 1bog.org)

Latest posts by James Martin II
(see all)