The number of complaints related to electricity and gas disconnections due to financial hardship has increased significantly in both NSW and Victoria, according to the states' Ombudsman's offices. The two states saw the number of 'actual or imminent' energy (electricity or gas) disconnection complaints increase 18% and 58% over the 2011 calendar year, respectively.  The increased number of complaints coincides with a rise in electricity prices in both states, following a broader national trend.
Electricity price increases in NSW causing difficulty for more financially stressed households
In both NSW and Victoria, the 'affordability' of energy supply is a growing issue. According to their 2010-2011 report, in the first half of 2011, there were 813 disconnection complaints due to financial hardship that were handled by the NSW Energy and Water Ombudsman's office–an increase of 18% from the previous year–plus another 1502 from households in danger of having their electricity supply shut off–an increase of 8%. Cases involving energy bills (including high bills and disconnection issues) comprised about 55% of the total number of complaints. The report paints a picture of the poorest households being squeezed economically and becoming less capable of paying for basic utility services, putting increasing pressure on the state's Energy Accounts Payment Assistance scheme, "both in terms of available assistance and ensuring vouchers are distributed to areas where they are most needed".
Electricity price increases coincide with the increased complaints
The rise in complaints reflects the steady rise of electricity prices across the state, which can be expected to continue on their upward trend in the coming years. It is important to note that, because the Ombudsman's report is based on the financial year, it covers only the first half of 2011; the documented increase in complaints therefore does not yet even include cases handled after the 17% July 2011 rise in retail electricity tariffs, or those to come as a result of further increases. Prices have been projected to continue increasing annually by about 10% over the next few 2 years to 2013, according to an Electricity Network and Prices Inquiry (pdf) carried out by the NSW Department of Industry & Investment. This report estimates that by 2013 prices will have undergone a staggering cumulative increase of up to 52% (depending on the electricity retailer) compared to 2010/2011 rates (see table below). (Note that these rates do not factor in the effects of the federal carbon tax, slated to come into effect from July 2012.)
Dealing with the price increases: Energy efficiency and solar power
In NSW, as many residents have already felt the impact of the recent rate rises with the arrival of their most recent electricity bills, which are significantly more more than the same quarterly billing periods in 2010. The decreasing affordability of electricity may spur changes in use patterns. The first step in reducing or mitigating the financial impact of the increases is energy efficiency–using less electricity altogether or timing electricity use to take advantage of off-peak tariff rates and to avoid peak rates (for those on time-of-use plans). Additionally, although most likely not an option for those who are struggling just to pay their quarterly electricity bills due to the associated upfront costs, installing a solar power system is another way for those who have high electricity usage to soften the blow of the increasing rates. Electricity generated from a solar power system is first used in household appliances, while the excess can be exported into the electricity grid and sold at whatever feed-in tariff rate is on offer. (As there is no state-mandated solar feed-in tariff rate at the moment, this rate varies by electricity retailer.)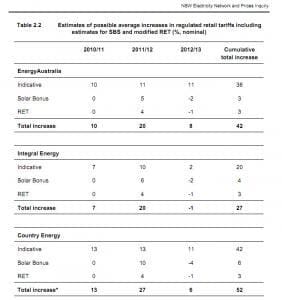 Department of Industry & Investment: Indicative price increases and breakdown in NSW to 2013. Prices do not factor in increases due to the newly introduced national Carbon Tax. (Click for enlarge image.)
Victoria price increases also bring disconnection complaints
Victorian energy customers are facing a similar trouble with their bills. 'Credit' (customers' capacity to pay their bills and stay on supply) was the main issue for 16% of all the customer complaints handled by the Energy and Water Ombudsman's office Victoria (EWOV); 98% of these were from energy (electricity and gas) customers, according to EWOV, according to its 2011 annual report. EWOV saw 4,079 energy customers raising disconnection/restriction of supply for account arrears as a main issue, an increase of 58% from the previous year. "In 2010-11, we received 2636 cases of disconnection (actual and imminent) of electricity for account arrears, up 74% from 2009-2010, and up 429% from 2006-07," says the report (pg 22).
Deregulated electricity market in Victoria: Customers need to 'shop around',…
Victoria is the only state that has a completely deregulated electricity market, meaning that there is no no statutory organisation that sets or makes recommendations about electricity prices to the government. Unlike, for example, NSW, where the government body IPART plays a big role in electricity tariff pricing, in Victoria the onus is on the electricity consumer to self-educate and select proactively from the retailers that service their respective areas. The first step in avoiding increasing electricity prices in the state is therefore to shop around and compare the retail tariff rates offered by each retailer. (Keep informed through the government's YourChoice.gov.au portal, and compare retailer prices with SwitchWise.)
…use energy more wisely, and possibly go solar
The next step in Victoria, as in NSW, is to use energy more wisely–something that the Victorian government is incentivising financially with its tradeable Victorian Energy Efficiency Certificates (VEECs). A third way, which only makes financial sense once the right retailer has been selected and efforts are being made to reduce home energy consumption, is to install a solar power system. Victoria currently offers a 25c/kWh solar feed-in tariff on a transitional scheme after the closure of its Premium Feed-in Tariff (PFiT) scheme. The 25c/kWh rate is one of the most generous in the country.
Resources and links:
SMH, "Power cut-offs soar as families struggle with bills"
Energy and Water Ombudsman (Victoria), "2011 Annual Report"
Energy and Water Ombudsman (NSW), "2011 Annual Report"
Related Solar Choice articles: Articles about solar power in New South Wales – NSW solar power news articles : Articles about solar power in Victoria – Victoria solar power news articles

Latest posts by James Martin II
(see all)