The New South Wales Independent Regulatory and Pricing Tribunal (IPART) has announced its draft determination on a 'fair and reasonable price' for grid-connected solar photovoltaic (PV) systems today. The voluntary 8-10c per kilowatt-hour (kWh) rate is significantly less than the mandatory, minimum 1-to-1 solar feed-in tariff rate that the state's solar industry had been pushing for, in which grid-fed solar power would be valued at the same rate as the retail tariffs paid by households for electricity from the grid. IPART's will not be released until April 2012, after submissions from the public in response to the draft have been evaluated and taken into consideration.
IPART's 'fair and reasonable' draft value for solar electricity
As discussed previously, the terms of reference set by the NSW government when it requested IPART's input on the matter of how to determine a 'fair and reasonable value' included that 1) it will not benefit from government funding and 2) it must not result in a price increase for retail electricity customers in the state–it will be a wholly unsubsidised scheme. This means that, unlike the previous NSW 60c/kWh feed-in tariff and the other feed-in tariffs offered in the Australian States and Territories, if the draft determination proceeds unchanged, the government will not be making any contributions to encourage the uptake of small-scale solar power among the state's residents. Customers will be paid for what their solar electricity is worth to the network. This will certainly be a step up from the current situation; at the moment, some NSW electricity retailers are offering either nothing or a nominal 6c/kWh for grid-fed solar.
IPART's conclusions about the value of solar power to electricity retailers is comparable to that arrived at by South Australia's IPART equivalent, ESCOSA, in the recent determination of the mandatory retailer contribution for solar power. The key difference between the two states' schemes is, however, that in SA there will also be a government contribution of 16c/kWh, funded by tax revenues, to incentivise the the uptake of solar power. This rate is additional to any mandatory retailer contribution, which was recommended at 7.1c/kWh for the period between 27 Jan and 30 June 2012. As in South Australia, the rate in NSW will increase as with its real value to electricity distributors; this value is expected to rise with the implementation of carbon pricing next year.
How should the new Solar Feed-in Tariff be implemented?
In its determination, IPART has made no stipulation that the the payment of the feed-in tariff by electricity retailers to their customers should be mandatory. Instead, it recommends that the government, electricity distributors, and solar power companies themselves facilitate greater understanding of how the mechanisms of electricity pricing and feed-in tariff rate determination function, as well as what customer options are with regard to payments for solar electricity.
Competition between retailers for solar customers to drive residential solar PV uptake?
The theory behind this component of IPART's draft recommendation is that, if electricity customers are aware of their options and an annually set 'benchmark range' for the feed-in tariff (one idea proposed by IPART), this will foster competition among retailers, as customers will be empowered with the knowledge of what solar electricity is worth. This market-based approach will avoid the need for government intervention. This is why the tribunal has also recommended a customer education campaign in conjunction with the implementation of the state's new solar FiT system. Whether this will work out in actuality is a question that remains to be answered, however. As it stands at the moment, NSW has no mandated feed-in tariff, and 'competition' between retailers for solar customers has not resulted in better deals for solar customers.
Read IPART's consumer fact sheet about the NSW solar feed-in tariff draft determination (pdf)
The benefits of going solar in NSW will remain savings on power bills
The benefits of solar power in NSW in the absence of a feed-in tariff incentive scheme lie in its ability to reduce home power bills. Previously, the incentive was in the benefits that owning and operating a small-scale system offered through the Solar Bonus Scheme. These benefits were unquestionable–60c were paid for every kWh produced by grid-connect solar systems. On a net feed-in tariff of less than 1/6 this amount, the incentives are significantly weaker, but still significant, especially in light of expected electricity price increases in the state and the falling cost of small-scale PV systems across the country. The table below (from the IPART fact sheet (pdf)) details the estimated financial benefits for a PV customer witha  1.5kW solar system.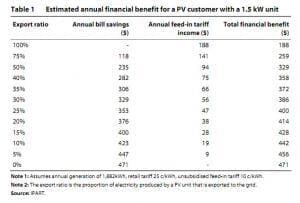 Estimated financial benefit for NSW customers with a 1.5kW solar PV system. (Click to see enlarged image.)
Final determination not due until April
It is important to keep in mind that, although the future of the NSW FiT is a topic of interest being keenly watched by a wide array of stakeholders, including government, solar companies, and solar customers, IPART's draft determination is still only a draft, and will remain as such until the final report is issued in April 2012. A public forum/roundtable discussion will be held on 12 December 2011 about the draft proposal, and submissions regarding it will be accepted until 23 January 2012. Stakeholders are invited to make written submissions until this date.

IPART NSW Solar Feed-in Tariff review timetable. (Click to see enlarged image.)
© 2011 Solar Choice Pty Ltd
Other resources:
IPART 'Solar feed-in tariffs' page
Infographic highlighting key points from the IPART review by Nigel Morris of Solar Business Services

Latest posts by James Martin II
(see all)