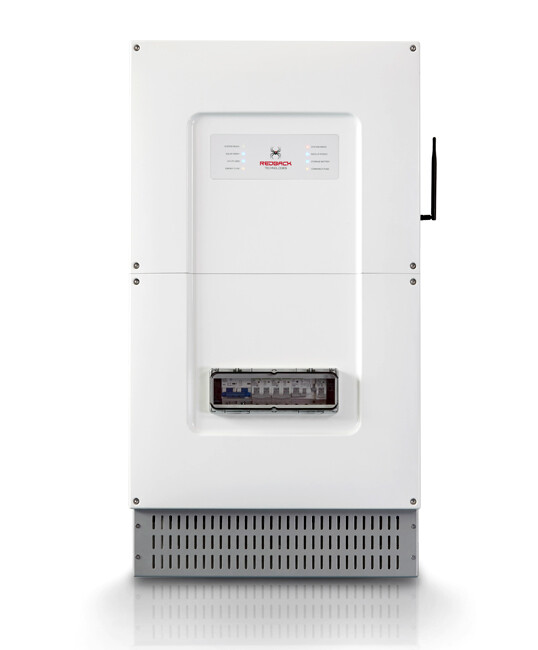 Redback Technologies is an Australian energy technology startup aiming to change the way that households consume electricity. The company's Smart Hybrid System allows households to store energy generated by their solar panels so that it may be used when it is of most value to them. Redback's innovative approach could eventually enable energy storage system owners to trade their spare electricity on the grid – or even share it with their neighbours.
Although there are plenty of companies active in either the inverter hardware or the software space, Redback believes that it is unique in Australia in its aggressive pursuits on both of these fronts to produce a cost-competitive solution.
From a hardware perspective the Redback Smart Hybrid system's all-in-one multi-mode inverter topography with integrated disconnects and bypass switches, integrates fast and costs 30% less than competitive products when fully integrated. In addition to cost reduction, the Redback system pushes the industry forward to a new safety benchmark, with all electrical switchgear pre-wired and tested on the factory floor prior to release, thus significantly reducing human error. Production units are plug and play with a mix of amphenol connectors, and comms plugs that both expedite integration and reduce likelihood of mis-wiring related issues.
From a software perspective the Redback system is dynamic and adaptable. Export control comes as standard, as well as wifi and a free cloud based monitoring suite that is continually improving. Redback system architecture is hosted on Microsoft Azure and thus all data communication to inverters in the field are encrypted and safe. Thanks to ongoing collaboration with Microsoft and the University of Queensland, Redback's technology roadmap is bold and innovative. Through the integration of Internet of Things (IoT) and Energy Internet functionalities, Redback's software suite optimises the utilisation of photovoltaic generated electricity while providing utilities with a range of demand management options and controls to ensure grid stability.
"The system is highly flexible due to it's ever growing suite of cloud control capabilities, which are further leveraged through our partnerships with both Microsoft and University of Queensland for smart software development," says Philip Livingston, Redback's Managing Director.
Redback Smart Hybrid System: Key features & benefits
All of this makes the Smart Hybrid System one of the most potentially interesting products in Australia's budding energy storage market. What are the features and benefits that set it apart?
Intelligent hybrid inverter for grid-connected solar PV systems: Increased control over solar energy production and usage, allowing users to store excess solar energy for later use when the sun is not shining
Rapid System Integration: The Smart Hybrid has amphenol connectors for battery and PV connection in addition to integrating all of the required breakers and switchgear. This dramatically reduces installation time, resulting in significant cost savings to the end user.
Advanced software maximises energy bill savings: The Smart Hybrid System's energy management software sends energy where it is needed from the most appropriate source (solar panels, batteries, or grid) according to sophisticated heuristic algorithms

Compatible with a range of lead acid and lithium-ion batteries

Competitive price point for quicker return on investment and shorter payback periods.
5 year warranty
Battery backup functionality comes as standard and allows homes to keep the lights on during blackouts
Wifi, Monitoring & Smart Phone App included at no additional cost.
Sleek, aesthetic design
Product details
Capacity range for solar PV input: 3kW – 6kW
Battery capacity range: 4.8kWh – 100kWh
Download a spec sheet (PDF)
Redback Technology contact details
Email: info@redbacktech.com
Register your interest with Redback here
(Redback units are imported and sold via Sonepar Australia, for more information on the purchase of Redback products please feel free to contact Solar Plus Solutions on 1300 255 410.)
© 2015 Solar Choice Pty Ltd