Sonnen is a German home battery storage system developer that has one of the most robust & attractive products on the Australian market. The Sonnen Eco is an expandable, all-in-one battery storage unit that includes Sonnen's proprietary energy management software, promising to deliver significant value to homes that install one. This article provides an overview of what the Sonnen Eco has to offer.
Update July 2017: sonnen's 'free electricity', flat-rate plan (sonnenFlat) is here
A storage system with smarts from a company with experience
There are now dozens of battery storage products available on the Australian market in response to a perfect storm of conditions and a rise in consumer interest. Sonnen is one of the oldest players in the burgeoning global storage industry, with origins as far back in 2008 servicing the German market. Since this time, the company originally known as SonnenBatterie has rebranded itself as Sonnen, in part to emphasise the fact that they do much more than just batteries.
That's not to say that they aren't battery experts – the Eco's battery bank has one of the best warranties of any currently available. But they're just one piece of a system whose aim is to maximise energy value for the home that it is attached to. Based on a home's energy consumption patterns and weather predictions, Sonnen's system decides how and when to charge the batteries, and may even turn on devices in your home to use excess solar energy while you're away. Sonnen's software is also set up to perform peak time export transactions – so that homes can sell their stored energy into the grid at a premium during peak wholesale pricing events.
To date, there are tens of thousands of Sonnen systems installed globally, with at least 12,000 in Germany alone. Sonnen's most recent generation of Eco series products – version 8.0 – is now in the process of being installed around Australia. James Sturch, Technical Business Manager for Sonnen Australia, anticipates the number of systems on the ground here to grow dramatically in the coming months.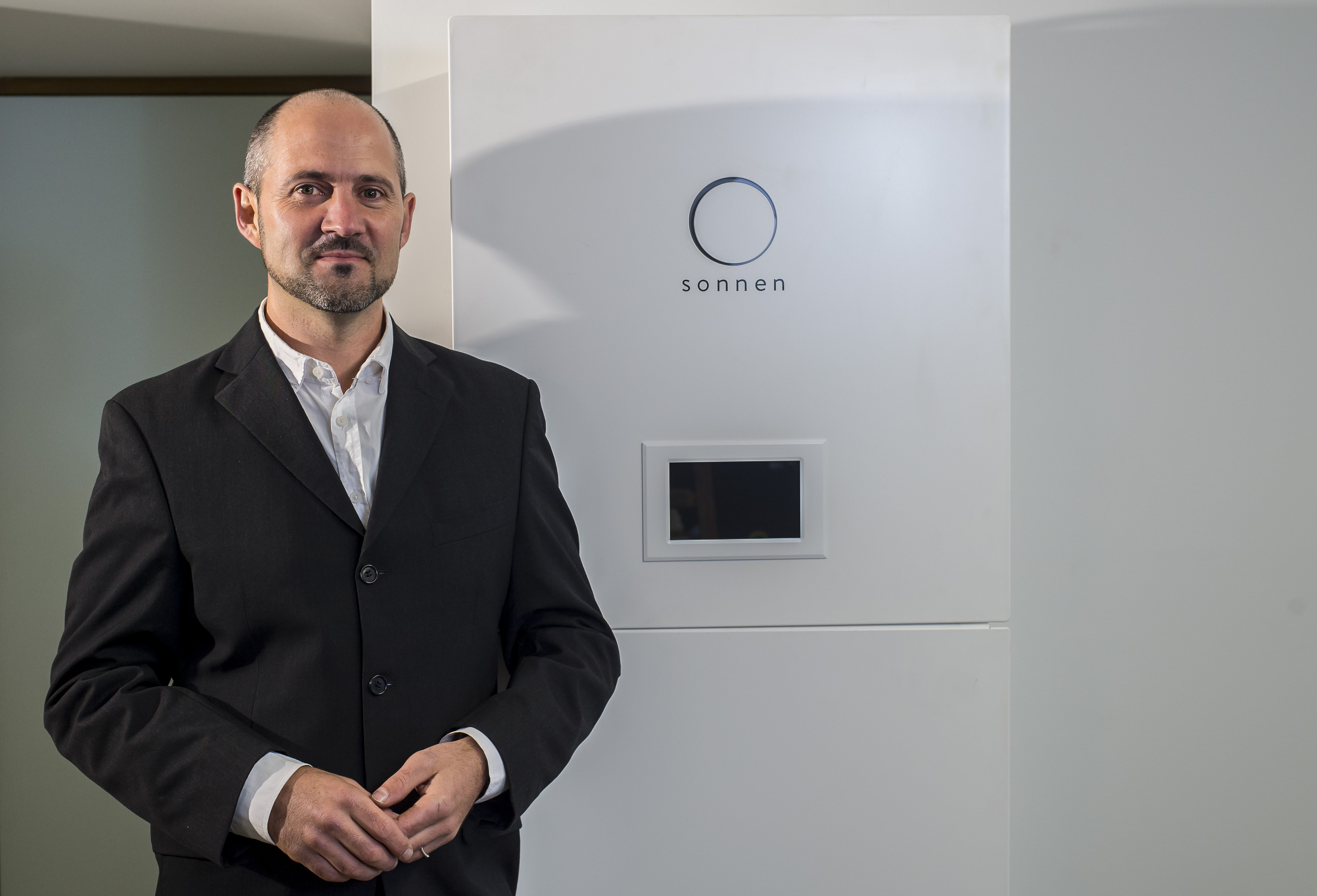 One of the first Sonnen Eco 8.0 units installed in Australia. ( Photo: John Krüger)
Sonnen Eco features
An all-in one battery storage system for homes. Sonnen's Eco series units include batteries, inverter and energy management system software – needing only to be installed, wired up & programmed by a certified professional.
German-designed & manufactured. Sonnen is a German company has been servicing the German home battery market since 2010.
Expandable, modular battery bank. Eco units can be installed with as little as 2kWh to as much as 16kWh of battery storage capacity in increments of 2kWh. This means a home can install the battery bank size most well-suited to their needs or budget.
10 year or 10,000 cycle warranty. The Eco's battery bank is guaranteed to operate for 10 years or 10,000 charge/discharge cycles (whichever comes first) – nearly 3 cycles per day. This is one of the best warranties on the Australian market. While a home battery will only cycle 1-2x per day in ordinary circumstances (making it difficult to actually 'use up' all 10,000 cycles during the first 10 years), the Eco's robust warranty does give reasonable assurance that it will continue to operate well beyond 10 years. Sonnen puts the Eco's design life at up to 20 years (about 1.4 cycles per day).
Smart software learns from how you use electricity – and plans accordingly. Over time, Sonnen's software will come to recognise your electricity consumption patterns and will charge and discharge your batteries according to their state of charge, the time of day (particularly with time of use billing) and predicted weather.
Trade your stored energy on the grid for credits on your energy bill. Sonnen's software allows owners to sell their energy into the grid at premium rates – ask your electricity retailer for details.
Monitor your usage and remotely control your home appliances via Sonnen's smart phone app.
Aesthetic appearance and can be installed indoors. Sonnen Eco units come in a sleek, unobtrusive cabinet and are safety rated for indoor installation.
How Sonnen's system works.
Compare Solar & Battery Quotes
© 2016 Solar Choice Pty Ltd