Note: Solar Choice is not a solar installer and has no financial or other incentives to promote any product brand over another.
JA Solar – Company History
JA Solar was originally founded in 2005 and is based in Beijing, China. The company was listed on the US NASDAQ exchange back in 2007 during an early growth phase and has recently been acquired by JASO Acquisition Limited which effectively has taken the company private again.
The company has 9 manufacturing facilities in China and one in Malaysia and Vietnam with a total annual production capacity of 42.5 GW (reported by Bloomberg NEF). This makes JA Solar the third largest producer of Solar Panels as of September 2021.
JA Solar has 25,000 employees as of 2022 working across 32 factories and branches around the world.
Key Indicators
| | |
| --- | --- |
| | JA Solar Panels |
| Bloomberg Tier 1 Ranking | Yes |
| PV Evolution Labs Top Performer | Yes (5/6) |
| Office location in Australia | No |
What is a Bloomberg Tier 1 Solar Panel?
Bloomberg's infamous tier 1 ranking is NOT a measure of Solar Panel quality in any way. It is simply an indication of the bankability of the manufacturer based on publicly released information on the financial health the company. This should give you an idea if the company is a large, well-known manufacturer.
JA Solar is listed as a tier 1 manufacturer in Bloomberg's Q2 2020 report.
See full list of Bloomberg Tier 1 Solar Panels
What is PV Evolution Labs Top Performer?
PV Evolution Labs with support from DNV GL independently test solar panel reliability. The tests are voluntary, with solar panel manufacturers paying to participate in the testing. This testing process is internationally renowned and is an accurate reflection of the solar panel's performance.
JA Solar are named as a top performer in the test of 5 performance tests(thermal cycling, Damp Heat, Mechanical Stress Sequence, LID+LETID and PAN) in the latest 2023 report.
See full list of PV Evolution Labs Top Performing Solar Panels
Why is office location in Australia Important?
Most solar panel manufacturers entering the Australian market first set up their distribution channels and worry about customer service later. This has led to many unhappy customers who are left trying to contact Chinese head offices to claim on their 10-year product warranty.
Relying on your solar installer is not always an option as we've seen many residential solar installers (including the large ones) go out of business well within the lifetime of the systems they are installing.
JA Solar list an office in Newcastle, however this is for an accounting firm called PKF Newcastle. This will not be helpful to JA Solar customers in claiming warranty.
Compare quotes from up to 7 installers in your area now.
How much do JA Solar Panels cost?
Based on Solar Choice's database we have provided the below-average costs as an indicative guide. These prices include:
Full turnkey Solar System with JA Solar Panels
Installation from a pre-vetted reputable installer from Solar Choice's network
The STC rebate and GST
| | |
| --- | --- |
| System Size | Average Fully Installed Cost – JA Solar Panels |
| 10kW | $12,404 |
| 8KW | $7,731 |
| 6kW | $5,806 |
Important Note: Prices will vary depending on location, inverter brand and which installer is used
JA Solar Panel -Points of Difference
There are many solar panels out there, what makes Canadian solar panels stand out?
One of the world's largest solar panel manufacturers
JA Solar is one of the largest solar panel manufacturers with third-largest solar module capacity (reportedly 42.5GW/year in 2021). JA Solar has focused on producing a mid-market solar panel for the masses that combines reliability with an affordable price point. JA Solar is one of the most competitively priced of the 'big-name' solar panels on the market.
JA Solar Panel Technologies
Most of JA Solar's products have been approved by the Clean Energy Council (listed under the parent company Shanghai JA Solar Technology Co Ltd) for the Small-scale Renewable Energy Scheme – Australia's home solar rebate program.
MBB Half–Cell Module
JA Solar have a range of solar panel modules featuring 6 multi-busbars and PERC Half-Cut silicon cells. The number of cells each solar panel has ranges from 108 to 144 cells with the dimensions of the panel increasing respectively. The rated maximum power output ranges from 340 watts for the smaller dimension panels (JAM60S10/MR) and up to 555 watts for the larger dimension panels (JAM72S30/MR) which are better suited for commercial projects or solar farms.
Bifacial PERC Half-Cell Double Glass Module
JA Solar has 5 different bi-facial solar panels available in the Australian market. Bifacial solar panels create energy on both sides of the panel so reflected energy from the ground or roof can increase the output of this panel by up to 20% in the right conditions. These solar panels are traditionally used where the solar panels are tilted so that there is increased reflection to the underside of the panel. These panels are more durable than traditional panels as they have a glass front and back sheet and come at a cost premium.
JA Solar Panel Specifications (common modules)
390W Solar Panel 

JAS-JAM54S31-390-B/MR/30

540W Solar Panel 

JAS-JAM72S30-540/MR/35

Cell Number
108 half cells
144 half cell
Cell Type
Mono
Mono
Power Output
390Wp
540Wp
Max Power Voltage
30.64V
41.64V
Panel Efficiency
20.0%
20.9%
Annual Power Degradation
0.55%
0.55%
Dimensions
1722 x 1134 x 30 mm
2278 x 1134 x 35 mm
Weight
21.5 kg
28.1kg
Product Warranty
25 Years
25 Years
Operational Temperature Range
-40°C to 85°C
-40°C to 85°C
Compare quotes from up to 7 installers in your area now.
Pros and cons of JA solar panels
Pros
Cons

Listed as a top performing solar panel by PV Evolution Labs
Tier 1 Solar Company by Bloomberg New Energy

No premium product offering with 25 years product warranty
Founded in 2005 (shorter history compared to similar Chinese solar brands)
In 2018 JA Solar merged with JASO Acquisition Limited and ceased to be a publicly traded company
So, are JA Solar Panels worth buying?
JA Solar Panels stack up well for as an affordable mid-range option from a company with a solid financial backing and reputation.
One concern with JA Solar is that they do not have an office here in Australia. JA Solar has provided Solar Choice with evidence that they employ 7 staff in Australia who they advise can support with warranty claims. Their updated warranty document in 2021 does provide an option to contact JA Solar on Australian phone numbers :+61 289 122 165 or email:  service.au@jasolar.com
Example of a JA Solar Commercial Solar Project – South Australian Water Corporation
Completed in 2018/2019
Type of Application: Commercial Ground-mount Solar PV System
System Size: 4.14 MWp across multiple sites
JA Solar provided all the solar panels to three ground-mounted Solar PV projects at Hope Valley Water Treatment Plant (1.5 MW), Glenelg Waste Water Treatment Plant (1.32 MW), and Christies Beach Waste Water Treatment Plant (1.32 MW).
Mr. Baofang Jin, President and CEO of JA Solar, said "JA Solar is committed to the research and development of high-efficiency PV modules… We look forward to promoting the application of renewable energy around the world."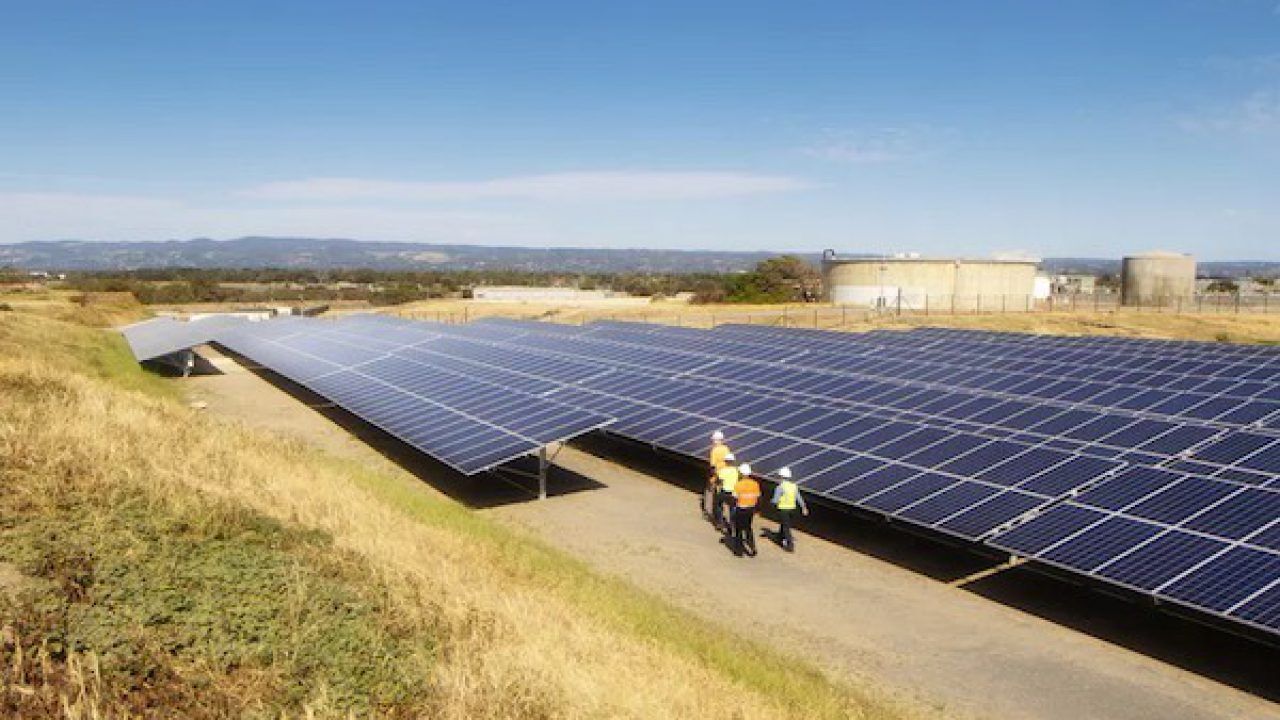 Read more product reviews from Solar Choice
Compare quotes from up to 7 pre-vetted installers in your area now.
Since 2008 our knowledge and sophisticated software has allowed over 300,000 Australian households and businesses to make a well-informed choice on their solar & battery installer.
Reviews from Australians who have installed JA Solar Panels
Rated 4.65 from 20 reviews
13th August 2023
Stuart
NSW - 4509
5kW system
18th July 2023
Stefan
VIC - 3089
6kW system
12th May 2023
Dee
-
6kW system
13th March 2023
Brian
VIC - 3490
6kW system
20th December 2022
Brendan
QLD - 4154
10kW system
16th December 2022
Tony
-
30-50kW system
13th December 2022
Gary
NSW - 2229
8kW system
I know nothing about solar panels to make any comment.
29th November 2022
Patrick
ACT - 2605
10-15kW system
2nd November 2022
Russ
WA - 6164
10kW system
Good quality at an affordable price.
29th July 2022
Travis
VIC - 3690
6kW system
12th July 2022
Ian
VIC - 3216
6kW system
APPEAR TO BE OF STRONG CONSTRUCTION
28th June 2022
Paul
SA - 5163
6kW system
Lets see how they last...
9th May 2022
Keith
-
10kW system
Good panel with a long warranty,
1st May 2022
Rose
-
7kW system
1st September 2021
Kevin
VIC - 3978
6kW system
5th July 2021
Kel
SA - 5163
6kW system
Efficiency seems to have dropped off sharply since the initial install.
1st July 2021
Alual
-
6kW system
Good looking, one of the best brand
21st June 2021
Duncan
VIC - 3127
6kW system
15th June 2021
Kevin
-
6kW system
Not switched on yet. Awaiting inspection
14th June 2021
Stuart
QLD - 4509
6kW system