Note: Solar Choice is not a solar installer and has no financial or other incentives to promote any product brand over another.
Overview of Risen Energy – Company History
Risen Energy Co., Ltd. was founded in 1986 and converted from being a producer into a solar panel manufacturer in 2002. The company was listed as a Chinese public company in 2010 and is currently trading on the Shenzhen Stock Exchange. While experiencing growth, Risen Energy has maintained a debt ratio of 60% over the last decade and is deemed bankable for large-scale solar projects.
While at its core the company is a Chinese manufacturer of Solar Panels and Silicon wafers, Risen has also played the role of an investor, developer and EPC of large-scale solar projects across the globe. While headquartered in Ningbo, China, Risen Energy has 11 offices across Europe, the USA, Japan, India, Mexico and Australia.
Risen has been supplying solar panels to Australia since 2008 and has developed a local office and team based in Mt Waverley, Victoria. Risen has set up distribution channels in Australia including recently announcing a 150MW distribution agreement with One Stop Warehouse giving them exclusive rights to Risen's 330W Jäger Solar Panels.
Key Indicators
| | |
| --- | --- |
| | Risen Group Solar Panels |
| Bloomberg Tier 1 Ranking | Yes |
| PV Evolution Labs Top Performer | Yes (5/6) |
| Office location in Australia | Yes |
What is a Bloomberg Tier 1 Solar Panel?
Bloomberg's infamous tier 1 ranking is NOT a measure of Solar Panel quality in any way. It is simply an indication of the bankability of the manufacturer based on publicly released information on the financial health of the company. This should give you an idea if the company is a large, well-known manufacturer. Risen Solar Panels are in the Bloomberg Tier 1
See full list of Bloomberg Tier 1 Solar Panels
What is PV Evolution Labs Top Performer?
PV Evolution Labs with support from DNV GL independently test solar panel reliability. The tests are voluntary, with solar panel manufacturers paying to participate in the testing. This testing process is internationally renowned and is an accurate reflection of the solar panel's performance.
Risen Solar Panels was listed as a top performer for thermal cycling, Mechanical Stress Sequence, PID, LID+LETID and PAN in the latest report.
See full list of PV Evolution Labs Top Performing Solar Panels
Why is office location in Australia Important?
Most solar panel manufacturers entering the Australian market first set up their distribution channels and worry about customer service later. This has led to many unhappy customers who are left trying to contact Chinese head offices to claim their 10-year product warranty.
Relying on your solar installer is not always an option as we've seen many residential solar installers (including the large ones) go out of business well within the lifetime of the systems they are installing. Risen Solar Technology currently has offices located in Melbourne and Brisbane.
Compare quotes from up to 7 installers in your area now.
How Much Do Risen Solar Panels Cost?
Based on Solar Choice's database we have provided the below-average costs as an indicative guide. These prices include:
Full turnkey Solar System with Risen Solar Panels
Installation from a pre-vetted reputable installer from Solar Choice's network
The STC rebate and GST
| | |
| --- | --- |
| System Size | Average Fully Installed Cost |
| 10kW | $9,412.50 |
| 8KW | $7,385.83 |
| 6kW | $4,608.80 |
Important Note: Prices will vary depending on location, inverter brand and which installer is used
Risen Solar Panels – Points of Difference
There are many solar panels out there, What makes Risen solar panels stand out?
Long History Company with Good Track Record
Risen was founded in 1986 in China and has steadily grown its presence in the market over the last 35 years. Risen entered the Australian market in 2008 and established a local office in Melbourne in 2014 and then a Brisbane office in 2018.
Risen has been awarded certifications through independent testing authorities including PV Evolution Labs and Bloomberg NEF and their panels have been trusted by large investment firms on many large-scale solar farm projects in Australia.
The annual capacity of Risen has reached up to 24.6GW in 2021 which makes them one of the main-stream solar panel manufacturers.
Risen Solar Panel Technologies
Risen currently has 170 solar panels approved by the Clean Energy Council in Australia under the name "Risen Energy Co Ltd". This is a requirement to be eligible for the federal STC solar rebate.
Currently, in Australia, Risen offers two series of panels the Titan Series as well as the Jäger Plus Series which are both monocrystalline panels.
Risen Jäger Plus Series
The Risen Jäger series was born in response to some of the key industrial pains and customer concern such as how to reduce LID (Light-induced Degradation, LETID (Light and elevated Temperature Induced Degradation), internal loss, shadow shading and BOS cost. As a new generation of high-performance, highly cost-effective and reliable products, the Jäger series has a total of three types of products: RSM132, RSM144 and RSM156. of which the highest module conversion efficiency can reach up to 21.0% with the highest power output reaching up to 455Wp.
Jäger high-efficiency mono-crystalline cells deploy the world-leading two-side-stack-passivation technology, SE (Selective Emitter) technology, low-temperature firing technology and enhanced current injection technology. This can increase cell conversion efficiency and at the same time reduce LID and LETID. Jäger cell conversion efficiency can reach up to 22.51%.
Jäger Plus Series offer bi-facial solar panels for ground-mounted projects and an all-black option for customers looking for an aesthetically pleasing option for their roof.
Risen Titan Series
Titan series is now the most commonly used Risen panels in Australia. Four of the newly released solar panels in Titan Series feature a 25 year product warranty, while the remaining solar panels in the series come with 15 years.
Titan Series panels have a range of solar modules from 390Wp to 550Wp with an impressive maximum efficiency rating up to 21.7%. All the panels use PERC, half-cut silicon cells and the number of cells each solar panel has ranges from 110 to 150 cells with the dimensions of the panel increasing respectively.
This series also offers an 'all black' option where the solar cells and aluminium frame are black which are popular amongst residential solar buyers.
Compare quotes from up to 7 installers in your area now.
Risen's Warranty Offer for Australian Customers
Solar panels in the Australian market come with a performance warranty and a product warranty.
The product warranty is the more important one as it covers manufacturing defects and most problems experienced with solar panels. Most Risen solar panels come with a 15-year product warranty which is ahead of the market standard of 12 years. This year Risen has introduced a 25-year product warranty for 4 of their new solar panels (which are listed on this document).
Looking through Risen's warranty documentation, there is a clearly documented process to claim a warranty. Given Risen has an Australian office to assist with this process, customers would have a clear path to access a claim even if their installer is no longer around to help.
The performance warranty for solar panels guarantees a maximum rate at which the solar panel will degrade over time. For most of Risen's solar panels you can expect a 2.5% loss of power in the first year and 0.6% each year thereafter as per their 25-year performance warranty. Some of the solar panels guarantee no more than 2% loss in the first year and 0.55% for the following 24 years.
Based on these numbers, we would expect Risen solar panels to slightly outperform other cost-effective brands over time, however making a claim against the performance warranty for a residential customer is difficult without high quality monitoring equipment.
Click here to read Risen's full warranty document:
Risen's full Australian warranty document-15years
Risen's full Australian warranty document-25years
Risen Solar Panel Specifications
Risen Jäger Plus

RSM120-6-350M

Risen Titan

RSM40-8-390M

Cell Number
120 half-cut cells
120 half-cut cells
Cell Type
Monocrystalline Cells
Mono PERC
Power Output
350Wp
390Wp
Nominal Power Voltage
34.7V
33.88V
Panel Efficiency
20.8%
20.3%
Annual Power Degradation
Not Disclosed
0.55%
Dimensions
1689 x 996 x 35 mm

(1.68 m²)

1754 x 1096 x 30 mm

(1.92 m²)

Weight
19.5kg
21kg
Warranty
15 Years
25 Years
Operational Temperature Range
-40°C to 85°C
-40°C to 85°C
Made in
China
China
Pros and Cons of Risen Solar Panels
Pros:
Long company history since 1986.

Bloomberg tier 1 and top performer in PV Evolution Labs

Have local offices in Brisbane and Melbourne
Cons:
No premium options – panels are mostly focused on the mid-range cost-effective mass market
Should I Buy Risen Solar Panels?
If you're looking for a tried and tested mid-range solar panel, then all the evidence suggests that Risen are a good brand to select. In particular, we would recommend any of the below 3 solar panel models which feature greater efficiency and a 25-year product warranty.
RSM130-8-430M-450M

RSM40-8-385MB-405MB

RSM40-8-390M-415M
Example of a Risen Commercial Solar Project
Date: Q4, 2019
Risen Model: 360/365W Mono 1500VDC
Type of Application: Owner
System Size: 134 MW
The Yarranlea Solar Farm is being developed on 250Ha of sparsely vegetated farmland approximately 50km west of Toowoomba in Queensland. The solar farm can generate 264GWh of electricity a year, which is sufficient to power 32,000 households while offsetting 124,000t of carbon emissions a year. It generated approximately 200 jobs during the construction phase and employs up to five people in the operational phase.
The construction of the solar farm began in May 2018 and was completed in August 2019. Grid connection was established in January 2020. The project is expected to have a lifecycle of 30 years.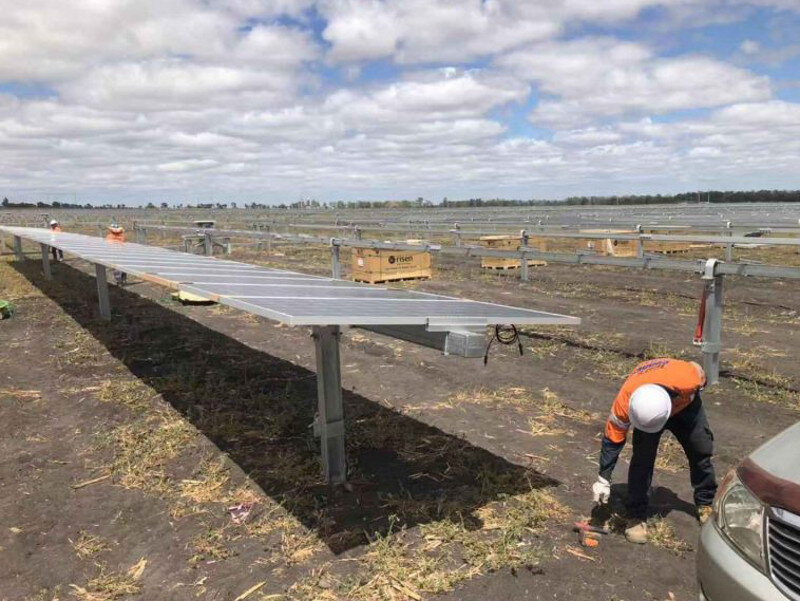 Read more product reviews from Solar Choice
Compare quotes from up to 7 pre-vetted installers in your area now.
Since 2008 our knowledge and sophisticated software has allowed over 300,000 Australian households and businesses to make a well-informed choice on their solar & battery installer.

Latest posts by Jeff Sykes
(see all)
Reviews from Australians who have installed Risen Panels
Rated 4.76 from 33 reviews
8th September 2023
Brian
-
10-15kW system
23rd August 2023
Gary
VIC - 3977
10kW system
21st August 2023
Ada
-
6kW system
8th August 2023
Lifu
-
6kW system
6th August 2023
Dax
NSW - 2102
6kW system
3rd August 2023
Graeme
VIC - 3260
6kW system
Full black panels installed - working well.
29th June 2023
Catherine
-
10kW system
26th May 2023
Bryan
NSW - 2286
10-15kW system
23rd May 2023
Terry
SA - 5064
10-15kW system
We can only go on the recommendation of our installer but the panels seem to be working as anticipated.
11th March 2023
Neill
-
6kW system
15th February 2023
Ian
NSW - 2263
6kW system
They appear to be as described by installer
10th February 2023
Ian
SA - 5064
10kW system
economical but must not have any shade on any part of a panel
4th November 2022
Ragav
-
6kW system
7th October 2022
Tom
-
10-15kW system
27th September 2022
Clive
-
6kW system
21st September 2022
Denise
QLD - 4178
10kW system
The solar panels have been tremendously useful and financially appreciated for our family.
20th September 2022
Alistair
VIC - 3363
10kW system
15th September 2022
Nerida
QLD - 4007
6kW system
7th September 2022
Kelly
VIC - 3429
10-15kW system
I have had the system on for 4 days so I can't really give a good comment. All I can say is I'm very happy with the panels so far. Everything is working as it should.
8th August 2022
Shu
-
10kW system
2nd August 2022
Leanne
-
6kW system
1st August 2022
Tas
VIC - 3161
6kW system
17th July 2022
Cat
NSW - 2484
6kW system
Looks good so far, am awaiting my first bill
23rd June 2022
Ray
-
10-15kW system
I'm very happy with this brand. It produces more energy than what was in the contract.
22nd June 2022
Brett
VIC - 3165
6kW system
The panels look good and appear to be performing well.
21st June 2022
Grant
VIC - 3280
6kW system
So far so good …time will tell as to how they will withstand the salty coastal winds.
16th June 2022
Debra
SA - 5114
6kW system
Had never heard of them but they have a head office interstate which sold me in case is warranty needed
26th May 2022
Caroline
-
6kW system
6th May 2022
Raghav
-
6kW system
5th May 2022
Carrafa
-
10kW system
2nd March 2022
Damien
QLD - 4215
10kW system
2nd February 2022
Leon
VIC - 3909
6kW system
30th July 2021
Ellen
-
30-50kW system
We were happy to proceed with the brand recommended by the installation company