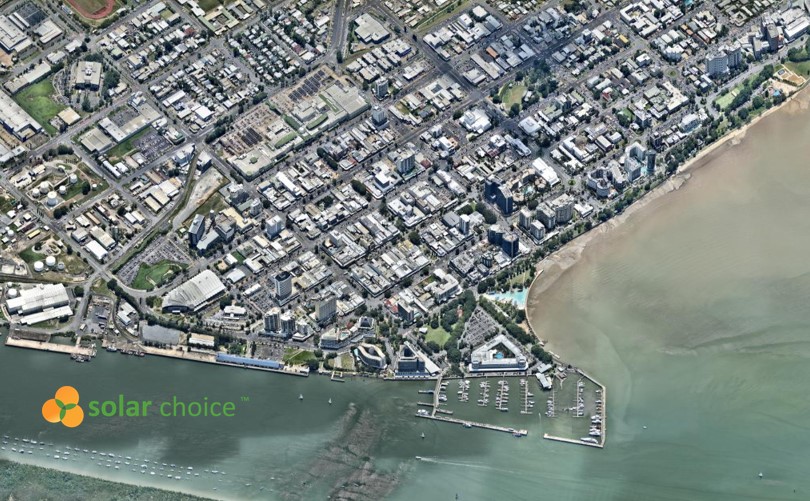 The Australian Photovoltaic Institute estimates that there have been almost 10,000 residential solar installations in Cairns meaning that almost 35% of the dwellings have solar panels already installed. Find out why there are so many solar panel Cairns customers and what you need to know before buying.
How much energy do solar panels produce in Cairns?
Cairns receives an an average of around 5.3 hours of full sun per day, making it one Australia's sunnier cities, as well as one of the best places to install solar PV. To calculate how much a solar system will produce you need to multiply the peak sun hours by the system DC (solar panel) capacity and reduce by a efficiency factor typically around 80%. We have done the calulations for you below with some popular system sizes:
This means that with a 5kW solar system will cover an average home's energy use. Whether it would best to go smaller or larger than 5kW for your home will depend on:
How much of the solar power can you self-consume during the day
What your budget is for a solar project
Whether you want a good return on investment, or want to cover your entire energy bill with the assistance of a solar battery
Compare quotes from up to 7 installers in Cairns now
Solar panels Cairns customers get the largest possible government STC rebate
The federal government offers what are effectively up-front discounts on solar PV system installation costs under the small-scale portion of Australia's Renewable Energy Target (RET). This 'discount' is usually applied directly to the price of your system by your installer.
The amount of the incentive depends on your location – sunnier locales receive a bigger discount. Cairns is technically in the sunniest 'zone' under the scheme, the same one as Darwin. As an example see the below system sizes and estimates of the rebate they would receive as of October 2022:
* Estimates taken from Greenbank on 21 October 2022 – it is a live market so prices are always changing
Solar feed in tariffs in Cairns, QLD
Electricity is provided by Ergon in Cairns and is not connected to the National Energy Market. The amount that Ergon offers as their solar feed in tariff is review each year on the 1st of July. The current amount offered is 9.30 cents per kWh which was a 41% increase on the rate that was offered in 2021.
Solar Choice generally doesn't recommend installing as big a system as possible to earn this 'feed in tariff' as this amount is not fixed and may decrease in the future. Instead you can look at sizing your solar system to meeting (but not grossly exceed) your day to day energy requirements. You can use our solar panel calculator to input your own electricity requirements and play around with the different sizes.
How much do solar panels cost in Cairns?
Solar panel prices in Cairns typically follow a similar pattern to the average prices in Queensland. Solar Choice publishes monthly the average cost of solar panel installations in each of Australia's capital cities. This is the best guide based on live data for the expected costs of a solar system in Cairns. See below graph of historial pricing, or you can refer to the Solar Price Index here.
Based on our data from October 2022 – a typical 6.6kW solar panel Cairns system would cost $5,770 on average including the STC rebate and GST.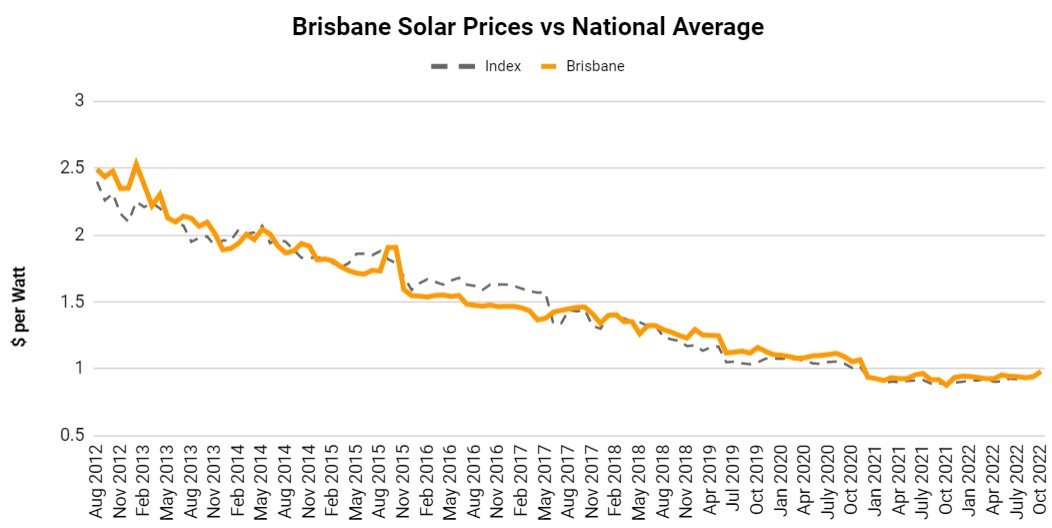 Are solar panels worth it in Cairns?
In our opinion, the financial return from installing solar panels in Cairns offers a much better return on investment for your money that other options readily available. Depending on your energy usage and the size of system you option to go with, solar panels could save you up to $3,000 per year on your electricity bills and would pay for themselves in 4 to 5 years. That's not bad considering solar panels are designed to last for 25 years.
We've used our Solar Choice solar panel calculator to run through some typical scenarios below to demonstrate the potential savings and payback period for solar panels Cairns customers.
Indicative savings and payback periods for solar panel Cairns systems

– Updated October 2022 –

Solar Panel Size
Average Cost 
Average Daily Energy Usage
Self Consumption Rate
Annual Savings
Payback Period
5kW
$5,300
15 kWh
40%
$1,023
5.1 Years
6.6kW
$5,770
20 kWh
40%
$1,355
4.2 Years
10kW
$9,100
30 kWh
40%
$2,046
4.4 Years
15kW
$13,650
45 kWh
40%
$3,068
4.4 Years
Assumptions/limitations of this analysis
Assumes an electricity price of 24.349c / kWh which is the general supply tariff offered by Ergon
Assumes an uncapped solar feed in tariff of 9.3c / kWh which is what Ergon offers as of 1st of July 2022
Average costs come from the Solar Choice Price Index for October 2022
Your self-consumption rate will vary depending on how you use power in your home. A higher rate means less power is exported to the grid and improves your financial return.
How can I find the best deal on Solar Power in Cairns?
Solar Choice, as Australia's free Solar Energy Brokering and advice service, connects solar panel Cairns customers with installers who service their area. We provide comprehensive quote comparisons of solar power installations throughout the country–including in Cairns. With a bird's eye view of the solar power market, Solar Choice is uniquely poised to identify the best deals on offer and facilitate our customers to find the solar system that best suits their needs and budget.
Request a Solar Quote Comparison today by filling out the form to the right of this page.
© 2020 Solar Choice Pty Ltd 

Latest posts by Jeff Sykes
(see all)